For hours at a time, Ronaldo Marcelo Wanderlei da Silva pedals on a stationary bike for a cause. But it is not an ordinary bike, nor an ordinary cause.
Da Silva is an inmate at the prison in Santa Rita do Sapucai,Brazil, near Sao Paulo. He is among a small group of inmates who have been given the chance to lower their sentences by exercising on customized stationary bikes attached to car batteries that charge as they pedal. The batteries are in turn used to power street lights in the local plaza.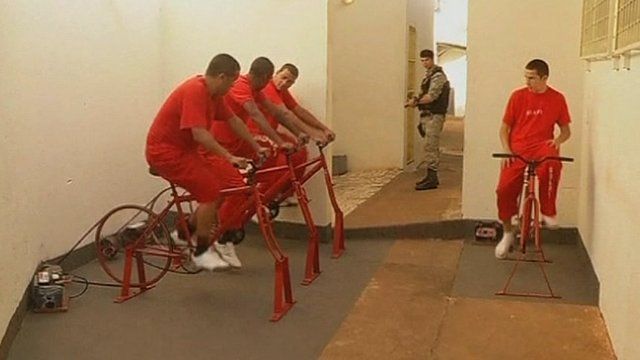 The program exists only at this one prison, but is not the only recent effort at out-of-the-box thinking in Brazil's penal system.
Jose Henrique Mallmann, a judge in Santa Rita do Sapucai, came up with the idea for the pedaling program while doing internet searches for cost-free, clean energy sources. It was a personal curiosity, he said, and it led him to a story about an American gym that is partly powered by its patrons' bicycle workouts.
In his small city, it was easy to adapt the idea and put it in practice with the local prison, he said.
The program provides a type of poetic justice, he said. Most inmates at some point deprived a sense of security from their victims. Now, by providing clean energy that powers the city's plaza at night, they are providing a sense of security.
"This has been very well received. We are very satisfied with the public reaction," Mallmann said.
Source CNN/ODN YouTube