Nigerians have reacted as billionaire businessman, philanthropist, and chairman of Forte Oil PLC, Femi Otedola fulfilled his promise to Super Eagles legend and ex-coach Christian Chukwu who was reported ill and bedridden a few weeks ago.
The oil magnate and father to Nigerian celebrity DJ, Cuppy issued a $50,000 (N18 million) cheque to Christian Chukwu for his medical bills in the United Kingdom.
Otedola's kind gesture has attracted a plethora of reactions on social media, Twitter precisely as Nigerians discuss.
Enugu state Governor Hon Ifeanyi Ugwuanyi with The NFF President Amaju Pinnick paid a visit to ailing Football Legend Christian Chukwu and his family in Enugu earlier on today.

— ˈrɪtʃərd nwa Asiegbu (@MrRichiy) April 24, 2019
Otedola gives Christian Chukwu a cheque of $50,000 to address his medical issues. What a philanthropist!!

— Yusuf Hashim (@yusufhashim81) April 24, 2019
Chief Otedola redeemed his pledge of 18 million Naira to the family of Christian Chukwu. The NFF also appointed the Son of the Legend Chukwuemeka Chukwu as an Ambassador of the NFF. Chukwuemeka was also given a immediate employment by the Enugu state government.

— ˈrɪtʃərd nwa Asiegbu (@MrRichiy) April 24, 2019
Christian Chukwu, Sick Igbo Man.

Otedola, Rich Yoruba Man steps in to Assist. This is Humanity we should emulate, not ethnicity to divide us.@Ayourb @Victoria_NGR @MrLekanAdigun @cbngov_akin1 @segilolaa @olysa24 @the_davidatta @doyinmojisola @iyaboawokoya

— Ezeaka chidozie (@Ezeakachidozie) April 9, 2019
I've been moved to support others after veteran sport icon, Christian Chukwu.

I'll be giving N30K each to the first 2K people that follow me, RT this and state what they will do with the money using #Otedola hashtag.#F.Ote$ #Otedola #TuesdayMotivation #TuesdayThoughts #Wizkid pic.twitter.com/yw3vELwjb6

— Femi Ote$ – Fan Page (@reaIFemiOtedoIa) April 9, 2019
Femi Otedola has offered to pay the $50,000 medical bill of the former Super Eagles Captain and Coach Christian Chukwu👏👏👏👏 pic.twitter.com/h59KMxXhCl

— God Bless Shantel (@SweetShantel) April 8, 2019
I have agreed to foot the complete bills of Christian Chukwu for him to get treatment abroad.

I believe in human capital development and Christian being a veteran of sports in the country touches my heart deeply.#F.Ote$ #Otedola #ChristianChukwu https://t.co/JWyR4wqVDt

— Femi Ote$ – Fan Page (@reaIFemiOtedoIa) April 8, 2019
The Former Coach of SuperEagles, Christian Chukwu, will travel to the UK for further treatment in the first week of May following the footing of his medical bills by Femi Otedola, the billionaire businessman. @UrbanRadio945 #NFF#SuperEagles pic.twitter.com/1MulejcVor

— Andrea Onuoha (@AndreaOnuoha) April 24, 2019
Breaking: Billionaire Otedola presents N18m cheque to Nigerian legend Christian Chukwu: https://t.co/fpsUurO5VI

— Renner Otunte (@oturens) April 24, 2019
some people are still dragging ethnicity to this Christian chukwu matter. Aggy ahhh…. God bless otedola for this kind gesture..

— maestro_sound (@SamuelAdewumi18) April 24, 2019
this is amazing…. U will b wondering why billionaires from the South-east zone, his fellow kinsmen cannot sponsor or foot Christian Chukwu medical bills abroad

— Chukwuemeka Obinna (@ocpaschal) April 24, 2019
Christian Chukwu: Otedola donates N18m for overseas medical treatment https://t.co/tl1RKjNhHH pic.twitter.com/IRk8OYbnFe

— The Herald (@HeraldNG) April 24, 2019
It was revealed earlier in April that Chukwu, a former Super Eagles captain and coach needed the sum for medical bills for prostate cancer which he has been battling.
After pledging to help, a rep of Otedola presented a cheque of the said amount to the 68-year-old former coach on Wednesday, April 24 in Enugu.
According to TheCable, President of the Nigeria Football Federation (NFF) Amaju Pinnick and the Governor of Enugu State Ifeanyi Ugwuanyi were present when the cheque was delivered.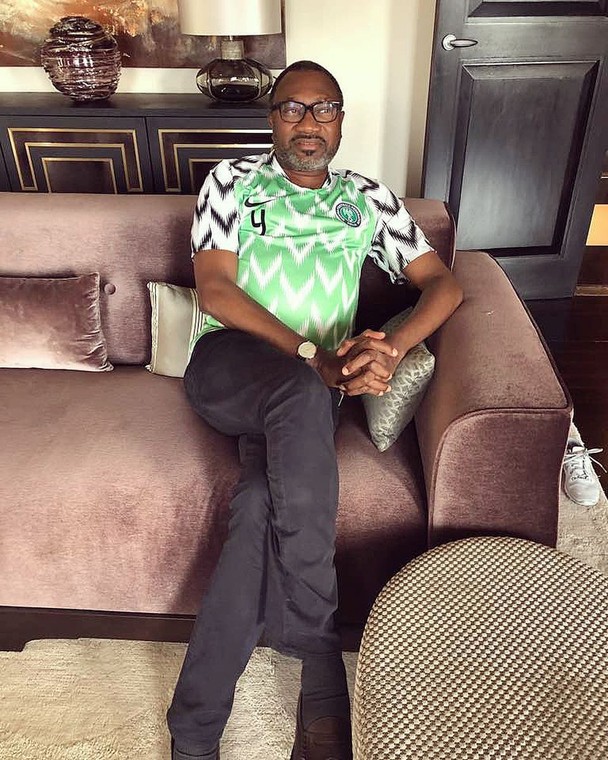 "The governor just called to thank me immensely and I spoke with Christian Chukwu too. He will be flown abroad next week. I told him he will be fine and I will make sure he is provided with the best health services," Otedola also told TheCable.
Chukwu has also had some help from the Enugu State Government who donated N1.5m for his leg surgery as the prostate cancer had affected his leg.
Known to have a huge frame, Chukwu is seen in recent photos looking very frail.
Former Super Eagles captain and coach, Christian Chukwu, has been confirmed to be very sick. It was learnt that he needs an estimated $50,000 assistance to take care of the medical bills.

Please RT for awareness!🙏🏿 pic.twitter.com/xZTyW1bsFh

— PRESIDENT OKONKWO (@IkechuQwu) April 7, 2019
A defender in his playing days, Chukwu captained the Super Eagles of Nigeria to their first Africa Cup of Nations (AFCON) title in 1980.
Nicknamed 'Chairman' for his physical dominance and authority he exuded in defence, Chukwu was also captain of Enugu Rangers and led them the Africa Cup Winners' Cup title in 1977.
He started his coaching career in Lebanon in the mid-1990s and was appointed coach of the Super Eagles in 2013, leading Nigeria to a third-place finish at AFCON 2004.
NB: $1=N360
Credit: Twitter, Pulse ng