Nigerian journalist Kemi Olunloyo has come under intense criticism for revealing the Identity of a lady who is the second women who have come forward to accuse pastor Biodun Fatoyinbo of the Commonwealth Zion Assembly, COZA, of sexually molesting them.
Following the much publicized allegations of rape by Busola Dakolo, wife of Nigerian musician Timi Dakolo, of pastor Biodun, another lady who pleaded anonymity had come out with her own story of sexual abuse involving the same pastor.
The lady, now revealed as Oluwatunmise Oluyede, had granted Ynaija an interview accusing the pastor of raping her while she was still a staff of the church.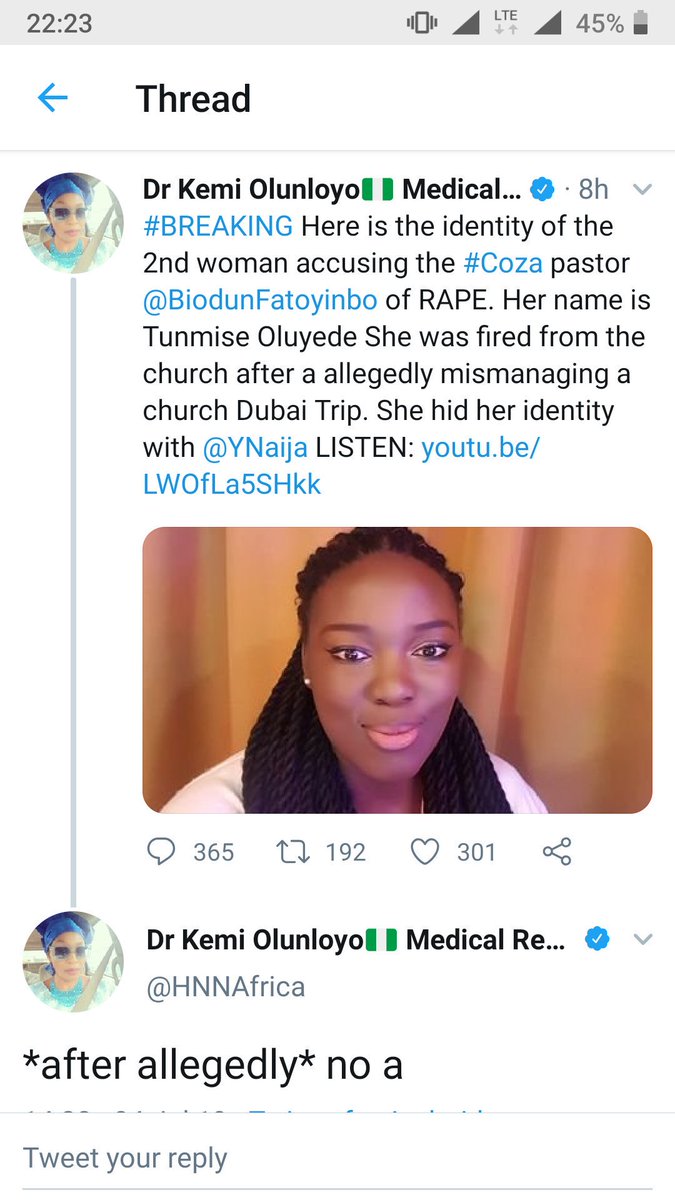 A few days after granting the interview under anonymity,  journalist Kemi Olunloyo  took to her instagram to reveal her identity and further states she was a sacked staff of the said church.
Reacting, Nigerians have lashed out on the journalist for exposing the alleged victim. According them, the fact that her identity is now know, against her will, would now scare more victims from coming forward with their own stories.
See reactions below.
Kemi olunloyo you are not a journalist. Cos u don't respect the ethics. A 5 year old blogger has more honour than you. A big shame on you. I could tolerate u before, but it obvious you senility is affection you cognitive functions and you are becoming a danger 2 society. Shame!

— Elijah Jayson Oyibu (@jaysonrogue) July 5, 2019
Kemi Olunloyo should face the consequence of revealing the lady's identity.

That's no longer called investigative journalism; somethingelse is attached.

— Akinsanya I. Seun (@mrboboskie) July 5, 2019
All other victims must have by now, changed their mind about coming up to speak with their identity hidden. Kemi Olunloyo just silenced some of the victims from ever speaking up. Copied
Moreover in who's interest is this, the accused, accuser or Nigerians?

— 🇳🇬Guysky19 (@guysky19) July 5, 2019
Y'all finally gave Kemi Olunloyo that trend she wants. That woman is so sick and very unimportant to trend. I dislike with everything in me. @HNNAfrica I don't like you even though you don't care.

— KUKS for short (@olatunji_dami) July 5, 2019
So she's not crying uncontrollably for days again & she's requesting to see only pastor Fatoyinbo, according to you? Kemi Olunloyo, you are sick! Go and treat your mental illness or coza members & there pastors have paid you. Mad woman!

— Yemi Omodele (@motunrayo27) July 5, 2019
The lady supposed to sue kemi Olunloyo swiftly

— Baba Abbey (@TAIWOISAACABIOD) July 5, 2019
I've never seen anyone as deliberately destructive as this Kemi Olunloyo woman.

— Phillips, D. ™ (@PhiloeEsq) July 4, 2019
Kemi Olunloyo is a horrible person. An actual bastard !!! Don't bring that investigative Journalism please. Someone wanted to be anonymous and she infringed on her human rights 😩😩😩

— The Priye Diri (@KingPriyeDiri_) July 4, 2019
I've concluded and I know now that there is actually something wrong with Kemi Olunloyo in the head.

— Ess 🌹 (@Ms_Esta) July 4, 2019
People leave prison and they are reformed to become better and more sensible people. But a few times, some people leave prison only to constitute a nuisance to society.

The Nigerian Prison Service should have just kept Kemi Olunloyo out of circulation like old one naira coins.

— OurFavOnlineDoctor 💘 🥳 (@DrOlufunmilayo) July 4, 2019
Kemi Olunloyo is on another level of human narcissism.

Doesn't follow anybody. Just comes online to search her name.

Her head is so far up her own ass she never needs a colonoscopy.

— Mazi Marvin the Paranoid Android (@Boboye_Ak) July 4, 2019
Please guys let's report Kemi Olunloyo's tweet

— Leemao (@MizzAina) July 4, 2019