A pastor has locked lips with a young woman in front of his congregation in a bizarre attempt to cleanse her of evil spirit, accoridng to a report by Dailymail. In video footage of the incident, a minister of an unspecified church in Zimbabwe kissed a woman in a pink dress to 'rid her body of demons' during a sermon, according to local media.
He can be seen with his hands holding the lady's face, kissing her for an uncomfortably long time in front of church members. The odd ritual lasts longer and this time the members of the congregation can be seen moving in closer to watch the two kiss.
Meanwhile, the two women in the front row hold their hands to their heads, seemingly concerned for the young lady in front of them.
The camera then pans toward a woman in a green cardigan standing behind a short distance behind the pastor.
Pastor MUSHESHE is KISSING-casting the demons out of her mudafucking mouth! Christians must rise up to save their religion from ridicule.

Posted by Princess Akporaro Enaroseha on Saturday, 20 April 2019
She can be seen touching her breasts while watching the scene in front of her.  The video uploaded by Raymond Majongwe who captioned the video: 'Pastor at work. Hale luuuuuyaa'.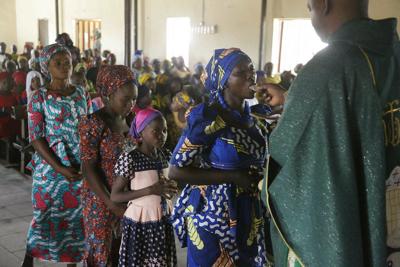 It also sparked outrage on social media calling out the pastor for his actions, one wrote: 'rubbish…arrest this pervert.' Another asked: 'I wonder if he does the same to his male congregates?'
Religious leaders has been accused of manipulating people in the country for their own gains and playing on the desperation on the weakened soul of the man.
Nigeria, the most populous African country (with a population of over 182 million in 2015), is nearly equally divided between Christianity and Islam, though the exact ratio is uncertain.
The majority of Nigerian Muslims are Sunni and are concentrated in the northern region of the country, while Christians dominate in the south. Most of Nigeria's Christians are Protestant (broadly defined) though about a quarter are Catholic.
From the 1990s to the 2000s, there was significant growth in Protestant churches, including the Redeemed Christian Church of God, Winners' Chapel, Christ Apostolic Church (the first Aladura Movement in Nigeria), Deeper Christian Life Ministry, (Christian Reformed Church, Nigeria),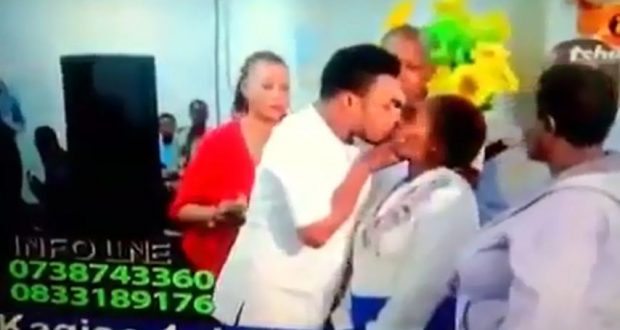 [Evangelical Church Winning All]], Mountain of Fire and Miracles, Christ Embassy, The Synagogue Church Of All Nations, The Common Wealth of Zion Assembly (COZA),
the Aladura Church (indigenous Christian churches being especially strong in the Yoruba and Igbo areas), and of evangelical churches in general.
These churches have spilled over into adjacent and southern areas of the middle belt. Denominations like the Seventh-day Adventist also exist.
Tori News
Leave your comments below…