A former Commissioner of Police at the Federal Capital Territory (FCT) Mr Lawrence Alobi said more deaths would have been recorded if it was the police that killed or attacked soldiers.
The retired police boss was reacting to the recent gruesome murder of three members of Intelligence Response Team (IRT) by members of the Nigerian Army. The sad incident occurred along Ibi-Jalingo Road on Tuesday, August 6, 2019.
"We won't be talking about an investigation if it was the police that killed soldiers. Police stations would have been set ablaze. Several policemen would have been killed," retired CP Alobi said while featuring on Channel TV's Sunrise Daily on Wednesday.
It was gathered that the Army Captain that instructed his men to open fire on the police officers had been arrested while the Defence Headquarters had ordered the 93 Battalion of the Nigerian Army in Takum, Taraba State to produce the kidnap kingpin Hamisu Bala Wadume.
Wadume was allegedly set free by the soldiers after killing the police officers, an investigative panel had been instituted.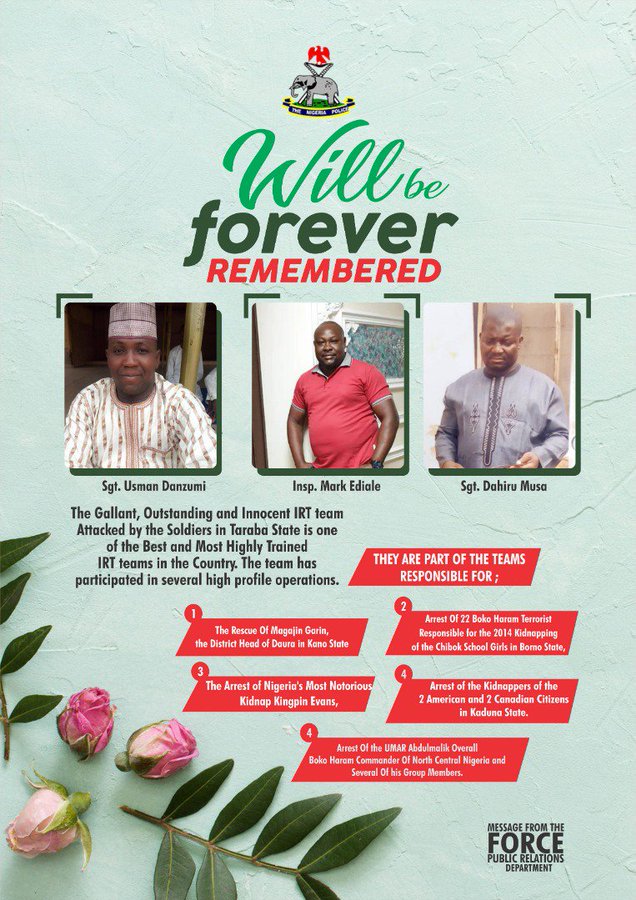 Mr Alobi who narrated his ordeals in the hands of soldiers when he was in service in Cross River said, it is unconstitutional to invite soldiers for internal security.
He bemoaned the situation whereby Army which is supposed to assist the police in apprehending criminals, "are the ones subverting it."
"Nigeria Police is poorly equipped," he said, stating that the police workforce is less than 400, 000 at the time he left the service.
"How do you expect 400, 000 policemen to protect over 200 million people? he asked.
There had been several invasions of police stations by soldiers in the past, one of such happened in October 2017 in Cross River State.
During the Navy/Police clash, a police corporal Mr Davis Odudu was killed during the invasion of Akim Police Station on IBB Way in Calabar.
In May 2018 according to PM News, soldiers invaded Ada George Police Station and released suspects in detention and beat up policemen on duty in retaliation to the killing of their colleague by the police.
Don't forget to share your thoughts with us.