Nigerians have been reacting to the Ministerial list sent to the National Assembly by President Muhammadu Buhari for his second term cabinet.
This list which had 43 nominees from all the geopolitical zones of the country; about 12 returning ministers and 7 women, has been a subject of public discuss since it broke out on July 22, 2019.
In all the nominees, most of whom are controversial, the nomination of Lawyer Festus Keyamo seems to be the one to raise the most dust.
Mr. Keyamo who is a senior advocate of Nigeria, SAN, was the spokesperson of the ruling All Progressives Congress, APC, in the party's campaign council of the 2019 general elections.
He has also been very vocal in support of the president, even as ex Vice President and PDP presidential candidate, Atiku Abubakar currently challenges Buhari's victor at the tribunal.
Many are of the opinion that his unflinching support of President Buhari – which includes insulting others on his behalf – was what got him on the list.
See full list below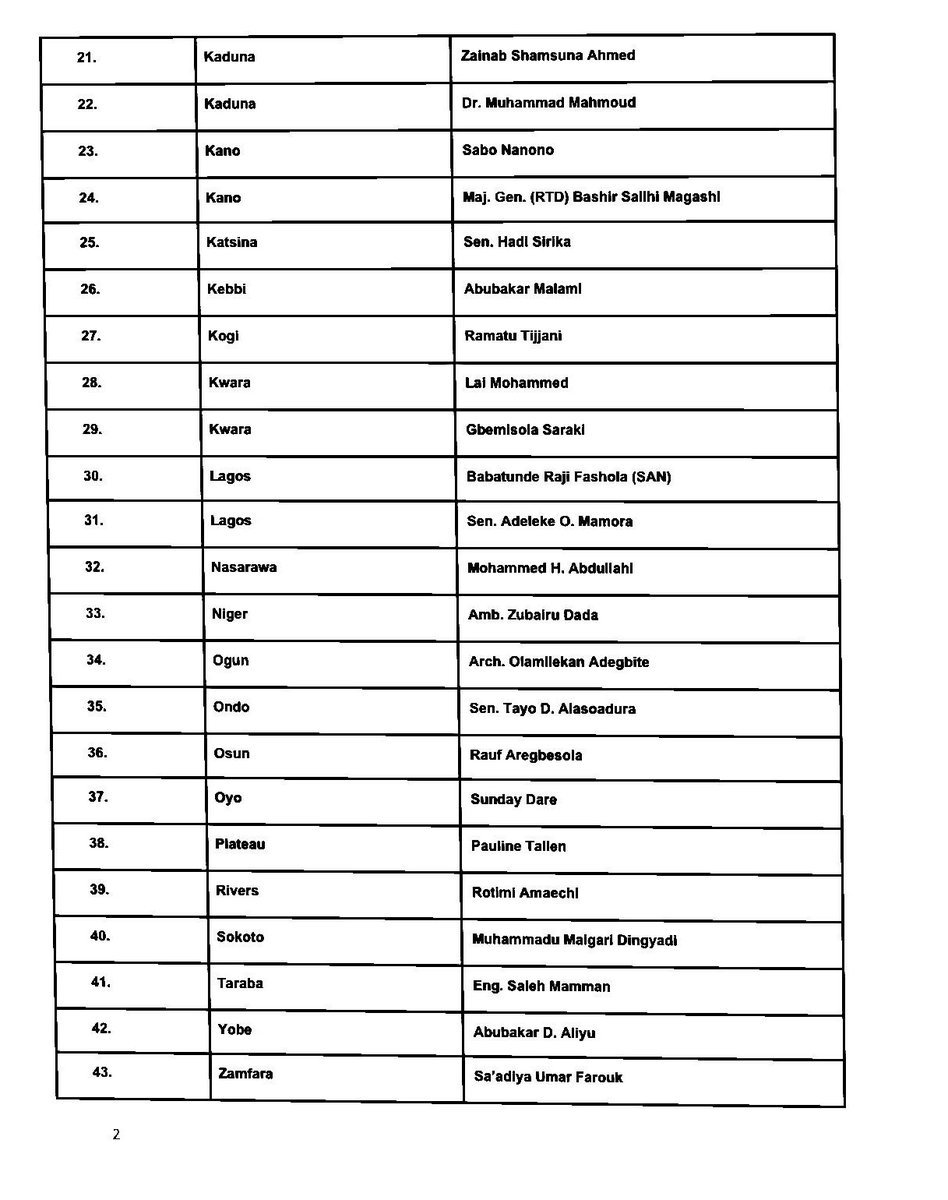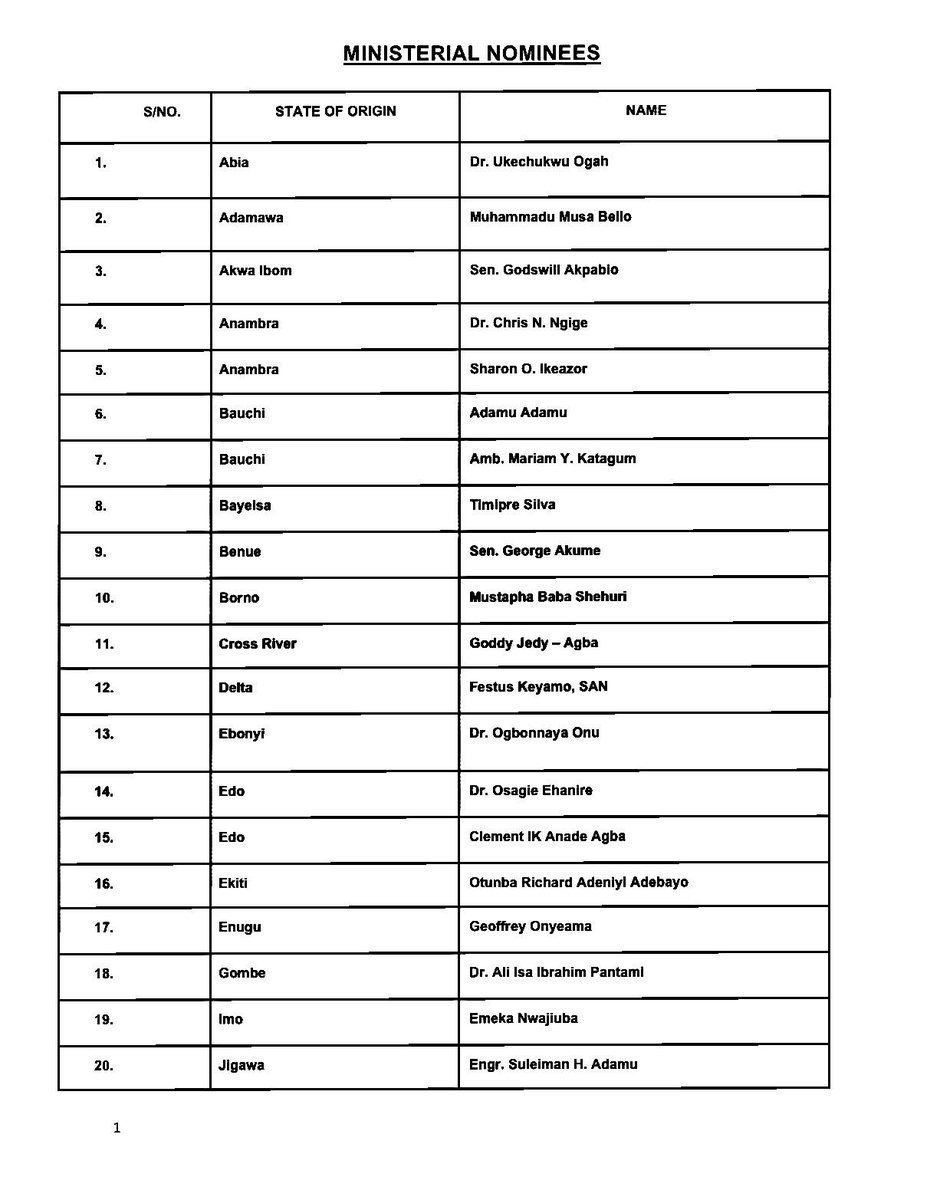 Check out reactions below.
LMAO?????

Festus Keyamo became a ministerial nominee for insulting people on behalf of the President.

Nigeria, we hail thee…#MinisterialList

— Labiolly37 (@Labiolly37) July 23, 2019
Festus Keyamo a minister? I can't deal. Like really?

— irene, phd. (@moshoke) July 23, 2019
The likes of Festus Keyamo should start celebrating bcos he has finally been settled, I hope now he would stop quoting our laws upside down. This kind of people and their thoughts on National issues belong to the dustbin of history.

— NDUESO BENSON (@BensonNdueso) July 23, 2019
Festus keyamo on the #MinisterialList ,not surprised at all.
After what he did for apc during the last election..

— Tosinchoco (@alabi_tosin) July 23, 2019
With the appearance of Festus Keyamo on the list, one would think the position of Justice Ministry is already filled. But, dare put your money on it and watch as Baba will fuck you up big time. At this stage, I can't cry I can't laugh????

— Osquare (@osquare78) July 23, 2019
Festus keyamo finally made it that's why he will defend anything ? https://t.co/B8hbIiIOsK

— QUDUS (@QdPaper) July 23, 2019
Lai's Propaganda has expired. I didn't expect him to be on that list. anyways, the president should make Festus Keyamo the substantive minister and make lai Mohammed the Junior Minister. #TheList

— Jerry Chima (@Jerrychima33) July 23, 2019
And the likes of Akpabio, Timipre Sylva, Festus Keyamo, Aregbesola… i wonder if he intends to compensate politicians or if he is trying to make Nigeria better… #MinisterialList

— Pam Bagos (@pmbase) July 23, 2019
Lai Mohammed can continue his lies ably assisted by Festus Keyamo.

— Lere Olayinka – Aresa 1 (@OlayinkaLere) July 23, 2019
Festus Keyamo… be looking at Timi Sylva, eyeball to eyeball. ?

Lai Mohammed will bring up new lies.

Most of them are being 'rewarded' for helping to kill their kinsmen during the last general elections. #Wawuu ??

— ÀDÙFÉ ??? (@Adufe_ga) July 23, 2019
Festus keyamo dinned with the ? got served #thelist #ministeriallist

— ??#sir_Dee #MrlovaLova ? #bbnaija (@official_dee_el) July 23, 2019
Looking at Buhari's ministerial list and I ask myself is this the so called names that people got based on merit.. And Minister from Delta is Festus Keyamo why are we cursed in Delta State.. Festus will be minister of what??? Minister of talking anyhow…

— Zino Efaj (@lfc_zino) July 23, 2019
Hahahaha festus keyamo Nigeria see the mediocrity that made minister #MinisterialList

— hotnikkle (@hotnikkle) July 23, 2019
Even a blind man could see that this ministerial job was what Festus Keyamo was gunning and nothing was too much for him to sacrifice.

— MAGNAM (@obuks36) July 23, 2019
Please share your thoughts with us, drop comments below