Late General Sani Abacha has always been known as the tyrant, the man who destroyed Nigeria, the man, who when he died people stormed the streets in joy, men got drunk, slept in their vomit all for his death.
Ever since then, i have still not seen or read where someone's death has caused wild celebrations.
The euphoric cry of joy had rang in melody across the street, the tyrant was dead, redemption was born, or was it?
A fall was coming that we were not aware of, and unfortunately there would be no soft landing to break the fall. The man whom we had gleefully rejoiced about his death, would have been the same man, if he had lived, to finally bring growth to Nigeria.
Born on September 20, 1943, he was originally of the Kanuri tribe in Borno state but was brought up in Kano.
From 1957 to 1962 he was a student, first in the City Senior Primary School of Kano, and then in the Provincial Secondary School, later renamed Government College. Thereafter, he attended the Nigerian Military Training College and Mons Officer Cadet School before being commissioned as a 2nd lieutenant in 1963 in Aldershot, England and that marked the beginning of his military career. He had ruled Nigeria from 1993 to 1998.
During Goodluck Jonathan's regime, €167 million (about N36 billion) was expected to be returned to Nigeria from the government of the Principality of Liechtenstein as part of the looted funds recovered from the Abacha family.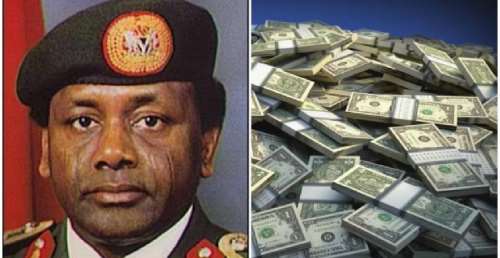 Okonjo Iweala, minister of finance back then had said they confirmed that Nigeria would on June 25, 2014 receive the sum of Euro 167 million ($227 million), about N36.32 billion from the Government of the Principality of Liechtenstein, part of looted funds recovered from the Abacha family.
What were these funds eventually used for after they were recovered? This amount of money which politicians in power have claimed that the tyrant looted has become a second chance given to the present leaders to make Nigeria right, supposedly, however, according to what can be associated with most African leaders, these funds are being mismanaged and our second chances are eventually flying out the window.
As at 2016, there was a confirmation that Switzerland had returned $723 million to Nigeria in 10 years.
In 2018, during Buhari's administration, $322.5m was returned, the funds till date cannot be totally accounted for or maybe not made public. There we have it, the circle continues.
It remain to be seen, the fate of the recent N82bn when our share finally get to us.
The ambassador to Switzerland had said that close to $800m as part of the money which Abacha stole and hid had been returned, not taking into account the $322.5m returned in 2018.
These are the leaders we rejoiced with when Abacha, the so called tyrant died.
Keep reading, we will soon take a critical look at Abacha's regime and perhaps, just perhaps, after reading this, you might weep at the injustice that has been done to us.
OPEC figures say that Nigeria is Africa's largest crude oil exporter, with 400,000 bpd, valued at USD$10bn annually. Projections from credible sources indicate that Nigeria has a population of about 185 million people with many living on less than a dollar daily.
Nigeria is rated highest in oil production in Africa and 13th in the world. Yet, we are ranked the poorest country in the world. Where did the breach began. It's like saying the child from the richest family in class, is always the one that is poorly cladded.
This situation sounds absolutely absurd and confusing, the major complaint was that there was an uneven struggle with civil society organizations and the international community that wanted a rapid return to civilian and democratic rule.
Even if the Abacha regime was the arrow head of the junta of undemocratic force, you would definitely agree with me that there was a certain amount of discipline during Abacha regime that has been displaced in the present government. Perhaps the so called promised democracy that has refused to fill our belly with food or give our youths jobs is the price we have to pay for choosing freedom.
What kind of freedom is this? freedom to die slowly i suppose.
Now let me wet your appetite, and show you how this tyrant was the greatest President Nigeria ever had.
On the economic end, Abacha really out did himself, yes! Nigeria attained unprecedented economic achievements with him. There was an overwhelming and breath taking increment in the country's foreign exchange reserves from $494 million in 1993 to $9.6 billion by the middle of 1997.
He didn't stop there, but went ahead and made a reduction in the external debt of Nigeria which as at 1993 was $36billion but later reduced to $27billion in 1997.
He put a complete stop to the controversial privatization programmers which Babangida had began, and subsequently brought down the inflation rate from 54 percent which he had met in power to 8.5 percent as at 1998. Oil was sold at $15 per barrel. In his four and a half years in office, he had only and unbelievably increased fuel price just once. Yes! the so called tyrant had increased the price of oil just once.
He consequently set up the Petroleum (Special) Trust Fund, which was widely acknowledged to have done quite well in infrastructural development and intervention programmes in water, health and education. People called him a tyrant, but Abacha was known to be extremely disciplined and perhaps this is why he was able to do all these things.
He was disciplined even to his personal life as a Muslim, he was entitled to marry as many wives as possible, but he stuck only to Maryam.
The greatest crime said to have been committed by Sani Abacha was his lock jaw regime which had a stifling and emasculating effect on Nigeria's democratic development. yet again, Nigeria was not the poorest country in the world during his regime. Children were well fed, youths had jobs, things were way cheaper, life was way better.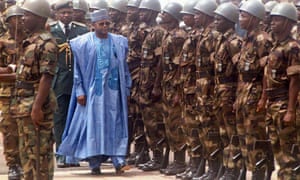 Even if in 2004 Abacha was listed as the fourth most corrupt leader in history, although President Mohammed Buhari has refuted the claim, this president did better than most Nigerian presidents.
Sanni Abacha was corrupt, yes! we are quite aware, what about the present leaders who have been milking Nigeria to death, those who buy houses in foreign lands that even the citizens in that country cannot afford. Abacha looted Nigeria's funds but at least he gave something back in return.
The looting has not stopped, but now we are getting nothing, and you still think this man was a tyrant? At least we are presently getting the looted funds back, unfortunately the circle continues as the funds are consequently falling into hands of corrupt leaders who might also be storing them away in foreign reserves for their family.
The national chairman of the peoples Democratic Party Uche Secondus said there is nothing on ground to prove that the present funds about to be received will not be stolen again. Of course these men know how the game will finally play out. They know how it will finally end.
Can we now see that the joke is on us all?
Who is the fool? where are those who were celebrating when the tyrant died? The so called lack of freedom that we complained about back then, now that we have gotten it, has it given us what we truly want?
Is Nigeria not still corrupt? I repeat the joke is on us, all of us.
It has been three decades and Abacha's funds has been constantly returned over time, but our leaders have repeated the process of giving us nothing in return. Three decades of second chances that has led us to being the poorest country in the world.