The storm brewing between Ex president Olusegun Obasanjo and late MKO Abiola Abiola, the presumed winner of June 12, 1993 presidential election, who died on July 7, God rest his soul, seems to be picking up speed, as Abiola's family are definitely still embittered by the incident that happened quite a while back.
On Monday, June 3rd 2019 Muritala Abiola had slam former president for the role he played in the June 12 election that had led to the demise of Abiola and his wife.  Abiola had said that Obasanjo had benefited from Abiola's death, but how true can this be? Knowing that Obasanjo and Abiola had a very close relationship that had began when they were boys. Muritala had said that Obasanjo allegedly received N3m from Abiola to help organize retired military officers against the late dictator, Sani Abacha.  He had said and i quote
"I don't fear any man. I took N3m cheque from MKO Abiola to Obasanjo's driver… that he (Obasanjo) wanted to organize the retirement of Army officers meeting so as to confront Abacha. I took the cheque from him with my hands. My brother's bag was always by his arms. He took a pen and the cheque, wrote the amount while I gave the cheque to Obasanjo's driver," he said.
So here we have it more and more allegations pointing the guilty finger at Obasanjo without any proof. Is Abiola family simply embittered by the fact that Obasanjo had eaten the food that had obviously been prepared by their father or is there any truth to the allegations made? He had revealed how he had been with Obasanjo on January 6 and  had told him to the face that he was no friend of the Abiola's family, and he was totally responsible for his death.
This total disrespect of one of the strongest In Nigeria which so far has been greeted with total silence from theNigerian god father speaks  volumes there might be a story behind it all. Perhaps Obasanjo silence is simply a respect to his dead friend and an unwillingness to unravel what has been laid to rest ages ago, or maybe, just maybe a guilty conscience lurks somewhere in the shadows.
In  January 2019 MKO Abiola's son Jamiu Abiola had revealed in Abuja how his father and mother were killed in the fight of the 1999 presidential election. Jamiu  had said that Obasanjo  had benefited from the democracy struggle by his late father and mother when he was elected as Executive President in 1999.  He had been greatly pained by Obasanjo Failure to recognize Abiola for the effect he had on Nigeria's democracy.
Tundun Abiola, daughter to Abiola had also said  in June 2018  that
  Obasanjo could not bear being a beneficiary to Abiola's legacy. Tundun said Obasanjo failed to do what Buhari had done because he could not bear the thought of having been a beneficiary of her father's democratic legacy.  She had acknowledged that her father and Abiola  had a close relationship but Obasanjo  had always felt inferior to her father. Also opening up on how Obasanjo had been used by the military to reward the south west for Abiola's ultimate sacrifice. A debt she says Obasanjo never repaid failing to honor Abiola during his eight years as president. She had said and i quote
"It seems strange that somebody (Obasanjo) who benefited from the death of somebody else (Abiola) would be the one who's so adamant about trying to completely erase it from history, but it's actually not. It takes the special grace of God to humble oneself and acknowledge a debt to anybody. To say, 'I owe this person that. I'm grateful for this'. An egomaniac cannot do that; they're not capable of doing that. So he has to deny it within himself and other people. He has to tell himself that, 'This all me. I earned this,' but he did not.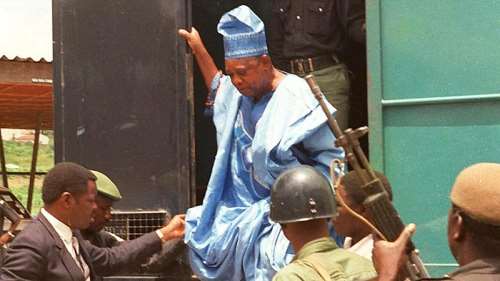 "We did not have an election in 1999, we had a coronation. My father had been killed. It's only somebody of his calibre that could die for the military to decide, 'Enough is enough; we do have to exit the stage,' and in order to sort of placate the south west region, they brought out President Obasanjo.
"He was appointed the president, he was not elected the president; that was not a free and fair election. He knows all of these facts."
Let us take a walk down memory lane and review the book titled "Baba's Story', written by  by a Ghanaian author, Abyna-Ansaa Adjei with the Forward written by  Africa"s  richest man Aliko Dangote which spoke about the relationship between the Obasanjo and the late MKO Abiola. An excerpt culled from the story can be seen below
Excerpts:
"Moshood Abiola, the billionaire businessman, said he was going to run in the elections. Abiola and I were school mates at the Baptist Boys High School in Abeokuta. He was a year my senior, although we left the school the same year. Kashi, as he was fondly called at school, was editor of our school magazine, The Trumpeter. I was a regular contributor to the magazine and the librarian of the school, a job I had to do to earn some money to pay my way through school.
We had remained friends and I was happy that someone who had achieved so much for himself and others was offering himself to lead our beloved country.After all, Kashi, otherwise called MKO, was a man who, out of his own pocket, had donated money for many good causes all over the country.
From school, I had known Kashi as bright, witty, unorthodox and down-to-earth. He spoke with a bit of stammering but he always spoke sense and he could be blunt and brash. He was respectful and he could be pleasant and humorous.
When the elections were over, the results coming in showed Abiola was winning. Babangida then brought out the joker. Mid-way, the announcement of results was stopped. Speculation was rife, and then came the announcement that the election was canceled. Up till today, only Babangida knows why the election was annulled".
So there we have it, a story with so many allegations and no proof. But one thing is clear the Abiolas' hatred and allegations all have one root, the refusal of Obasanjo to recognize what Abiola did for Nigeria's democracy. From Adjei's  book it is shown that Abiola and Obasanjo were not just men who meant in the playing field of Nigeria's politics, but their relationship date as far back as their teenage years. So how possible is it that Obasanjo betrayed a man that he held  in high esteem and obviously loved and respected. How true are the Abiola's allegations?