The looting of Nigeria's treasury is not exclusive to public officials or elected politicians, sometime, the spouse's hands have also been discovered in the cookie jar of public funds.
Even though evidences may seem scanty in indicting some of these spouses, however, some of them have been caught in causes of money laundering or mismanagement of public funds, especially Nigerian first ladies.
In 2012, PM News broke news that Florence Ajimobi, the Oyo state first lady had been allegedly arrested by Metropolitan Police in London over money laundering being in possession of 400,000 pounds and some thousands of dollars, a total amount of 500million naira in Nigeria currency but the news was debunked and the newspaper apologized for publishing the defaming article which had already gained prominence in news circle.
Mrs. Ajimobi is not the only First Lady in Nigeria that had been alleged to have been involved in a case of money laundering or blatant stealing from the state treasury, recall that in 2015, the EFCC had questioned a former first lady of Kwara state, Toyin Saraki, over alleged misappropriation of pubic funds, and abuse of office.
Even at that, when stories of Nigeria leaders' spouses that have looted the country's treasury is being discussed, Maryam Abacha's name will usually pop up, if you are quite conversant with history or follow the news on repatriation of looted funds back to Nigeria.
The wife of Nigeria's Military dictator, Late General Sani Abacha, Maryam, tops the list of spouses of Nigeria leaders that have been found guilty of massive looting, because it was reported that she knew all the foreign accounts that her husband had used to hide Nigeria's money.
In fact, investigations have shown that Maryam's name and that of her son, Mohammed, is listed as signatories to these foreign accounts managed by the late Abacha in countries like Switzerland, Liechtenstein, etc.
Maryam's complicity did not start today, during her days as the first lady, she launched a private initiative in September 1994, called the Family Support Programme (FSP) which replaced the Better Life for Rural Women established by the late First Lady, Maryam Babangida but in August 1998, Tell Magazine reported that FSP gulped more than N10 billion of taxpayers' money and the programme had little impact on the life of Nigerians.
Shortly after the death of her husband on June 8 1998, it was reported that she was stopped at the Aminu Kano International Airport with 38 suitcases filled with foreign currencies, on her way out of the country, a claim which she had always denied as a fabrication.

Also, it was reported that when she was being questioned about the money stashed in foreign accounts by her husband, Maryam said the money was not stolen or looted but that her husband was simply saving the money for Nigeria in some foreign accounts.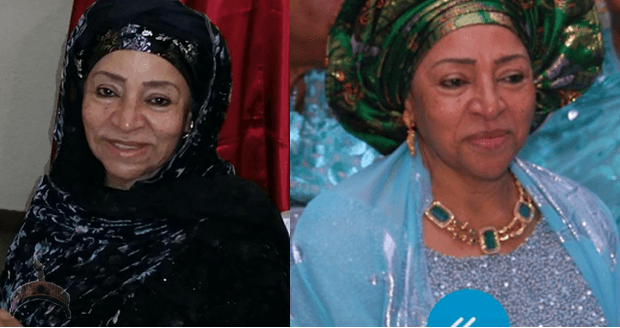 Abacha's loot that has been recovered so far from personal surrender, government of Liechtenstein, Luxembourg, France, Island of Jersey, United States and Switzerland is totaling up to trillions of naira but what makes the recovery quite insignificant is the reports that the late dictator has other hidden accounts in other countries and the agreement signed by the Jonathan-led federal government and the Abacha family, when the Switzerland fund was to be released explicitly states that, 'the federal government after recovering that loot must write off any other undisclosed asset.'
Undoubtedly, this arrangement puts Abacha's widow and her son in charge of millions of dollars and while we are still reeling from that it looks like Patience Jonathan, the former first lady may have overthrown Maryam Abacha, considering the monies traced to her which the EFCC has approached the court for its forfeiture.
A year after Mrs. Jonathan left office of the First Lady of Nigeria, the EFCC discovered four fictitious company had over $15,591,700 in its account, during investigation, a former aide to ex-President Goodluck Jonathan was indicted to be one of the shareholders in the company. The court granted forfeiture of the money which was domicile in Polaris Bank (it was still Skye bank, then) but Patience suddenly came out to claim the funds as her personal funds while denying any knowledge of the companies.
In another account opened with EcoBank owned by La Wari Furniture and Bath Limited, a company suspected to be linked to Patience Jonathan, the EFCC found N2.4 billion which the court also granted its forfeiture alongside the sum of $5.9million which was discovered in another account which legitly belonged to the former first lady.
While Patience was still battling to claim back these monies through the court, another whooping $8.4 million and N9.2 billion linked to her was also discovered by the anti-graft agency, said to be proceeds from unlawful act at the time she was serving as a Permanent Secretary in Bayelsa state.
The cases involving the money have also reached the Supreme Court which had upheld some of these forfeitures but the former first lady continues in the legal battle to reclaim the monies which she claimed were gifted to her by personal friends, state governors, while she was in office which makes it her personal property and not government property.
As Mrs. Jonathan's legal battle continues, one begins to wonder why these former first ladies never made it to the Forbes list of Africa's richest women, when they have such whooping sum of money as personal properties.
Let us know your thoughts in the comment section