Did you know that Yakubu Gowon wasn't the most senior army officer to take over power after the assassination of Gen. Johnson Aguiyi-Ironsi after the July 1966 coup?
Some people described Brig.-Gen Babafemi Ogundipe as a coward for failing to take over power after the assassination of his boss. Ironsi was killed by a group of army officers majorly led by the Hausa.
The July 1966 was described as a counter-coup, most of the victims were Yoruba and Igbos officers.
In this post, we'll set the record straight why Brig.-Gen Babafemi Ogundipe couldn't become the Military Head of State in 1966.
In one of his several articles on the ideals of Ogundipe Emeka Obasi in his November 18, 2017 Vanguard publication described some of those who called Late Ogundipe a coward as those who are ignorant of the challenges Brig.-Gen Ogundipe was facing during and after the coup.
Ogundipe ran away from Nigeria after the coup: The True Story
The story that he ran away from Nigeria because he was not brave enough to take over as Head of State following the assassination of Gen. Johnson Aguiyi-Ironsi is not true. It is like calling a dog a bad name to hang it.
Ogundipe, with identification, N6, was right in all decisions he took over power after the July 1966 coup. He was the most senior officer alive, the only brigadier still standing and at the brink of execution.
All those commissioned before him were:
Ironsi,N2,
Brig. Samuel Ademulegun, N3
Col. Raph Sodeinde, N4
Col. Kuru Mohammed N5
Col. Wellington Bassey, N1 (had been murdered).
The Yoruba had lost almost all their senior officers. Lt.Col. Adekunle Fajuyi was killed with Ironsi in Ibadan, the Yoruba headquarters.
Ademulegun and Sodeinde were shot in Kaduna, the regional capital of the North. Col. Adeyinka Adebayo was away while Lt.Col. Victor Banjo was in detention.
Who Killed Ironsi and Fajuyi?
According to Obasi, those who killed Ironsi and Fajuyi were junior officers and non commissioned officers.
Titus Numan snatched the military leader's crocodile stick while other ranks, some accounts say Ibrahim Rabo, Tijani Maiduguri, Sabo Kwale and Clement Dabang, among others, did the damage.
So how could anybody blame Ogundipe whose orders were ignored by an NCO for not taking over the government?
How Yakubu Gowon emerged as the Head of State
Mr Obasi stated that Lt.Col. Emeka Ojukwu was being diplomatic when he expected the most senior officer after Ironsi to be named Head of State instead of Lt.Col. Yakubu Gowon.
Ogundipe had no troops. Those who should have come to his defence were not there for him.
The Army was made up of the First Brigade, Lagos commanded by Lt.Col Hilary Njoku and the Second Brigade, Kaduna under Col. Bassey.
Lt.Col Hilary Njoku was with Ironsi and escaped with bullet wounds when the mutineers struck while Col. Bassey did not react at all.
Ogundipe wasn't the first senior army officer that failed to take over power
When Prime Minister Abubakar Tafawa Balewa was killed in January 1966, President Nnamdi Azikiwe was out of the country. Acting President, Dr. Nwafor Orizu, did not have the power to fight. He invited Ironsi to take over.
When Gowon was sacked in 1975, the next in command, Admiral Edet Wey, did not challenge Brig. Murtala Mohammed and his boys. The most senior Army officer, Gen. David Ejoor, did not fire a shot. They all went into retirement. No one blamed them for not taking over.
Also, when Murtala was killed in 1976, the duo of Gen. Alani Akinrinade and Brig. Godwin Alabi-Isama firmly stood behind Gen. Olusegun Obasanjo.
Obasanjo was already marked for execution but escaped and went into hiding, yes, for good.
Possibly, General Theophilus Yakubu Danjuma would have stepped in if his pals, Akinrinade and Alabi-Isama did not play smart.
Akinrinade as GOC, First Division, Kaduna held on firmly and told the plotters to go to hell. Alabi-Isama was handling Danjuma in Lagos.
Col.Sani Abacha's Brigade in Port Harcourt faulted the coup just like Col. Mamman Vatsa in Calabar.
A general without troops
There was no such bold action by anyone to support Ogundipe. He was left alone. A general without troops is as good as a eunuch. He would not perform even if you presented him with seven virgins from tropics.
When President Umaru Yar'adua passed on, it took the whole nation to take Vice President Goodluck Jonathan to the top, in spite of the Constitutional provisions. We began to hear about 'Doctrine of Necessity.'
How Ogundipe left Nigeria
Ogundipe relocated to the United Kingdom where he became High Commissioner. Gowon, two ranks his junior, was Head of State. Wise decision. Ogundipe did not want to serve in Nigeria under Gowon. Others did it. He died in London on November 20, 1971.
Yorubas have never been favoured in any coup
In January 15, 1966 coup, the Yoruba lost Ademulegun and his wife Feyi; Col. Sodeinde, Maj. Samuel Adegoke and Sgt. Daramola Oyegoke.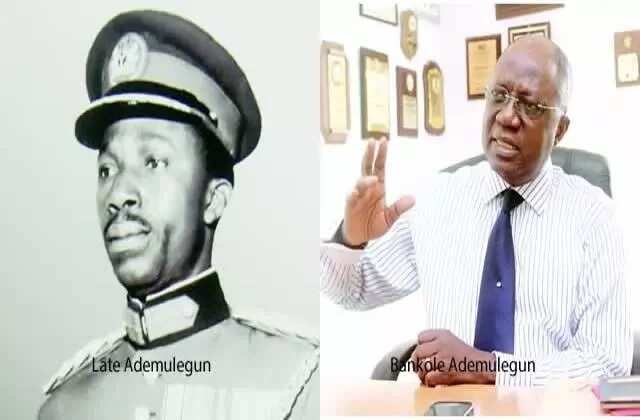 In July 1966 coup, which was masterminded by Lt. Colonel Murtala Muhammed and many northern military officers, Fajuyi, Maj. Ayodele Ogunro, Lts. S.E. Idowu and A.O. Olaniyan were killed.
The February 13, 1976 coup, which was spearheaded by Lieutenant Colonel Bukar Suka Dimka consumed Col. Ibrahim Taiwo, Lt. Akintunde Akinsehinwa, Majs. Ola Ogunmekan and Kola Afolabi. Murtala's wife is Yoruba.
The Vatsa plot of 1985 took Maj. Idowu Bamidele and Squadron Leader Martin Luther King.
The Gideon Orkar coup of 1990 cost four Yoruba lives. Okar was married to an Ogbomoso woman. All seven men condemned to death after the coup against Abacha in 1998 were Yoruba.
Gen. Oladipo Diya will never forget the days of Abacha.
Significance of the above analysis
Ogundipe died on November 20, 1971, according to Obasi, "It is ignorance to refer to Ogundipe as a coward. A man who fought in Burma, expert head hunters, saw action in India and spent three years in the Congo fighting, deserves all respect."
While other military officers were over-ambitious, Ogundipe was a man who wanted a united country.
Share your thoughts with us.