President Muhammadu Buhari has assured that the brutal activities of the Boko Haram sect would soon become history.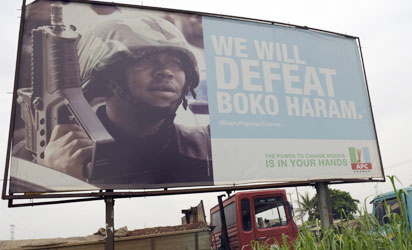 A photo shows a campaign signboad displayed by the ruling All Progressives Congress (APC) to show its readiness to defeat Boko Haram Islamists on assumption office at Ogijo, Ogun State in southwest Nigeria, on July 3, 2015. Boko Haram carried out a fresh wave of massacres in northeastern Nigeria on July 3, locals said, killing nearly 200 people in 48 hours of violence President Muhammadu Buhari blasted as "inhuman and barbaric". AFP PHOTO
President Buhari gave the assurance on Thursday night when he hosted members of the Kannywood entertainment industry to a dinner at the Presidential Villa, Abuja. The President who spoke in Hausa language at the meeting said that the Federal Government would not allow any group hiding under religion to unleash terror on innocent citizens. According to him, "It's totally wrong for any believer in God to kill innocent people either in the Mosque, Church or the market place.
"You can't be shouting Allahu Akbar (Allah is Great), Allahu Akbar, and killing innocent citizens and destroying properties all in the name of God. "It is either you don't know what you are saying or you don't even believe in the existence of God Almighty
. God has nothing to do with injustice. "So, now we are confronting them and by the grace of God we will destroy them.'' President Buhari who recalled his political struggles since 2003 when he made his first attempt at the presidential seat, showered encomium on former President Goodluck Jonathan for accepting defeat in the 2015 general elections.
He said, "I'll continue to hold former president Jonathan in high esteem as a result of that singular act. "He (Jonathan) was in power as Deputy Governor, Governor (Bayelsa), Vice-President and President, all for about 10 years and he voluntarily accepted defeat and surrendered power to me."
The president also enjoined members of the Kannywood to use their respective talents in promoting the culture of peaceful co-existence and unity among the diverse socio-political groups in the country. Speaking earlier in his remarks, the Secretary to the Government of the Federation, Mr Boss Mustapha, expressed the hope that Buhari had been guaranteed at least five million votes in the 2019 presidential election by the fans and followers of the entertainers.
He urged them to use their platforms in the social media in promoting the achievements of the Buhari administration. Mustapha thanked entertainers for the roles they played in 2015 which contributed immensely to the victory of Buhari in the presidential election, and called on them to repeat the same in 2019. Representatives of the Kannywood entertainers, who spoke at the event, pledged to mobilize support for Buhari and other APC candidates in the forthcoming 2019 general elections.
Boko Haram has abducted more than 1,000 children in northeast Nigeria since 2013.
The number of children kidnapped by the Nigerian terrorist group includes 276 girls snatched from a boarding school in the northeast town of Chibok on the night of April 14, 2014.
Some of the Chibok schoolgirls managed to escape, while others were later rescued or freed following negotiations. But four years on from that fateful night, more than 100 of them have yet to be returned to their families, according to UNICEF.
The Chibok abduction reminds us that children in northeastern Nigeria continue to come under attack at a shocking scale. The recent Murder of Leema is still in our hearts and we hope this is not just another ploy to get into power, but a true heart felt promise to  create a safer environment for our children.