News went round social media and other news sites revealing that the king of Swaziland, King Mswati had ordered men from Swaziland to marry five wives each. According to the reports, it was said that King Mswati III of Swaziland declared in Mbabane Swaziland that men will from March 2019 be required to marry at least five wives or be jailed if they fail to do so.
The report further stated that the king, who has 15 wives and 25 children, while his father and predecessor has more than 70 wives and 150+ children revealed that Swaziland is facing a very serious problem as there are more women than men in the country. So men were therefore required and expected to take more wives so that every woman can get a husband.
The news spread like wild fire and obviously got to the ears of King Mswati. On hearing this, the Swaziland king denied ever ordering the men in his country to marry more than one wife or face imprisonment.
According to a statement issued by the government of Swaziland on Monday and signed by its spokesperson, Percy Simelane, and available on Bulawayo24.com, the government said the issue was never discussed. The statement blamed the Zambia Observer newspapers for the report, asking it to substantiate its claim.
Part of the statement read, "In the wake of several poisonous reports published in some foreign newspapers, social media platforms and other forums purported to be an official statement by His Majesty, King Mswati III, Government wishes to state the following:
The current dispatch titled 'Marry more wives or face jail', quoting the King is not only an insult to the monarchy but a disgrace to journalism.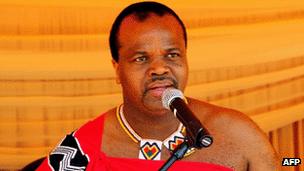 His Majesty has not made any pronouncement to that effect and it has never been an issue raised by Emaswatini."
The reports alleged that King Mswati had ordered that men in the country should marry more than one wife by June or face jail terms.
See full statement:
Kindly share your comments on this story in the comment space below.
Punchng.com