The most watched and talked about TV series in the air waves that has gotten alot people engaged both in conversations and social media platforms has also succeeded in  filtering the church.  The church not excluded  from the brouhaha the series brings have decided to include it as part of their Youth Alive logo design.
As seen on the photo above, the just released Living Faith Youth Alive Easter design posters had subtle Games of Throne themes in it. Although this had cause mixed reactions from both non christians and christians  all over.
Youths of the living faith church argued that the church was unaware of the background theme  which the design was built on.  Looking at the design what do you think about this new 'Youth Alive' invite by Living Faith Church? Creative of nah?
Read some of the reactions from people on social media below;
Zarina wrote; "Papa Oyedepo never see am or he doesn't know the origin of the design. He no go gree at all".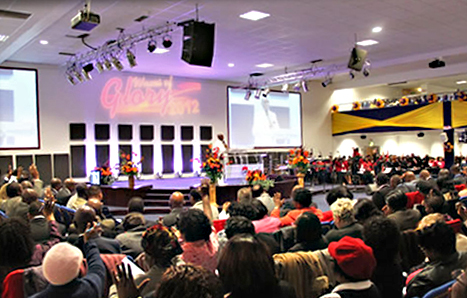 lonelydora wrote; "Creativity! Since GOT is trending, they need it also to draw people's attention.  The church is marching on, and the gates of hell shall not prevail"
ChristianNorth wrote; "Game of thrones without Jon Snow, the Iron Throne, Dragon Queen, Cersei and white walker, is that one game of thrones?"
NobleAngell wrote;"When I saw "youths", i wasn't surprised. Na them na. Games Of Thrones madness everywhere".
Jaynom wrote:"Pentecostal churches are a show"!
RALPHOW wrote; "What is game of thrones? Majority of us in Winners including Papa don't know what you are talking about, GOT or what! As far as we are concerned in winners family, it's a good design" .
donsheddy1 wrote;" I don't understand your Grammer o. How did they use game of thrones? Is have of thrones now a photo editing software or what? Instead of you saying they used a font inspired by g.o.t you're there confusing yourself".
Kindly leave your comment below and don't forget to share