For Spanish champions Barcelona, celebrating a club icon like Lionel Messi, who is regarded as one of the all-time greats, is all that matters on this day in football as he marks his 32nd birthday in style after helping Argentina qualify for the quarter finals of the 2019 Copa America courtesy a 2-0 victory over Qatar.
Although, many will argue that the Argentine is the second greatest footballer ever behind a certain Cristiano Ronaldo, but that's not our focus for this article.
Messi has spent his entire professional career at Barcelona, where his exploits have seen him transform from a 13-year-old who suffered a growth hormone deficiency to become the revered superstar he is today.
The five-time Ballon D'Or winner, arrived Barcelona at 10 back in 2001 after leaving Newell's Old Boys as the Argentine club were unable to sustain their contribution to his treatment of the hormone deficiency that threatened his future as a professional footballer. In September 2000, Messi, who had relatives residing in the Catalonia region had a trial arranged with Barcelona and impressed the first team director Charly Rexach. He showed great interest in having the youngster signed and eventually a deal was sealed on a napkin in December 2000 but he did not move fully to the Spanish capital until February 2001.
Now part of Barca's youth academy, La Masia, Messi was able to complete his hormone treatment a year later on the club's bill and became a star to watch after scoring 36 goals in 30 games for the Cadetes A in the 2002/03 season.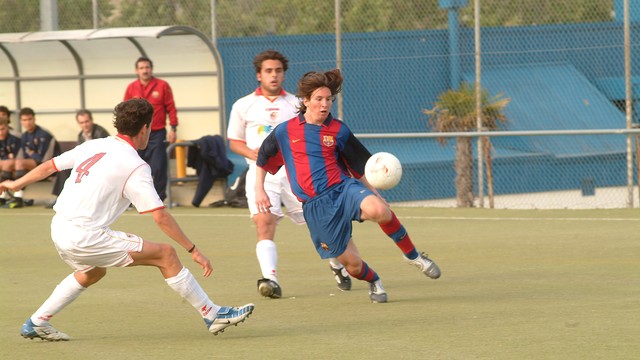 He even had a contract offer from Arsenal who also signed Cesc Fabregas from the club, though, Messi chose to remain in Spain.
The Argentine went on to make his senior Barcelona debut aged 16 years in a November 2003 friendly against FC Porto, then managed by Jose Mourinho, with then-assistant manager of Barca, Henk Ten Cate, stating afterwards: "It seemed as if he had been playing with us all his life."
It was in that season Messi made a record debut for five levels of the club in a single football campaign and was eventually called up to the first team which was suffering an injury crisis at the time. By February 2004, Messi had been handed his first professional contract with the club.
But he had to wait eight months for his official debut and that took the intervention of senior first team players who had been impressed with his displays before he was drafted to the first team again. He made his first competitive appearance for the club in a derby clash with Espanyol in October 2004.
The Argentine youngster went on to score his first senior goal in May 2005 against Albacete, from an assist by Brazil great Ronaldinho, to become the youngest-ever scorer for the club at that time. The rest, as it is said, is history, as Messi has gone on to score 613 more goals in Barca colours.
Those goals have seen him help Barcelona to a staggering 34 titles in 14 years between 2005 and 2019, including 10 La Liga titles, four Champions Leagues, six Copas del Rey, as well as three UEFA Super Cups and three FIFA Club World Cups.
Some may argue that his lack of international titles with Argentina is a huge minus in his career, the exploits of Messi in football which has also seen him win, among many more awards, the Ballon d'Or a record five times, La Liga Best Player seven times, UEFA Men's Player of the Year twice and European Golden Shoe six times including for the last three successive seasons put those claims against him to the background.
Also, Messi holds the record for longest scoring run in a league with 33 goals in 21 consecutive La Liga matches in 2012/13, being top scorer for club and country in same calendar year when he scored 91 goals in 2012, making the most appearances (12 with Ronaldo) in the FIFPro World XI and being the only player to win more than one FIFA Club World Cup Golden Ball award.
Meanwhile, on this day in football, one of Messi's managers at Barca, Pep Guardiola featured as a Barca player for the last time on this day in 2001 when the Catalan club faced Celta Vigo in what was his 479th appearance in 12 seasons for the first team.
Guardiola first joined Barcelona's youth set up in 1988 and rose through the ranks before getting into the first team two years later, winning 16 titles including six La Liga, one European Cup, one UEFA Cup Winners Cup and one European Super Cup.
He went on to become Barca manager in 2008 and led the club to 14 titles including three league wins, two Champions Leagues and two Spanish Cups.
What are your thoughts on such a great day in Barcelona's history? Is Messi the undisputed greatest of all time? Share your views with us in the comment section.