Atletico Madrid star Antoine Griezmann who is a target for Barcelona has told reporters he knows his next club. The France international announced last month he'll be leaving the Spanish Capital five years after he joined the Rojiblancos.
The former Real Sociedad star was a prime target for Barcelona last season and was even close to joining the La Liga champions. However, he announced on live Tv that he will be staying at the Wanda Metropolitano.
But he's changed his decision once again this summer despite signing a five-year contract extension earlier this season. Barca still remain in pole position to sign the 27-year-old, but Griezmann is not giving anything away when he was asked about his future.  According to Sport Espana, Griezmann cryptically declared:
"I know where I'm going to play next season," He jokingly concluded: "I can not say it's going to be in Miami." I also know where I will be playing… in seven years. I could say, at Miami. I could say."
Atletico Madrid president also revealed he doesn't know where the 27-year-old will be playing but insists there are no hard feelings between them. "Griezmann has been with for five years and done a splendid job. We have a good relationship.
Nice, trustworthy. "I hope wherever he goes he will be treated the same as he has been with us. "I don't know where he's going, he didn't say. I don't have the slightest idea where he will go. I don't think anyone knows."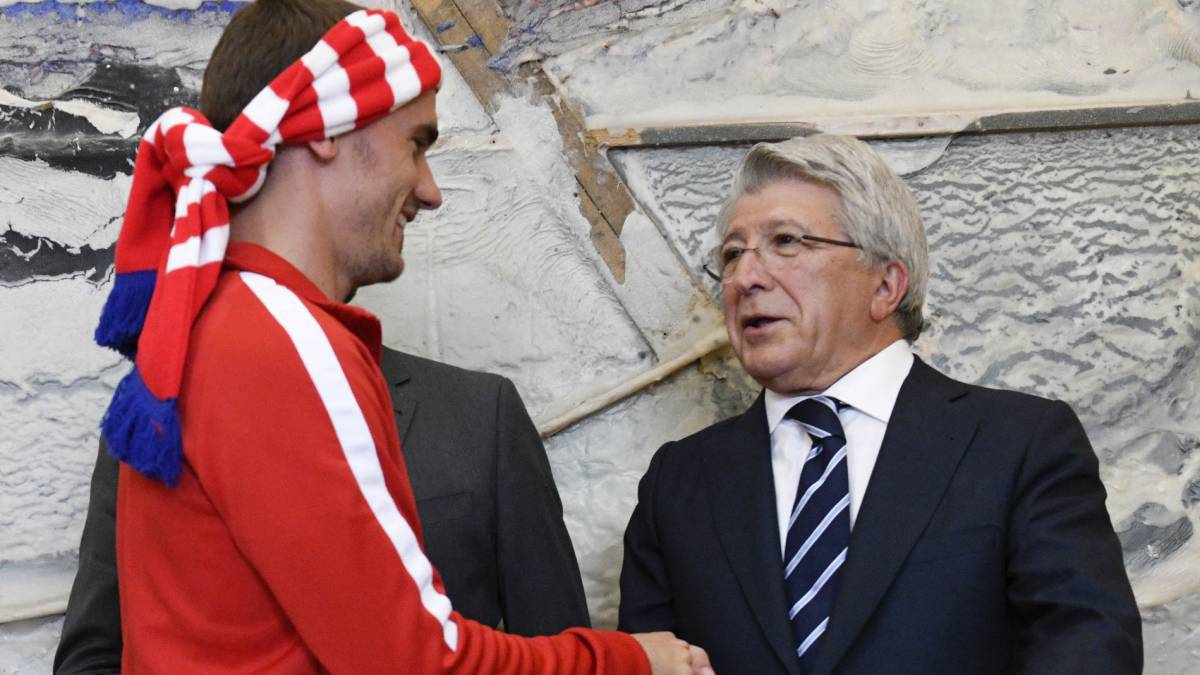 Meanwhile, according to London Evening Standard,  Barcelona have cooled their interest in the world cup winner amid rumours most of the club's players are against the move and want Neymar signing instead.
Also in other news, another Barcelona target, Matthijs De Ligt has said he's taking his time before deciding his future. De Ligt's performances this season made him become one of the most sought after players in Europe this season.
The Netherlands international led Ajax to their first league title and Cup victory in five years while he was also instrumental in Ajax fairytale run in the champions league. "I will take my time to reflect on what is the best option for my future," he told reporters after the win over England.
Bayern Munich have dropped out of the race for De Ligt while Manchester United have become increasingly pessimistic about their chances of landing him. Liverpool and Juventus have also been touted as contenders to land his signature, but PSG and Barca are the favourites.
Meanwhile De Ligt's international teammate, Frenkie De Jong has advised his compatriot to link up with him at Barcelona. The duo played for Ajax this season, but De Jong will be playing his football in Catalonia next season after agreeing a deal with Ajax over his transfer in January. He has to make his own decisions,' De Jong said. 'Of course,  I would like him to come to Barcelona but we will see what happens.
It's up to him. 'I don't know, it's his decision. You have to ask him about it but I hope he comes to Barca. 'Of course, we talk about it [De Ligt signing for Barcelona]. It's not up to me to say what he's going to do or his thoughts. 'I don't have an influence on his choice. He has to make it on his own and with his family."