There is definitely something about the trending bridal makeup revolution going on in Nigeria at the moment. Nigerian women invest so much in makeup so that they can achieve a perfect look. It is the priority of a  bride when planning her wedding ceremony. It is so important if not the most important for a bride who is planning to get married. Forgetting the fact that they will still look like their old selves after the makeup.
Imagine your groom standing at the altar, watching you as the woman he has chosen to take his name, to share his life, glides gracefully toward him in all your bridal finery and then he does not recognise you anymore. "Who is that creature walking towards me under those painted eyes those shellacked lips?" he gets scared and asks himself, "What has happened to my lovely bride?"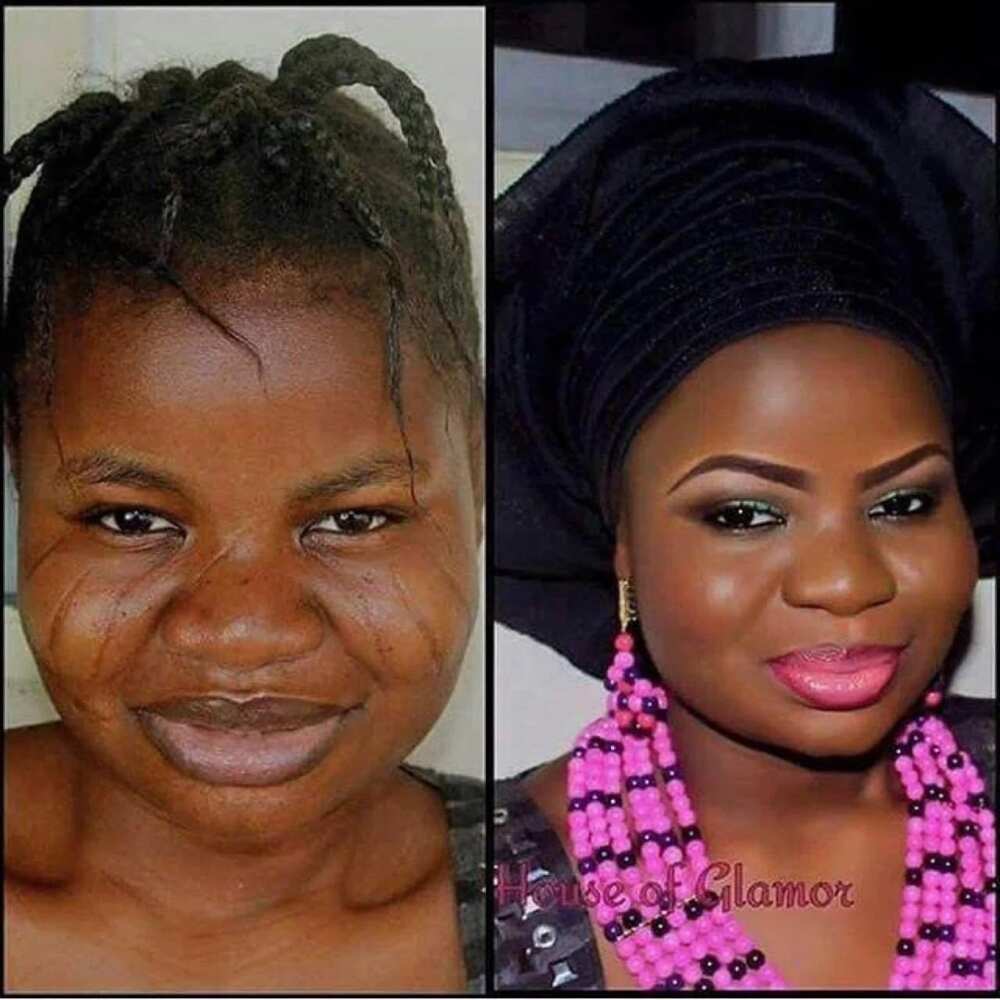 But here is the reality ,first and foremost when it comes to makeup, less is more. Secondly, remember that when your beloved met you, you didn't have all that makeup on, yet he liked you and found you beautiful and even fell in love and proposed.
Thirdly, have in mind that everyone will be looking at you on your big day. You are the center of attention and nobody can still your shine on that day. Also, your convenience and comfortability is very important. Why allow a fellow make you forget all these all in the name of trying to look very beautiful on your big day?
Recently, a lady shared the picture of a bride identified as Bisola Umoren, from Lagos, Nigeria on social media and her caption reads: "She refused to wear make-up on her wedding day… Adwoa Mansa, can you do this? I dare you." A string of laughing emojis finished the tweet. In just a few days, the post had been retweeted over 1,300 times.
Many praised Umoren for her "natural beauty", and for having the confidence to go barefaced, while several women revealed that they had also avoided make-up on their own wedding days.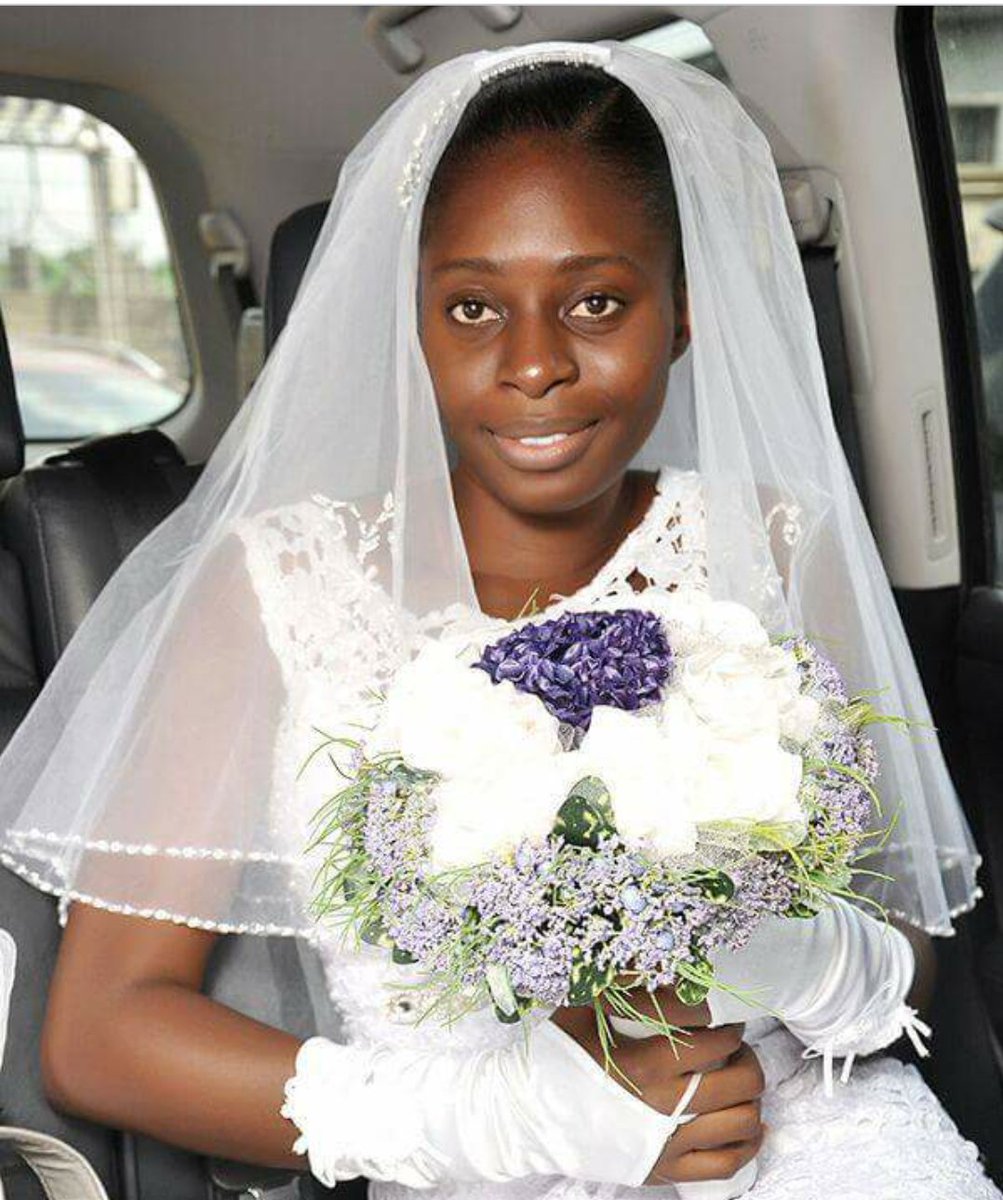 However there were a large number of people who disapproved of the idea, with some even going so far as to suggest that Umoren had made a "lazy" beauty choice for her nuptials. Umoren later spoke out about why she made such decision. She said: "When my husband first met me, I had not had my bath, but he saw and fell in love with my natural look.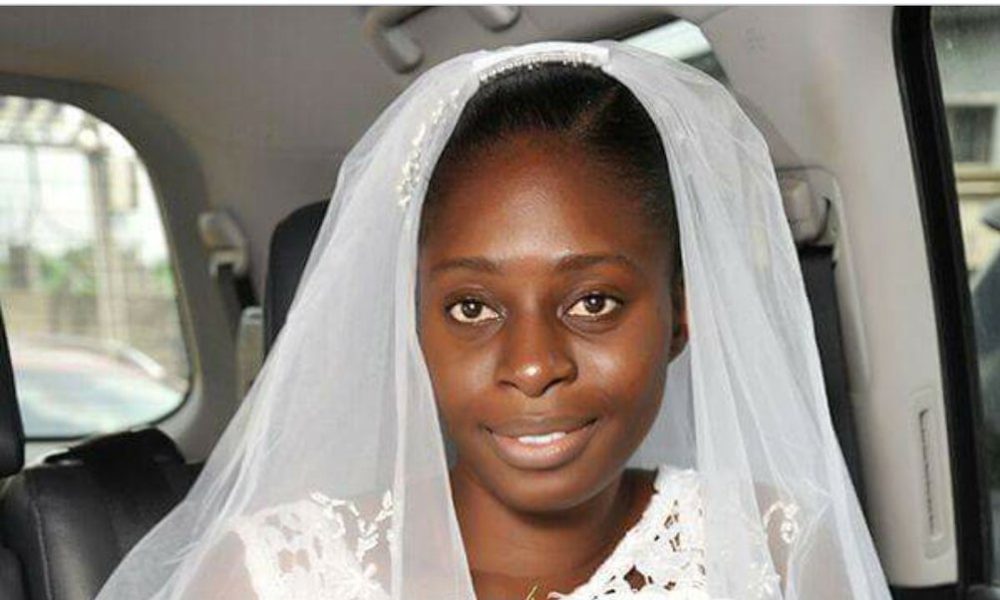 "My hair was due, my face looked way older, I was even tying nylon on my hair when he came to me on that fateful morning, yet he loved what he saw. So, who am I supposed to be making all that up for on my wedding day?" Umoren added: "I'm not the make-up type. I don't even wear earrings or like to drop my hair. I don't like any form of inconvenience or discomfort on my face, my neck and entire body. "It is not a church thing, it is just me and my personal decision."
Umoren is not the only bride joining the barefaced wedding revolution. In fact, many women have shared photos of their #nomakeupwedding on Instagram.

It is understandable if you do not want to look too ordinary on your wedding day. I mean nobody is saying you should be like Umoren. By all means, go all out and experiment with makeup beforehand.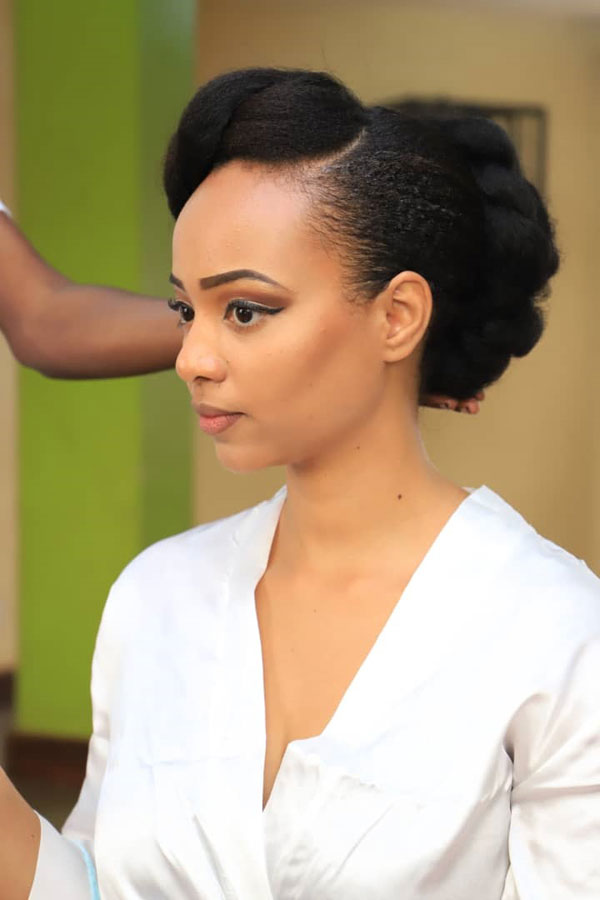 It should take place well before the big day, so you have time to see what looks good and what doesn't. Your guests and your groom expect to see you up there, not Naomi Campbell. Remember that the point of makeup is to enhance your features and not hide them or make you look uglier.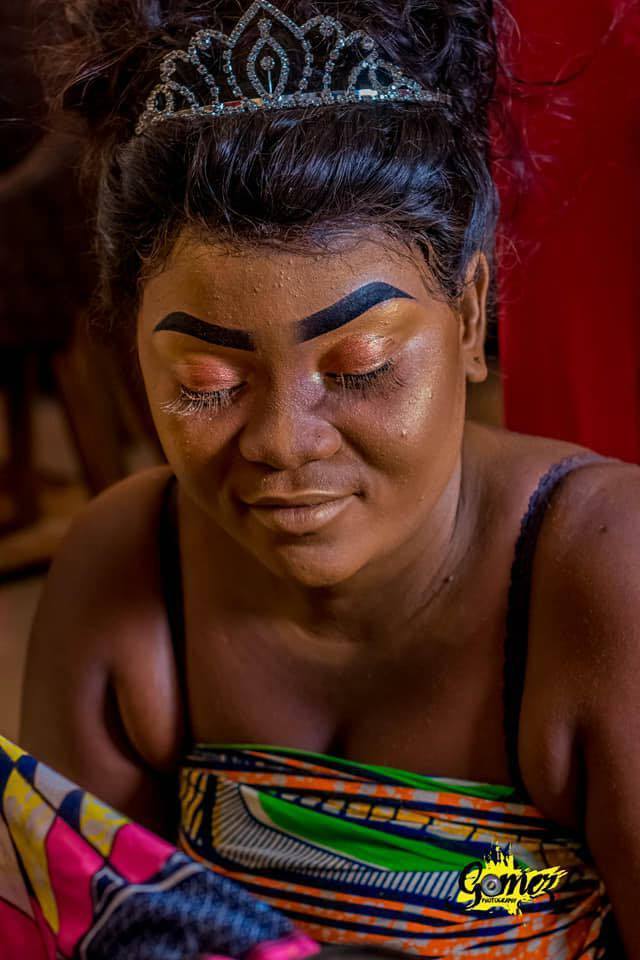 It is so unfortunate that so many brides who want to look their best on their big day end up falling victim of a bad makeup. In a bid to perfect their look, they hire makeup artists who end putting too much colours, paint their faces and change the bride totally. Some might be lucky to still come out fine while some will turn out horrible.

Usually in Nigeria, a wedding is a huge family affair for both families coming together as one and it's almost like a common norm for brides to look their best on that day especially the look for the traditional wedding.
The traditional wedding look is always above and beyond and with the evolution of social media and facebeat photos, everything has become more than it was. Traditional attires for brides are usually as glittery as possible with beads studded around the fabrics, layered headgears, ileke (traditional beads) as accessories for the bride depending on the culture of the bride's state and the magnificent facebeat.
A bride no longer has powered and lip stick as makeup, now there is a lot that goes into the process from highlights to contouring and so many other things.
Most Nigerian men are of the view that Too much makeup/Makeup is actually not a necessary thing. They see it as waste of time and money. There have been various complaints from men whose partners turned out different from the women they used to know.
An incident happened sometimes ago where a man broke his engagement to his fiancée upon seeing her in person; the pictures of her he had always seen was with makeup so he was shocked when he saw her without any makeup on.
It was not the face of the lady he used to talk to while he was not in the country.
In the same way, some men have been deceived by Nigerian women as a result of the makeup they use. At this point it would be good for us to clarify certain things; no one is saying women should not use makeup or let their faces be bare, but the makeup should be applied moderately.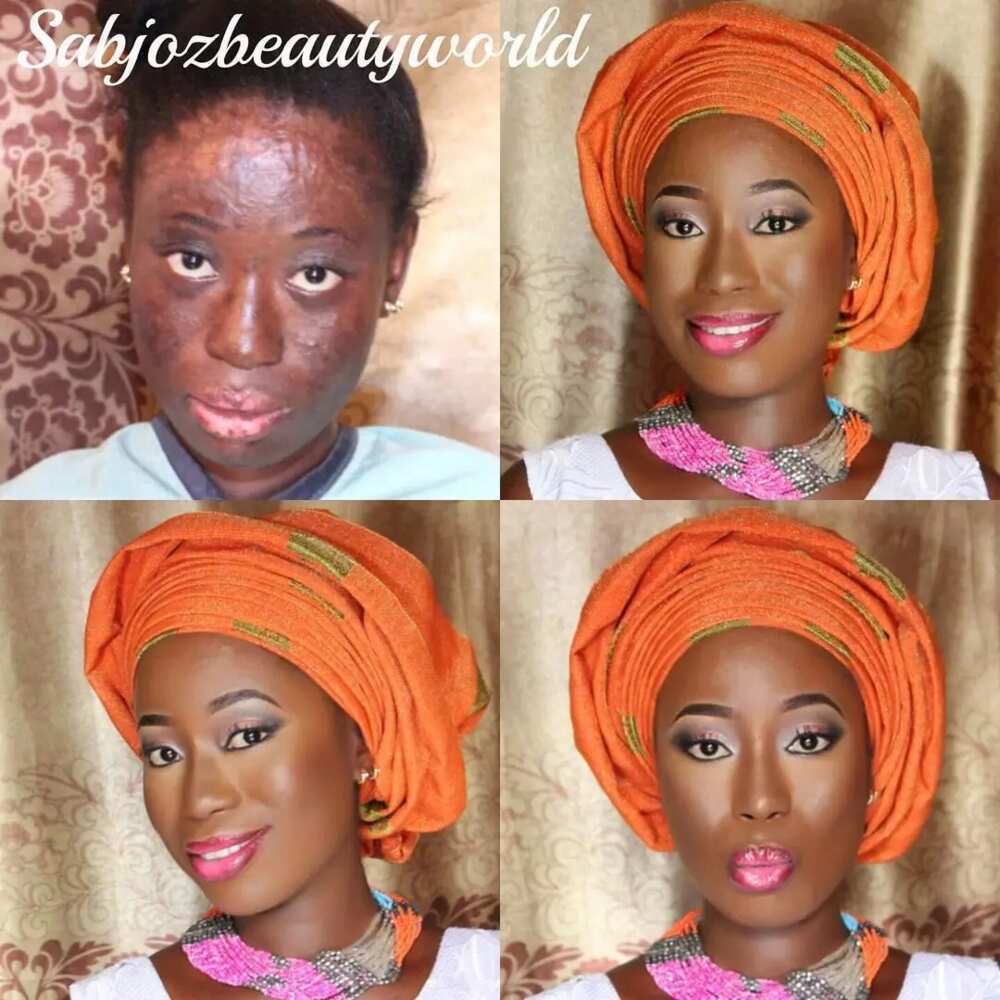 We understand that some Nigerian women have genuine reasons for concealing their faces with makeup but some just overdo it; they become a different person after having their faces done. With the different talented makeup artistes in town, the men may have a hard time guessing the real ages of the women once they have masked their faces with the different beauty products.
Will you do an heavy makeup for your wedding? As a man, will you like your wife look totally different on your wedding day? What advice do you have for Nigerian ladies who think makeup is a do or die thing?
Please share your thoughts in the comment section below
Images : Google