Eating with bare hands is a decision that is made personally and reasons best known to the person. To the surprise of many who wonder why people choose to with with their hands and not cutleries, there are actually some benefits that you stand to gain when you eat with your hands.
As we all know, a lot countries around Africa love to eat solid food with their hands. A lot of people don't actually know why and find it "strange". Some Europeans or Americans even find it gross. Even-though they have their reasons why they love to eat with their hands, this act has its own advantage.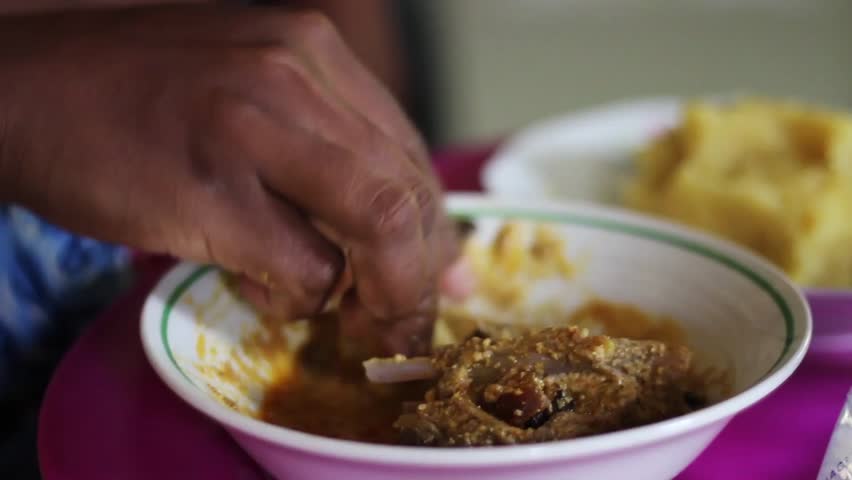 Studies have shown that each finger used to eat is an extension of one of the five elements. The thumb is space. Children at the age when they are unable to chew tend to suck their thumb, this is nature's way of aiding the digestion.
The fore finger is air, the ring finger is earth, mid finger is fire and the little finger is water. Imbalance of any of these elements can actually lead to many diseases or disorders in the body.
When we eat with our hands we normally stick our fingers and thumb together to eat, therefore when we use all the five fingers to eat food that is when we put all the five elements energising the food and helps in keeping all our pranas in balance.
A recent study also showed that people with type 2 diabetes were more likely to be hasty eaters and used cutlery to eat, as compared to people without the condition. If you suspect that you might be eating too fast, ditch utensils and focus on your eating method.
You have to deliberately slow it down and see how you feel after eating with hands. You will be amazed by how soon you will get full with less food if you eat with your hands. But do make sure that your nails are trimmed and hands are clean enough to eat food, otherwise you might end up having infection.
For some its simply cultural while others just enjoy the raw enjoyment that comes with feeling the texture of your food as you eat it. It certainly isn't "gross" as some people think plus I often wonder how awkward I would feel to eat solids such as pounded yam or Amala with a fork.
Also in some parts of the world, eating with your left hand is taboo. Here's the bottom line, to really appreciate and enjoy what you're eating, you should try using your hands. Its a very fun and appetizing way to eat your food.
Try it in the comfort of your own home and I guarantee you will love it but don't forget to wash your hands first!
Do you enjoy eating with your hands or spoon?
Please share your thoughts in the comment section below
Source : Allure Vanguard
Images : Google