In 2016, a disturbing story of how Hausa men in Lagos lure young girls of all tribes for explicit gains went viral after some male residents of the Hausa extraction allegedly threatened the young and underaged girls following the saga of the kidnap of a 14-year-old girl, Ese Oruru.  These men were said to have been deceiving young ladies with material gifts so as to have amorous relationships with them. Ese was kidnapped by one Yunusa yellow who planned to marry her after converting her to Islam. Please, note that this preamble above is just an introduction to why Hausa men go after underage girls.
Now the big question; why do premature girls look attractive to most men from the Northern region of Nigeria? Apart from the influence of religion and customs, some of these men are known to have an affinity to fragile things which include children who are yet to understand their bodies and how it works. You see, in Nigeria, according to UNICEF, Nigeria has the highest rate of girl marriage in Africa with over 50 per cent of women in the North married off before age 16.
Sokoto is one of the states in the North-west of Nigeria with a high level of child marriage. Especially in the rural areas of the state, many school-age-girls are denied education, proper parental protection and other good things of life. Instead, they are married off at their tender ages. This applies to some other states in the North-west and North-east of Nigeria. This situation contributed to Nigeria being estimated to have about 11.5 million out of school children in 2013, according to data released by UNICEF.
Should we be worried? Of course, we should. It's not bad enough that these girls are forcefully subjected to such lifestyle but the fact that some of them are even kidnapped all for pleasure is enough reason to raise an alarm. very quickly let's look at why some of these men go after underage girls.
PERVERTED MINDS: Out of the abundance of the heart, the mouth speaketh. The heart of Man is desperately wicked and only God can tell what a man thinks in his heart for his thoughts are what makes him who he is. Do I need to go further? For clarity sake, I will. growing up as adults we start to notice our erotic sides and the cravings that come with it. Some start to experiment with them at an early stage while others don't.
As sickening as it sounds some men who run after women and their body parts derive pleasure only from bedding very young girls. What do you think will make a man take a second look at an infant in diapers and become aroused? My point exactly. No sound man will stoop below the belt to bed an infant but today it has become a norm among most of these folks and yet little or nothing seems to be done about it. A fully developed or developing breast, soft lips and rich hair are some of the physical traits that tend to excite these men even though the ladies appear modest.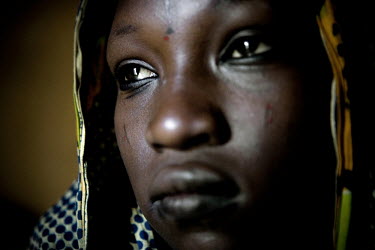 THE STRONGHOLD OF RELIGION: I know there are scholars who would argue this but from all indications, religion in the North has contributed to the abuse of underage girls all in the name of obeying scripture. In one of the most practised religion in Nigeria, Islam we have heard where scholars have defended the marriage if underaged girls on claims that their religion permits them rolling out proof from the Holy scripture which says;
The Prophet (blessings and peace of Allah be upon him) married 'Aa'ishah (may Allah be pleased with her) when she was six years old and the marriage was consummated when she was nine years old. Narrated by al-Bukhaari (4840) and Muslim (1422).

Ibn Qudaamah (may Allah have mercy on him) said in al-Sharh al-Kabeer, 7/386:
With regard to females, the father may give his minor, virgin daughter who has not yet reached the age of nine in marriage, and there is no difference of opinion concerning that, if he gives her in marriage to someone who is compatible. Ibn al-Mundhir said: All of those scholars from whom we acquired knowledge unanimously agreed that it is permissible for a father to give his minor daughter in marriage if he arranges her to someone who is compatible, and it is permissible for him to do that even if she is reluctant.
On this premise, many find themselves caught in the web of going after underage girls against all odds and sadly even the more enlightened men follow suit.
CUSTOM: In the days of old, across the country, men were known to marry off their daughters at a young age even though the range varied across the tribes who practised such. Some were known to give their daughters to suitors the moment they saw their first menstrual blood in their father's house while others gave theirs away the moment they clocked a certain age.
Though this practice has been abolished in most parts of the country, may in the North still follow it to the latter as it is seen as the custom of their land which must be obeyed. This is another major reason many young girls still find themselves trapped and alone in the world of marriage that they are yet to understand.
We have witnessed how the lives of many of these girls have been destroyed and their future compromised after ending up in the arms of these men. Sadly even though education and the government have played a huge role in curbing the rate at which such relationship occur, many of these Hausa men still opt for the stone age method of defying little girls as s sign of superiority.  The victims of these unions either die from medically related complications or are killed while trying to escape from their captors.
Do you think it's about time these practices stop or should we sit back and encourage this gender-based crime that has rocked our nation for decades? Let us know in the comment section below and don't forget to share.