Expensive houses owned by footballers: Football or soccer as you may like to call it, is a game loved by many across the world. It brings so much joy and passion. As a result of the popularity the game has, most footballers are rich and live a luxurious lifestyle. World football stars earn so much from huge salaries and merchandise. Therefore they can't be blamed for owning some of the most expensive houses in the world.
10. Kaka ($3 million)
Do you know that the house Gareth Bale is living in belongs to Kaka?.. yes it does. The 1,500 sq ft home in Madrid has a gym, an indoor pool and a six-car garage. He purchased the luxurious house when he was transferred to Real Madrid from AC Milan. Gareth Bale is renting it for $16,000 a monthly. Kaka is a Brazilian professional soccer (football) player who has a net worth of $105 million. Kaka (real name Ricardo Izecson dos Santos Leite) was born in Gama, Federal District, Brazil on April 22, 1982.
9. Andres Iniesta ($4.6 million)
Andres Iniesta is a Spanish football (soccer) player who has a net worth of $90 million dollars. Andres Iniesta was born in Fuentealbilla, Spain, and began to attract the attention of multiple youth coaches while playing for his local team as a child. He has been nominated for numerous sports honors and was named the UEFA Best Player in Europe in 2012. He was also named the Best Player of the 2011–12 UEFA Champions League, came in runner-up to Lionel Messi in 2010 FIFA Ballon d'Or voting, and won the La Liga Spanish Player of the Year award in 2009. He was also awarded the Marca Legend Award in 2011. Andres Iniesta's house cost $4.6 million and its a five-bedroom mansion built in 2005. Don't be deceived by the impression you get when you look at the house from the outside. The Barcelona Superstar's house has a pool and a Roman Catholic chapel right  inside the houses. We all know how religious Iniesta is.

8. 
Mario Balotelli ($4.86 million)
Mario Balotelli is an Italian professional soccer player who has a net worth of $60 million. As a 22 year old he signed a $36 million contract with Manchester City. Mario Balotelli does not live in this $4.86 home anymore. It includes a pool, a private theater, a wine cellar, a putting green and four bedrooms and bathrooms.
7. Cristiano Ronaldo ($6 million)
Cristiano Ronaldo dos Santos Aveiro is often considered the best soccer player in the world and is regarded as one of the greatest of all time. He is currently playing for the Spanish club Real Madrid, and the Portugal national team. As of 2019, Cristiano Ronaldo's net worth is roughly $450 million, making him one of the richest athletes in the world. With his all his wealth, most people would have been disappointed if Cristiano Ronaldo wasn't live in a multi million dollar house. This Real Madrid superstar's mansion in Madrid includes a sauna, a private theater, a gym, a pool and an aquarium. Ronaldo bought this mansion in 2008.
 6. John Terry ($7 million)
John Terry's net worth is estimated to be £38.2 million ($50m), according to The Sunday Times Rich list. The player most recently earned £4 million from his one year with Aston Villa. In 2007, Terry became the highest-paid player in the Premier League. Up until that point, he was earning £67,000 a week. This was doubled to £135,000 in 2007, which added up to £7 million-a-year, before tax. John Terry bought the former home of golfer Colin Montgomerie for £4.35m ($7 million) after selling his nine-bedroom mansion, and his original house in Oxshott, Surrey. Terry has a penchant for making money by selling his homes. He sold one of his mansions in Surrey last year to Sultan bin Mohammed al-Naamani. He made a profit of around $16.3 from this sale.
5. Frank Lampard ($10.5 million)
At one point Frank Lampard was the highest-paid Premier League footballer. Spear's have reported that his net worth is in the region of £41 million, which is no surprise given his illustrious football career. He owns a number of properties, and has had sponsorship deals from major corporations. Frank Lampard put on sale his 19,500 sq ft home for £7m ($10.5 million). It is one of the two that he owned while he was still playing at Stamford Bridge. It features nine bedrooms, twelve bathrooms, a putting green, a swimming pool, a boat dock and a tennis court.
4. Wayne Rooney ($17.83 million)
Rooney takes home an annual salary of £13m at D.C. United, which surpasses the £150,000 he was earning a week at Goodison Park. Rooney's neo-Georgian mansion was built in 2004. It has a private theater, a huge pool, Grecian-style statues and undersoil heating for the lawn. With a £50,000 garden landscaped. One of the additions was a £30,000 state-of-the-art security CCTV system to stop peeping toms leering in.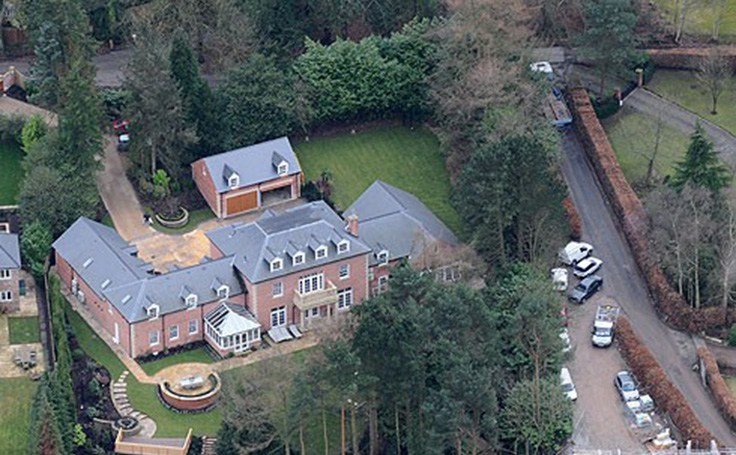 3. David Beckham ($20 million)
Even though David Beckham is retired, he is a rich and powerful celebrity. Nicknamed Beckingham Palace, he bought this home in 1999. It has a chapel, a recording studio and a football pitch.
2. Didier Drogba ($21 million)
Didier Drogba is one of the most successful footballers to play the game (called soccer in the United States). In addition to his net worth, Drogba also holds the record of the top scorer of all time in the Ivorian national football team. Didier Drogba has made a lot of name for him himself with the accompanying wealth. His net worth is around $90 million according to Wealth-X. Drogba live in a spectacular mansion that has eight bathrooms, seven bedrooms and a trophy room with a price tag of £14.5 million. It is around 8,600 sq ft. Simply amazing!
1. Lionel Messi
Lionel Messi is an Argentinian footballer (soccer player) known to be one of the greatest players of the modern football league. He is known for his goal scoring records and his ability to dribble the ball past opponents. As of 2019, Lionel Messi's net worth is $400 million, making him one of the richest soccer players in the world. Considered as the best footballer in recent times, Lionel Messi own one of the amazing houses in the world. The Barcelona forward's house has a private theater in the house, a spa, as well as a football pitch. Although the cost of the building is still not known, its evident it cost millions of dollars. Surprisingly, this house is not enough for Messi, He is also in the process of building a new house shaped as a football.. Isn't that incredible?
Source: The Info