The video of the youngest senator in Nigeria, Elisha Abbo who was seen in a video beating up a women in a sex toy shop in Abuja has gone viral all over social media and has triggered a lot of reactions from different people, ranging from celebrities to politicians, average people and people from all spheres of life.
This happened after the 41-year-old senator came with a police officer to arrest a worker in the shop because she 'insulted him'.
A woman who witnessed the scenario told him to calm down and immediately, he descended on her, slapping and hitting her here and there.
Watch video below:
People who reacted to this have called for a public apology to the victim, his arrest and his resignation/ termination from duty.
In reaction to this, Reno Omokri tweeted:
I call on the @OfficialPDPNig to IMMEDIATELY repudiate Senator Abbo in the face of overwhelming video evidence proving that he is not a man of fit and proper character to hold the distinguished office of a Senator of the Federal Republic of Nigeria #FreeLeahSharibu #RenosDarts pic.twitter.com/DueHtlqmB5

— Reno Omokri (@renoomokri) July 2, 2019
Buhari's aide, Lauretta Onochie also tweeted in reaction, saying he needs to be arrested and prosecuted immediately.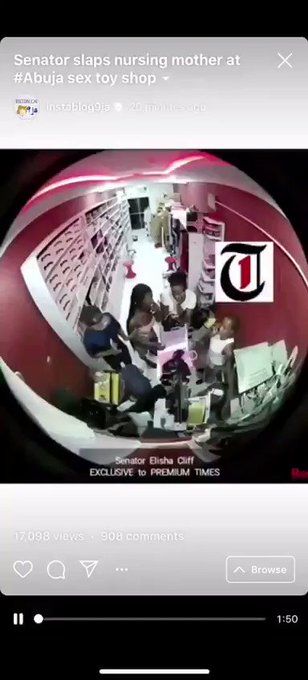 Many Nigerians are disgusted over the despicable act of the senator and are insisting he is impeached or steps down as senator. His wife came out earlier to say her husband is innocent of the allegations against him, but trust Nigerians, she got the blasting of her life.
Well, to the joy of many, it has been reported that his arrest has been ordered and justice will take its cause. Until then, Nigerians are still keeping their fingers crossed.
Kindly share your comments in the space below.