Tonto Dikeh might just be tagged the queen of savagery by the time 2019 is over. She has been giving the clapbacks in every direction, whether its a fan, a troll or a normal celebrity, Tonto Dikeh is giving everyone a piece of her mind. Today she took her time to give an unexpected reply to a user who claimed she was dying. Knowing Tonto Dikeh, what do you think her response was?
Tonto Dikeh replied the user saying  Lol @ "we are all dying', na who let em show, we know!' See their exchange below…
It wasn't too long ago, that a woman called out Tonto Dikeh and called her evil, I wonder what that woman would say now after seeing this comment. The user dropped the comment after Tonto Dikeh shared a post firing shots at a certain group of women who steal people's husbands because of how they appear to lavish their wives with expensive things, only to find out that the woman is the one buying the things.
The troll then almost  immediately attacked Dikeh for her comment and accused her of being a master in such game. The Instagram user identified as Omone_Zibril, stated that Tonto was evil for carrying out such 'evil act.'
It all began with this post. Read below:
It then quickly escalated to an online dragging session when the troll attacked Tonto. In response the mother of one called the troll and 'ugly woman'.
Read below: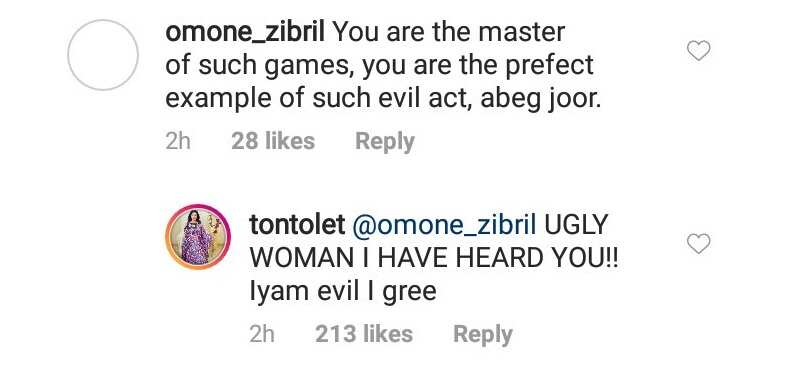 In another instance, Tonto Dikeh has slammed a troll on Instagram who called her a depressed and frustrated lady. this was following the recent saga with her ex-husband that got the actress trending. From revealing dark secrets about her Olakunle Churchill, to signing a 100 Million Naira Endorsement deal with a cosmetic company and accusing Nigerian Artists and Actors of being Gay on Social media. Tonto Dikeh was really busy
The Actress posted a text photo on Instagram which said,  "I am so gorgeous"
Tonto Dikeh then captioned the photo and wrote these words,  "Do you look at yourself and scream at God's handiwork, I am sure I am a master piece. Damn I am a gorgeous old lady"
A follower of Tonto Dikeh then commented on the post by adding few other qualities she has. The follower then commented saying, "And frustrated plus depressed"
Tonto Dikeh then replied the follower and said,
"Like your mother"
See their exchange below…
Share your thoughts in the comment section below