For lovers of Nollywood movies, when you hear the name Toyin Abraham, you talk about great talent, great persona, crazy disposition and fun all the way. She is a popular Yoruba Nollywood actress, filmmaker, director and producer whose career started in 2003.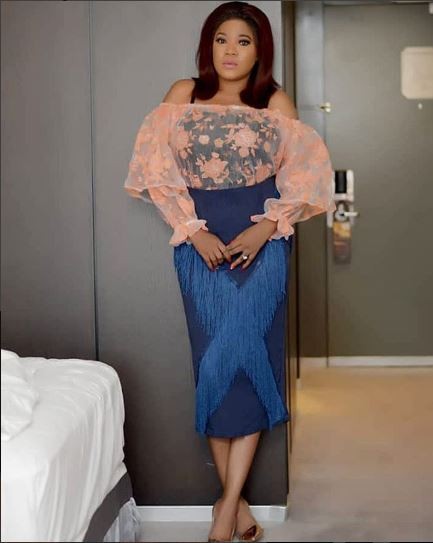 Some of her films include: Alani Baba labake (2013), Ebi mi ni (2013), Alakada (2013) and Sola Fe Pami. She was nominated for Best Supporting Actress in a Yoruba film titled Ebimi ni at the 2013 Best of Nollywood Awards alongside with Joke Muyiwa, who was nominated for Best Lead Actress in a Yoruba film titled Ayitale.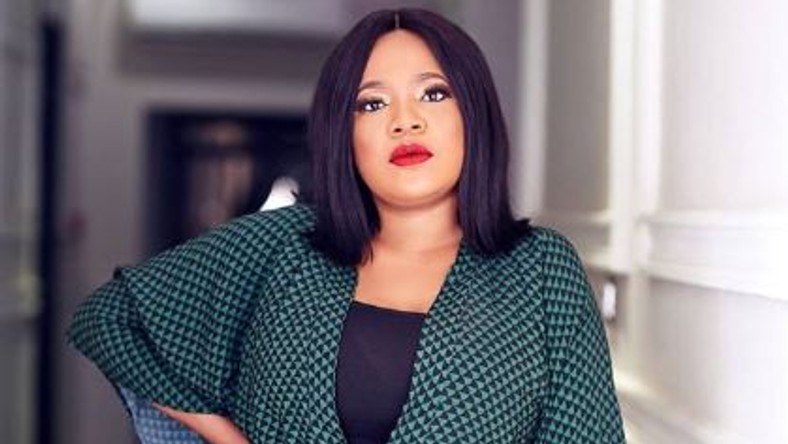 This controversial actress has been in the news a lot and all the time, for a different reason. On several occasions, she has been shown with a 'baby bump' and it is such a look that has put her back in the news. One question on the lips of many ardent observers of Nollywood and also lovers of the delectable actress is if she is pregnant. This is one news item that has excited most of her fans.
This question arose after she shared her recent outfit and from the piece of photograph, the actress was looking different, though still beautiful as ever, and some even said she has added more weights, one of the signs of pregnancy. She shared the photo with a caption that spoke volumes and from the reactions and comments from her followers, it looked like she got through to them.
She wrote, "Do not waste your time living someone else's life. If you look back in history of the coolest and most respected people, they were always extremely original individuals, not imitation. If you love that life so badly, dream it and work hard for it. Do not be afraid of growing slowing, be afraid only of standing still. That lifestyle that seems too expensive for you, that make you want to live it in falseness is actually affordable, just prepare yourself and it will come true. Be yourself and make the world adjust. Let people love you for who you are rather than for who you're not. An original is worth more than a copy. Do not live your life trying to impress people who hardly know you on social media!
"You can never experience true happiness and freedom living someone else's life and the worst thing about lying is that, you will have to lie continuously to back up your previous lies; before you know it, you've already gotten addicted to lying. And the day people got to know you're a liar, you give them reasons to question everything you say afterwards. Yoruba people do say "paro kin niyi, ete lon mu wa". Don't let the internet rush you, it's okay to walk at your own pace as long as you're moving. Slow and steady wins the race. "Eegun toba koko jo, iran ni iruu won man wo gbeyin". All the trends now will soon be old fashioned because, this is life. YOUR TIME WILL COME AND TILL THEN, LET OTHERS ENJOY THEIRS."
The next question on the lips of Nigerians is 'who is she pregnant for'. Wondering who the guy might be? Well, our first guess follows a report making the round that the Nollywood actress is allegedly pregnant for her new lover, who she is also secretly engaged to (maybe even married), Kolawole Ajeyemi a.k.a Awilo. Kolawole, who is a father of one reportedly met Toyin Aimakhu shortly after her marriage to Niyi Johnson crashed years back.
Well, anyone conversant with Yoruba movies should be able to recognize handsome actor, Kola Ajeyemi. He is one of the popular faces in the Abeokuta caucus of the Yoruba movie industry and a constant feature in Segun Ogungbe's movies. Kemi Ashefon reported that already, a family introduction had taken place in February 2019 while plans are in top gear for the wedding. The Edo state born actress hasn't reacted to the pregnancy tale but sources close to the lovebirds confirmed it's true she's pregnant. Besides, those who have seen the actress lately said that she'spots a heavy tummy."
This isn't the first time the actress will be pregnant though. The actress once lost her 6 months old pregnancy in 2011 (the second in 3 years. The first time was in 2008). Back then, she spoke about her miscarriage to reporters. "I am so sad right now but God has a reason for everything. Yeah, I lost the pregnancy and it is very painful. It was six months gone and I was looking forward to having my baby. During the shooting of my last movie, I did go through a lot of stress and fell ill and recovered. I was even planning to premiere the movie before I travel out to deliver until I fell ill again. I was diagnosed of malaria and on Wednesday March 23rd, I was rushed to the hospital and probably because of the drugs I took, I lost the baby."
For someone who has lost a lot of things in her life in such a short span of time, she really teaches Nigerian women about persevering in the face of adversaries. For those who know her, they'll realise that she has been through very tough times. Back in 2012, she began dating her co-star Adeniyi Johnson. On New Year's eve in 2012, Johnson asked Aimakhu to marry him, and she said yes. In July 2013, they got married. But where is controversy in this, you might ask? Well, the marriage didn't last long, and in 2015, the relationship started to fall apart. Allegedly, Niyi Johnson cheated on Toyin, and she took her things and left, changing her title from Mrs. to Miss and removing the Johnson part from her last name.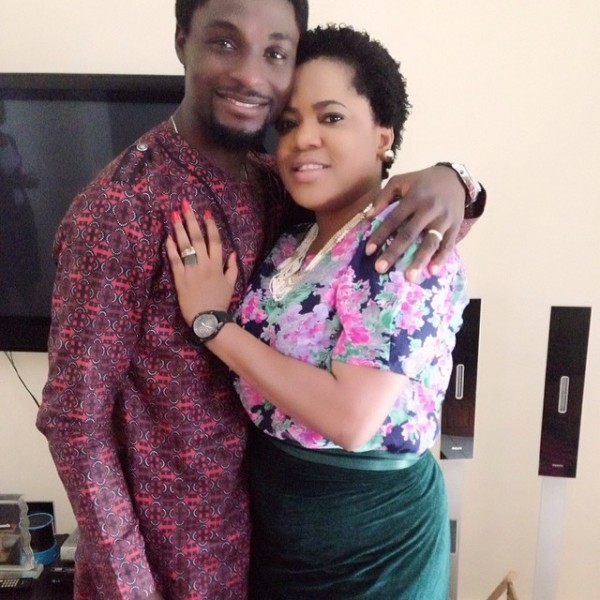 In 2016, shortly after her separation from her husband, Toyin jumped into another relationship. This time it was with Seun Egbegbe, who is the CEO of Ebony Films. It didn't last long either, as first her fans, and then Toyin herself expressed negative opinions about this union. Toyin said that she regretted going into a new relationship so soon after her breakup with Johnson.
She then went on to change her last name to Abraham. Most tabloids took it as a sign that she got married secretly once again. However, later the actress explained, that the name change had nothing to do with her marital status. It was caused by some family issues, as Aimakhu is the last name of one of her grandparents, and Abraham belongs to her father. After several years of pressure from the family members, she finally changed her last name about a year ago. Her social media handles changed, and she no longer regards herself as Aimakhu. But because most of her fans know her as Toyin Aimakhu, they still call her by that name.
Losing a pregnancy is a terrible loss for any woman so if this rumour of her being pregnant is true, then it is a joyous time for her and we hope that she puts to bed safely this time. Coping with grief after a stillbirth is very personal and the intense grief after losing a baby can cause overwhelming, possibly frightening, emotional and physical reactions. You may feel life will never be normal again.
Many women feel they have failed as mothers. They feel responsible for what has happened because their body let them down and they didn't give birth to a healthy baby. It is not your fault and you should take that loss as a stepping stone, dust yourself up and try again. You will get a second chance at life and motherhood again.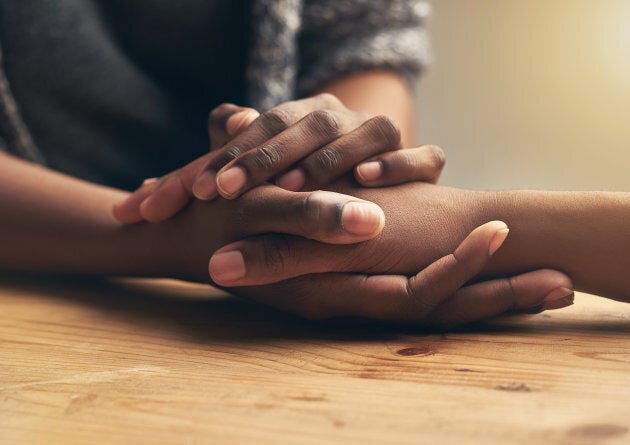 As they say, there is no smoke without fire but let's all give Toyin the benefit of the doubt and desist from giving false news about her pregnancy for now.