It's not a new thing to see someone who typically delivers radio-friendly jams suddenly pop up on the big (or small) screen — just think Jamie Foxx, Beyoncé, Justin Timberlake, Jennifer Lopez and many others. Musician or actor… why choose only one when you can dominate both? This is clearly what artists like Banky W, Falz and more had in mind when they made a shift in their career, successfully adding actor to their list of talents.
For this list, however, we'll be focusing on musicians-turned-actors who've actually landed lead roles or completely stolen the show with their supporting performances.
Banky W
We saw Banky W as the lead in Nollywood's most successful movie, The Wedding Party, and given that this was his first crack at it, he did a fantastic job playing the likable groom, Dozie Onwuka.
His music videos have always had a bit of a storyline to them, which saw him acting a little bit, so perhaps he was prepping us for his acting career all this while. Well, we hope we'll get to see him in more films and maybe TV shows, given how good he was in The Wedding Party. It would be a shame to see all that acting talent go to waste.
Falz
Everyone knows and loves Falz' music, but in the past year, he's successfully launched his Nollywood career — even managing to score an AMVCA (for his role as Sege in Jenifa's Diaries).
Falz has managed to juggle both his music career and his acting career so well that he even merges the two sometimes, which we saw in his documentary, Falz Experience, The Movie. Now, he has even managed to cross over into Hollywood, as he recently landed a role in an upcoming television series produced by BLK Prime.
Ikechukwu
We haven't heard a lot from Ikechukwu in terms of music in a very long time, and we're not really mad because he's a very promising act on the Nollywood scene.
He first got our attention in Gbomo Gbomo Express, where he played a has-been musician who got dropped from his record label. While this didn't really launch his acting career, his performance as the troublesome groomsman in The Wedding Party certainly did.
Which is why we are hoping that the blossoming relationship between his character and Somkele Iyamah's character take centre stage in the inevitable The Wedding Party 3.
Seyi Shay & Vector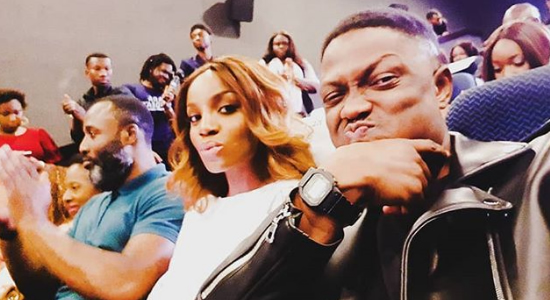 Like we saw with Beyoncé in Carmen: A Hip Hopera and also Dream Girls, it makes perfect sense for musician-turned-actors to start out with a musical. This is what we're seeing with Seyi Shay and Vector's big screen debut, Lara And The Beat.
These two have come into this scene with a bang, as we don't get that many musicals in Nigeria, and so their performances will definitely be making a mark in the industry. From the trailer, we already have faith in the movie and can't wait for it to come out this July.
Reminisce and, IllBliss Goretti
Now, in 2018, we have Remilekun Safaru popularly known as Reminisce and, IllBliss Goretti, starring in roles nobody would forget in a hurry.
While both of these extremely popular and talented Rappers may not have looked up to any of their senior colleagues, who in the past have taken up roles in Nollywood, they most definitely would have people looking up to them in future. It is literally impossible not to after you see them in Kemi Adetiba's King of Boys.
Reminisce comes on screen as Makanaki, a fearless, sometimes disrespectful but very well respected thug who is a kingpin in his own right. The same goes for Illbliss Gorretti whose entrance in this film is pure gangster. Oga Boss would come to mind as a term with the way he shows up, nice car, slow-mo, and appropriate mood music.
Who else do you think should be on this list? Drop your opinion in the comment section, like and also share.