It was reported that controversial Nollywood actress, Tonto Dikeh has reacted after media personality turned politician, Omoyele Sowore savagely replied Senator Sani by taking a swipe at his whose 'afro hair' and the benefit it would derive from the legalization of marijuana.
Recall we reported that Senator Sheu Sani who was against the fact that Governor Akeredolu makes plans to officially grow marijuana in Ondo as another source of revenue, had told him to partner with other states for production of ginger, beans, and yam. Sheu Sani tweeted;
"My Brother Akeredolu, Lagos Partnered with Kebbi for Rice, please partner with Niger for Beans, Kaduna for Ginger or [rtner with Benue for Yam; Please leave this Indian Hemp matter for now Abeg".
However, Sowore who took a hit at Sheu Sani after the tweet wrote in response;
"I hate to stand between two Nigerian politicians engaging asinine argument but I am disappointed in you for this tweet. Have you ever thought of it that when this idea finally gains legal ground your Afro hair could benefit from a locally line of cannabis hair products?".
The beautiful mother of one, Tonto Dikeh reacted to the Twitter exchange between Sowore and Senator Sheu Sani that his " afro hair could benefit from legalisation of marijuana', had laughter emojis and she also wrote;
"Naaaah imma goes right back to sleep mehn!!".
Meanwhile, it seems Tonto Dikeh now have the habit of reacting to certain news as it would be recalled that yesterdaay controversial On-air personality, Toke Makinwa, took to her Instagram page to share a picture of a book titled "I pick shoes much better than I pick men". Toke is one celebrity who has been very open about her failed relationships and this has gained her fans and haters alike.
Makinwa who is known for being a fashion mogul revealed on Instagram that she picks shoes better that she picks men. Well, the post got the attention of actress, Tonto Dikeh, who has has been in the news over her failed marriage.
Tonto reacted to her Toke's post as she explained that Toke is lucky to have picked shoes because she picked bathroom slippers in her own case. She wrote:
"Oo toke, shoes are more luxuries in my case!!! I picked bathroom slippers lord save me".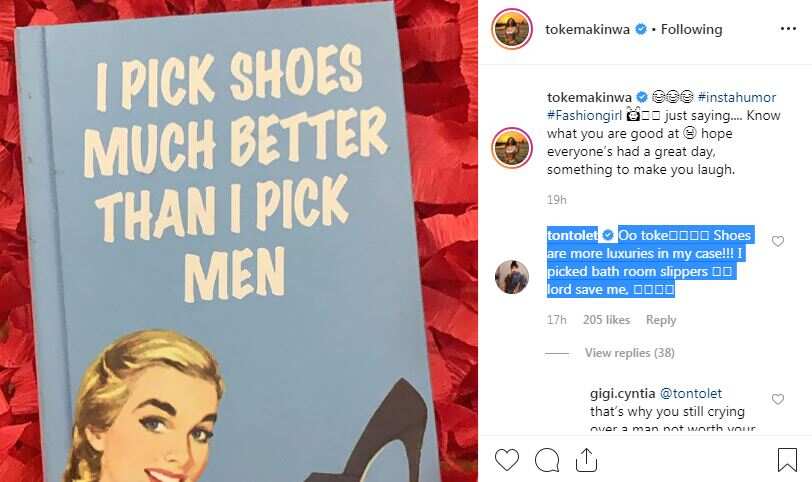 Also, recall that Tonto Dikeh's estranged husband Oladunni Olatunji Churchill shaded the actress and mother of his child on mothers day as he celebrated only his mom and grandmother on social media. Olakunle Churchill did this in in a Mother's Day message to appreciate his mother and grandmother. His initial message reads:
"Happy mother's day to two special mothers in my life and wives to influential impact maker and missionary per excellence in this country.
May God forgive anybody who tries to tarnish the name of their husband through cheap blackmail. #mothersarespecialblessings #mumandgrandma" .
It's no news that Tonto had done damage to the image of her ex-spouse in several explosive interviews recently. In his mother's day's post, Churchill said,
"God forgive anybody who tries to tarnish the name of their husband through cheap blackmail".
Churchill later edited his post, removing the;
"God forgive anybody who tries to tarnish the name of their husband through cheap blackmail".
This caused some Nigerians to blast him and laud Tonto Dikeh one said;
"It's now I believe what Tonto said . This man loves fame and attention . Why the writeup in the first place if you can't stand the backlash?".

Although one is not particularly sure why some Nigerians celebrated mother's day again a few days ago as we know that the day was celebrated sometime in March this year but as some have been saying, a day in a year is not enough to celebrate the priceless jewels.
After the release of assault video where  Tonto Dikeh was assaulted by her ex-husband, Olakunle Churchill, the actress through her Lawyer claimed was edited and threatened legal action against blogs and journalists who will share the video.
Churchill through his lawyer, however, claimed that video was made by a third party and not released from a CCTV footage as claimed by Tonto Dikeh.
Here's was his statement;
Tonto Dikeh made the shocking revelation about her husband bedroom performance which invariably sparked outrage from social media space. Churchill has finally break the long overdue silence as he replies Tonto Dikeh's claim that he is a '40' seconds man.  Between an exchange with one of his numerous followers , which he debunk the claims;
Recall the controversial  actress Tonto dikeh dragged her ex-husband and father of their son, King Andre, in a "Tell-all interview" with Daddy Freeze. In the interview she revealed her ex Churchill suffers from premature ejaculation and can't last 40 seconds inside a woman. According to her,he lasted for one minute when she conceived her son.
The Nollywood actress, Tonto Dikeh, received heavy criticism after she revealed that her estranged husband, Olakunle Churchill, could not last in bed for more than 40 seconds. Tonto had told controversial On-Air Personality (OAP), Daddy Freeze, in an interview which became public on Wednesday, that she never suspected that Churchill was cheating on her.
"At the beginning of the relationship, I never suspected him for cheating because he has a sexual problem, a disease, it's called premature ejaculation. He can't stay inside a woman for more than 40 seconds," she said.
In reaction, a fan once expressed disappointment in her action of calling out her ex-husband's sexual ability. The fan wrote:
I admired you till you brought the sexual part public. Honestly, that part was uncalled for. Replying the fan, Tonto Dikeh revealed that she had to expose him because he also revealed that she's on drugs.
"So a man fucking man say I'm on drugs and I can't use his sexual disease against him?? Ooo pls honey I said more. For me I will drag your life from hell and back until i'm ok!! We all can't be the same you know."
According to Nairaland, Tonto Dikeh married Olakunle Churchill in 2015. The duo birthed a son, Andre Churchill, in 2016. Their marriage ended in 2017 over allegations of domestic abuses and extra-marital affairs. Nigerians on Twitter appear displeased at her revelations and have asked her to move on from the episode.
Source: Uncle Suru
What do you think about this? Please share your thoughts with us below