D'banj is currently married with a very beautiful wife but did you know the hunky singer has hooked up with several pretty ladies in the past?
We decided to think back to the many opportunities Dbanj has had to seal the deal with some pretty outstanding and very successful women in the past.
These women are women many guys will kill for… some literally. Let's kick off..
7. Ini Edo
Once upon a long, long time ago, before many of the blogs were out, there was a running rumor in the Nigerian celebrity circle that Dbanj and Ini Edo had a thing going on. Of course it was never really confirmed by either party, but what we knew then is that they hung out quite a bit, and were seen together often. Word is Dbanj even did a song inspired by her… albeit not the most positive of message tho. *A cookie for you if you guess the song*
6. Nadia Buari
And yet another Nollywood actress yea? The Dbanj and Nadia Buari links in 2010-2011 were never very strong as both denied ever being involved with each other, but all rumors come from somewhere right? We're guessing there was something but it might have been more casual than anything. But we still think Dbanj missed an opportunity here. Nadia is now a proud mother of twins.
5. Jennifer Obayuwana
Of all the links Dbanj has had, Jennifer Obayuwana is probably the most legit. Jennifer Obayuwana is the daughter of multi-millionaire Polo boss, John Obayuwana, and she is an Executive director in her father's company and also doubles as a director at CAT construction. So when you talk about successful women? She's right at the top. Remember one time when Dbanj said he's in love with someone but no one knew who she was? Yea… We're pretty sure he was referring to her. Word is they dated for over two years.
4. Kenya Moore
Everyone raised an eyebrow when word came out that Dbanj was hooking up with former Miss USA, and Reality TV star of the show, Real Housewives of Atlanta, Kenya Moore. Kenya Moore had mentioned on the show that she was dating an African Prince, but she didn't reveal who this prince was. Then she started showing up around the scene with Dbanj, and the rumors started flying, and she kinda confirmed that they were dating. But then, it turned out to all be a big publicity stunt, and were even caught in the lie at some stage. But still, it was a good look for Dbanj… and Kenya for that matter.
3. Bonang Matheba
The South African TV personality complimented Dbanj very well and there were Plenty plenty love love pictures, and even some on stage kissing. The two were seen everywhere together – Parties, Awards Shows, Travelling, Hanging out etc. It was even suggested at some point that the two were engaged, but that was never confirmed.
2. Adama Indimi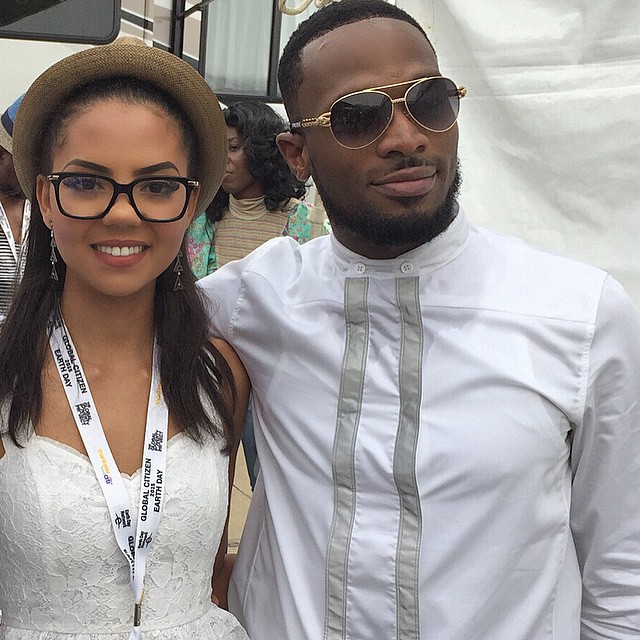 Adama was the last of Dbanj's girlfriend before he got married, and from what some have said she has been around for a while too; On and Off. Adama is the daughter of Oil Billionaire, Mohamed Indimi, and from what we heard then, she was very much in love with Dbanj and shared pictures of the two of them together on instagram.
1. Genevieve Nnaji
From one Nollywood actress to another. This one started from the video shoot of Dbanj's Fall In Love video was probably the most prominent and most promising of all Dbanj's relationships. By all standards it was a match made in Nigerian celebrity heaven.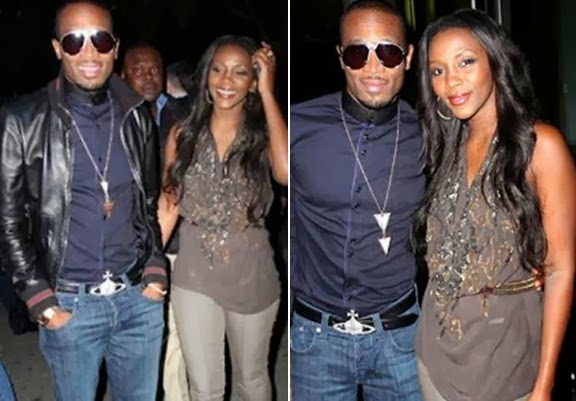 The hottest music star at the time, and the hottest available Nollywood actress. The two looked great together. The had an on/off relationship between 2009 and 2012, and then another rekindling of flames in 2014. Dbanj's song Fall In Love all of a sudden sounded better with Genevieve Nnaji in the video.