As expected, at the end of the live eviction show, results of how people voted for their favourite  housemates in the Big Brother reality Tv show is usually displayed for viewing. The most controversial housemate, Tacha topped the chart again this week while Omashola , Ike and Others followed.
This came as a surprise to many who thought Ike had higher fan base than Tacha. People who felt Mike and Mercy's fans would vote for Ike were all disappointed with the outcome of his votes.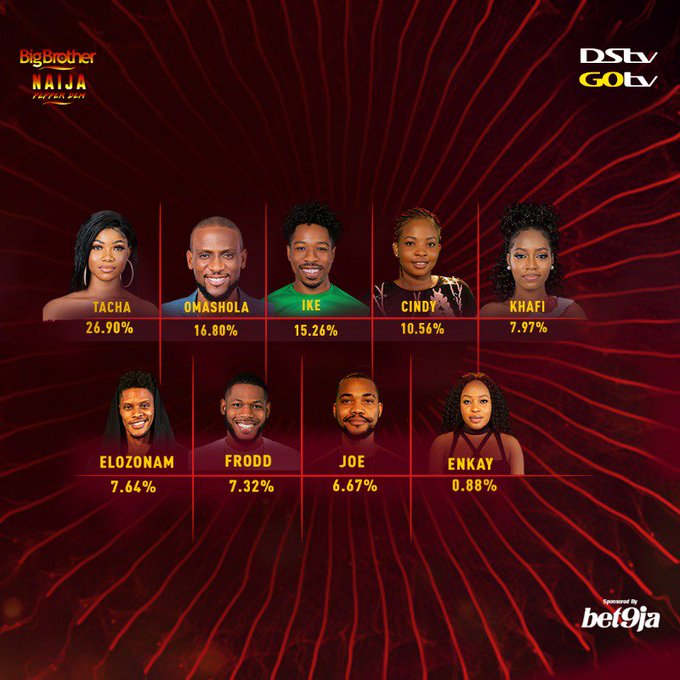 Omashola and Ike coming second and third position in the voting result is a clear evidence that Tacha has more fans than both of them. Frodd's escape from getting evicted was a very slim one and he would have been the the next housemate to leave the house if Big Brother decided to evict more than two people.
Unfortunately, Enkay and Joe could not escape eviction because they had the least number of votes. Nigerians have taken to twitter to react to the voting results. See some reactions below:
Tachas voting strength keeps dropping. Its safe to say her average voting strength is 30%. Mike will beat this easily
Her voters are getting broke by d week

IKE fans should shut the fukup too ….Omashola is even stronger than him

Still #TeamMike

— # LOTTY JONES (@joneslotty72) August 18, 2019
I feel really sad right now, Ike should have at least topped omashola, but we split our votes with Cindy, i also did, I'm sorry, i feel really bad.. NEVER AGAIN, From now on all man for himself, if Ike isn't up my money goes to Mercy and no one else. pic.twitter.com/F8At1yD6sf

— #IkeGang Addicted To Peace?️ (@Undefeated_O) August 18, 2019
CONGRATULATIONS TO ALL TITANS…IM REALLY PROUD OF US BASICALLY…VOTING BACK TO BACK BUT WE KEEP SOARING HIGHER AND HIGHER…BLESS UP Y'All????????????????

— Precy Richt (@precy_richt) August 18, 2019
Ikegang am super proud of u guys
Let's not depend on anyone pls cos dey will always disappoint us
Ikegang if we want our guy in this game let's keep voting for him Biko
We can do this abeg
Am super proud of all the ikegang here
I love u all #BBNaija

— Pinky bae (@Pinkyba28133138) August 18, 2019
Ike gang will now move to Tacha very soon….I hv been loving mercy but her fans doesn't deserve d love from Ike fans

— Engr Clems Braimah (@ClemsEngr) August 18, 2019
Please share your thoughts in the comment section below