The Big Brother Naija housemates have finally crowned HoH, Seyi Awolowo as the Tor Tiv per Biggie's instructions in an elaborate Coronation ceremony and grand reception.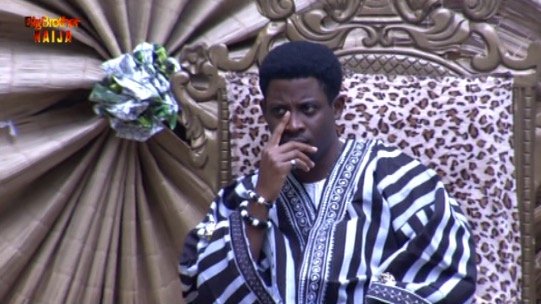 In case you aren't aware, Seyi won the Head of House Challenge for the second week back to back and will now be referred to as the 'Tor Tiv' and also, thanks to Heritage Bank, this time around, the Pepper Dem Gang had to organise a coronation ceremony and grand reception for him. This Task was delivered as a drama. 
Tor Tiv, Seyi, is having a nice time here. What a spectacular performance courtesy of @heritagebankltd. #BBNaija https://t.co/fByPE7eiwt pic.twitter.com/c7s03Xzptn

— Big Brother Naija (@BBNaija) August 14, 2019
A lot of ground work had gone into the process before the Coronation. Housemates were made to tidy up the House and prepare a local delicacy – Moi Moi in readiness for the big day. Finally, they were instructed not to swear for 48 hours. The script was fully developed and each housemate played a role Thankfully, there had been no divisions as all the housemates came together for this Task. Props arrived in the house and they all took theirs and got ready. 
Long live the Tor Tiv!

Brought to you by @heritagebankltd. #BBNaija https://t.co/fByPE7eiwt pic.twitter.com/dIhoeTvpaW

— Big Brother Naija (@BBNaija) August 14, 2019
Seyi's title is the Tor Tiv and some of his roles include establishing unity and settling cases in the community. After the Welcome Dance from the Heritage Bank crew, the housemates finally did the honours as they crowned Seyi as the Tor Tiv. Watch the videos below:
Nollywood hope you watching ths guys
Sir dee is a born star #TorTIV #BBNajia2019#Bbnaija pic.twitter.com/iUTkkIL5Am

— 🔱KNIGHTKING 🔰(◣_◢)⏺ (@wyseknight) August 14, 2019
We are definitely impressed! #BBNajia2019 #BBNaija @heritagebankltd pic.twitter.com/mrqAf4j01r

— Toffbrawny (@toffbrawny) August 14, 2019
Behold your Tor Tiv @heritagebankltd #BBNaija #BBNajia2019 pic.twitter.com/pgd3jITfcK

— Toffbrawny (@toffbrawny) August 14, 2019