Leave My Man Alone!
Whether it was from love or from alcohol, Mercy was sure intoxicated as she had an altercation in the garden with Ella after the Saturday Night Party. The palava that happened between these Housemates started in the sitting room when Mercy asked Ella the man she truly likes in the House. Ella took this as an affront and warned Mercy to be careful. But Mercy was spoiling for a fight as she screamed in Ella's face saying "Ella, I hope say no be my Ike you dey like oh".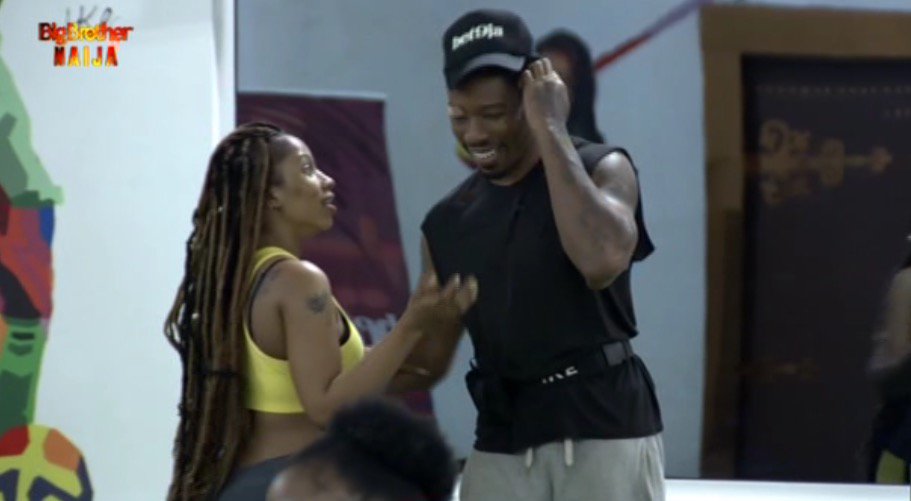 Pitch Your Tent Elsewhere
After the incident in the dining area, Mercy took the 'beef' outside as she told Ella to stand up from the mattress she was sitting on in the garden. Her reason was that Ike was sitting on it so Ella should place her butt somewhere else. Trust Ella, she quickly dished it to Mercy as she retorted "I don't know the kind of alcohol you drank oh but you can't touch me". Mercy was unfazed by it all as her parting words were "find another man wey dey single".
Friendship Gone Wrong
The drama continued in the bedroom with Ike, Nelson and KimOprah as the audience. Ike's queen told all who cared to listen that Ella is her friend and if she wants her man, they would have to stop being friends.
Who will remind these two that fighting is against Biggie's rules? Wondering how the 'gangsta' Mercy was fighting over, reacted? Watch it below.
Shattered Heart
Well, we don't know what to say but Frodd and Esther had some Peppery revelations in the garden that resulted in tears and pitiful resolutions.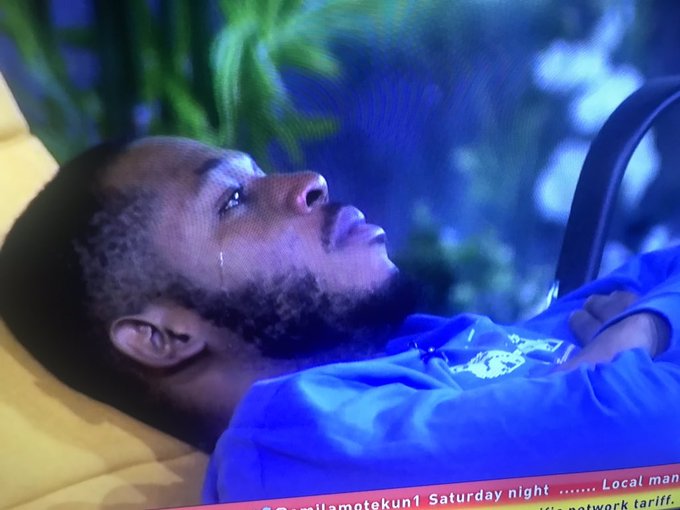 Unrequited Love
It was not the first time Frodd has beamed his love light on Esther. But it is definitely the first time that the love situation has been truly analyzed by both parties. Frodd started by telling Esther that he understands that she was not reciprocating his feelings but if she likes someone else, he can handle it and she should be free to like anybody else. He went on to confess that he has fallen for Esther so deeply. Are we the only ones hearing this or is someone going to get a mattress so we can quickly catch him as he falls?
And she made him cry…..frodd oo baba dey act film #Esther #BBNaija pic.twitter.com/xiS9JrmpQ2

— blackboy257 (@i_am_blackboy) July 14, 2019
Milady Speaks
Frodd the gentleman has spoken about the intentions in his heart and the lady had to give her response. Esther started softly by saying that she likes him and feels they have a rapport but she loves her space. OMG, this landing was not a smooth one for Frodd. What will he do?
Floodgate of Frodd
Esther bared her mind mentioning that if Frodd didn't come on strongly, who knows? they might have started something. Our Pepper Dem Housemate could not take like a man, so, Frodd wept. He was so teary-eyed that Esther asked if she should supply him with tissue paper. Oh, before we forget, he also thanked Esther for making him cry.
Eviction Vibes
The Eviction fever has helped us reveal quite a lot about some of the Housemates. After their zanku and shaku shaku jerks at the party yesterday evening, the Housemates woke up late the next morning. Nelson was the first to get up, of course, an HoH has to set the pace. Diane was a little reluctant to get out of bed, as she soon went back to sleep after waking up.
No Workout
For waking up late, the Housemates didn't think it necessary to work out that morning. Besides, it's the weekend. For some of them, the first thing they did was tidy up the environment. Khafi was seen holding a mop stick praying. Guess what her prayer point was. She was thanking God for not letting her succumb to her weaknesses. With the little we've seen between Khafi and Gedoni so far, it'd be natural to say that our lovely Khafi was referring to Gedoni.
Darling Housemates
After their morning routine, the five Housemates up Eviction were called to the garden where Darling and Mega Growth gave them a ravishing look. They are all looking lovely in their new hairstyles. Despite their beautiful transformation, they all seemed to have a lot going through their minds. Is it the Eviction?
The Real Player
Jackye went to Ike for the gist regarding the fire that sparked between Ella and Mercy yesterday. What we got from Ike was a shocker. Though said playfully, Ike was bold to say that he had earlier told Ella that he was already with Mercy. Now here's the twist: he added that if Mercy eventually leaves, Ella stands a chance of having him all to herself.
Beginning of A New Race
Second Evictee – KimOprah revealed that her next steps outside the House would be to further her education and expand her business. Ella, on the other hand, told Africa to get ready for her as she is going to wow them with her music and dance moves.  Watch out, Kaffy!
Watch Ella's journey in the Big Brother House here…
Mercy Takes The Lead
Naija sure does love their Pepper Dem Housemates and they made their Votes count when they needed it the most. Mercy, Tacha and Sir Dee have a lot to be thankful for as they amassed the Votes they needed to stay on. The same couldn't be said about KimOprah and Ella. Here's how Naija Voted:
Amassing the most number of Votes, Mercy has shown us that she is a strong contender for the final spot. Tacha who had always been very confident about her stay in the House till the final day showed us how well she could do when her clout comes to question. Although she came second to Mercy, the difference wasn't much.
The Eviction of KimOprah and Ella brings to four the number of Housemates that have been Evicted from the Big Brother Naija Pepper Dem Gang.
Niniola on the Mic
Nothing leaves a crowd cheering for more than an amazing performance and Ninola did just on stage at the #BBNaija Live Eviction Show. Breathing life on stage with a captivating voice and stunning dance moves, Niniola had the Live audience in a state of euphoria as they watched her deliver a medley of chart-topping hits.
Back for another 🔥 performance is @OfficialNiniola on the #BBNaija stage. Here's her earlier performance: https://t.co/PojcC6Vba2 pic.twitter.com/XQsoGeO2E4

— Big Brother Naija (@BBNaija) July 14, 2019
Right from the moment, she stepped on to the Big Brother Naija stage flanked by her energetic dancers, it was quite obvious Niniola was going to take the audience on a sensational ride and leave them dazzled.  Her choice of opening with her hit single 'Designer' had the fans erupting in cheers and singing along excitedly.
Watch the Opening Performance
All Hail Seyi
Seyi's luck came through for him as he not only made it past the first round of the Veto Power Game of Chance, but also went on to win the Veto Power in a game of 'Spin the Wheel.'
The Lucky Five
The Game of Chance which was in two rounds. The first saw the Housemates dashing to stand next to the pedestal of their choice. Each of the 17 pedestals had a card on them and five of the cards had a green sticker that gave the holder the chance to make it to the next round. The hard part was identifying which pedestal had the card with a green sticker so the Housemates had to rely on luck. Unfortunately, most of the Housemates' Lucks were off duty. Only Ike, Tacha, Omashola, Seyi and Gedoni's luck showed up for work and that's how they made it to the next round. They were the only ones who had the green sticker on their card as they revealed it.
Take a Spin
When your fate is left to spinning a wheel of fortune, there really isn't much you can do than spin and hope for the best. This round had the Housemates spinning a wheel of fortune with hopes of it landing on the 'Veto Power.'
The Unlucky Gangsta
Ike's luck seemed to have taken a nap after the first round as he ended up not getting anything on both occasions he got to spin the wheel. He had to settle for 'Oops' Instead.
Cluck Cluck
When Tacha had to crack an egg on her head at the first spin, we didn't think much of it, but when she had to cluck like a chicken on the second try, we knew her luck was definitely in the mood for some chicken.
Not Close Enough
Omashola came close twice and you could see the hurt in his eyes on both occasions. Having to come so close to your target and watch it slip away. In the quest for Veto Power, close doesn't cut it.
Cupcake will do
Gedoni didn't get the Veto Power either, but he got a cupcake on his second try spinning the wheel and he seemed fine with it.
And the Winner is…
Seyi! He also had to spin twice and fortunately for him, luck smiled on him on his second try. Seyi took over from Frodd who won the previous week. As usual, the Winner of the Veto Power Game of Chance has the power to save and replace a Housemate nominated for Eviction, the right to wear the Veto Power Badge and also smile to the bank with 100 Bet9ja Coins.
Share your thoughts in the comment section below