Omashola the clown, the drama King, the only male housemate with the most hilarious diary session has got tongues talking again after his interesting display at the last presentation task.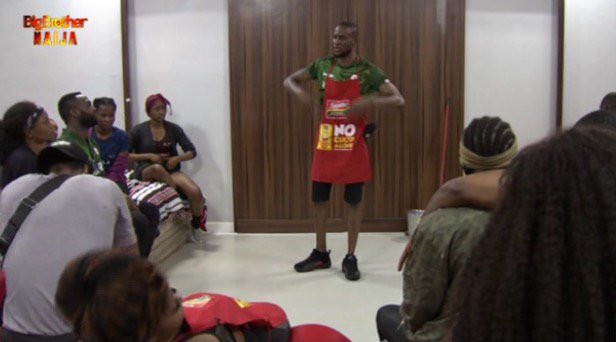 Omashola who had a little brawl with Sir Dee during rehearsal gave us a memorable moment while dropping a freestyle at the end of the presentation. Omashola made us laugh as he stylishly mocked Big Brother who he claims gave them a pool without water in it.
READ MORE: BBNaija: Lovers, Ike and Mercy Kiss and Get Cosy Under The Duvet At Midnight- VIDEO
Watch the hilarious scene below:
Omashola has some flows tho! The #Pepperdem mixtape is def going platinum.#BBNaija pic.twitter.com/7NwvQcwBwy

— Everything Entertainment Live! (@eeliveblog) July 11, 2019
Lmao😂😂😂 Omashola… Now that's how to end a show! #BBNaija pic.twitter.com/0UuROXKEFS

— VoiceOfTruth (@BigBright_Guy) July 11, 2019
BEST RAP FREESTYLE EVER!!! The "Sign out" killed me!!!! 😫
Omashola o!!!!!! 🔥 🔥 🔥 #Bbnaija pic.twitter.com/RLQekU8qvj

— M I T C H E L (@WhoIsMitchel_) July 11, 2019
#BBNaija Omashola's hidden talent😂😂😂😂😂😂 pic.twitter.com/XOo0pCAWFb

— Gold|Unseen🇳🇬♊️ (@claireteemarh) July 8, 2019
Omashola's diss to Biggie! He never disappoints😂😂😂 I stan!!!! #BBNaija pic.twitter.com/7KEUxw9EwP

— ❤Oluwatumilara❤ (@bandy56) July 11, 2019
Watch video of Omashola praying below:
Lmao..Omashola's prayer though ..#bbnnaija #bbnaija #bbnaija2019 pic.twitter.com/3rTfqmWtg7

— The Commentator (@zommar17) July 10, 2019
READ MORE: BBNaija: Mercy Takes Ike Back From Tacha After Displaying Her B#tt While Tw#rking- VIDEO
Do you think this freestyle session will keep him in the house? Kindly drop your opinion in the comment section below and don't forget to share.