The BBNaija Housemates are beginning to understand that it's no longer all rosy with Big Brother, as he showed them his fiery colours even as they lost their wager on July 11, 2019. After a series of short performances that touched on social ills in the society seing the Housemates pulling all their weights to deliver an exceptional presentation. In the end, a rather unimpressed Biggie decided they didn't put in enough effort deserving of a win.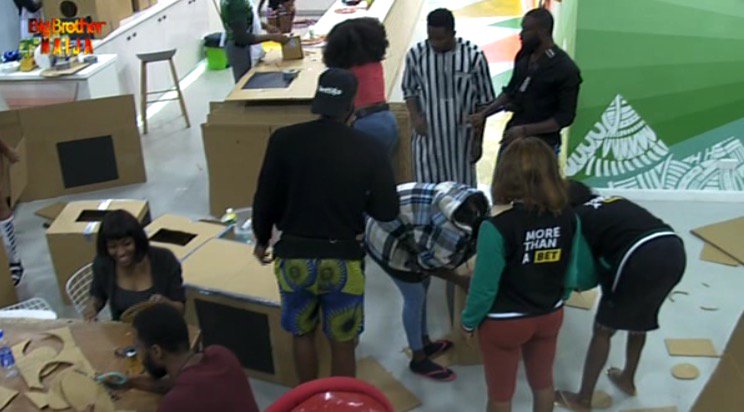 Having lost their Wager due to their poor performance of the play, the Housemates became remorseful. To loosen up their remorse, Biggie then decided to give them a ask if they must gain back their privileges. However, the task comes in three phases, the first of which is the Robot challenge.
To complete this challenge, the Pepper Dem gang must use the cardboard boxes earlier supplied. They must use these boxes as props as they turn themselves into robots. At the sound of the buzzer, the Housemates must start to walk and talk like robots. The moment the buzzer goes off the second time, they stop immediately.
Now here's the catch – the successful completion of this challenge will determine whether or not they will go ahead with the other two. Because this Task is literally speaking, lifesaving to the Housemates, we can bet they will put in their very best. Or else, it's gonna be hunger games.
These aren't hungry robots, are they? We wonder why some of them remain still.#BBNaija https://t.co/jqPLkpIpM8 pic.twitter.com/hzRnh29SVn

— Big Brother Naija (@BBNaija) July 12, 2019
Fans of the show on Twitter weren't too happy with Biggie and the housemates and took to the platform to air their views. Here are some comments gathered:
"Biggy, you are too lenient. These guys won't sit up or show their true colours if you keep indulging them like this. Am not impressed by your magnanimity at all. Pepper these borite!"
@_kimoprah #TeamKimOprah #bbnaija 🌶🌶🌶🌶 pic.twitter.com/lgzkDyeTvS

— chioma opara (@chiomaopara7) July 12, 2019
"Lol….. This @BBNaija housemates aren't serious yet. See as Khafi standing as if say she was forced into the house, they thought Biggie is joking wt them. I just sit down dey look."
As interesting as this robot challenge is, do you think they did a banging of it that they will be able to win back Biggie's heart with it? Let's keep our fingers crossed.