You wanted drama, you've got it!  Nigerians clamouring for some action in the 2019 edition of the Big Brother Naija reality TV show have finally gotten a glimpse of the fun side of the housemates.
mad oh😂😂😂 pic.twitter.com/GqccU092Gj

— Gustavo de Jesús👽 (@McPollo_1805) July 3, 2019
Nigerians had become bored with the no-action mode that had been the theme of the house for three days and they began to clamour for more action. Well, the housemates came through as they gave their fans some sick moves that have given Nigerians some things to talk about!
This is what happens when the 'gbedu' enters the body. #BBNaija https://t.co/w2TXzShttY pic.twitter.com/PHNySAC4Zg

— Big Brother Naija (@BBNaija) July 3, 2019
As the 21 participants continue to battle for prizes worth 60 million naira, Nigerians saw them opening up more about themselves and sharing their personal details; their fans getting to know more about their favourite people. Day three saw the show get more interesting when music was provided in the house and the housemates showed us a part of them that hadn't been seen since they got in.
Some of them were exceptional as they brought some slick dance moves that brought some excitement to the 'boring' house. Omashola, Diane, Tacha, Isilomo and Ella were some of the housemates who thrilled the others with various dance styles like Zanku, Gbe Body E and twerking to the amusement of their adulating fans.
'Gbe body e' #BBNaija https://t.co/w2TXzShttY pic.twitter.com/1kEkFWZRpV

— Big Brother Naija (@BBNaija) July 3, 2019
Their fans on Twitter couldn't contain themselves as they took to the popular social media platform to cheer them on. Here are some comments gathered:
"I understand ma'am but I just want her twerk that's all, although I think thelma is pulling strings they can compete So let's get down to business."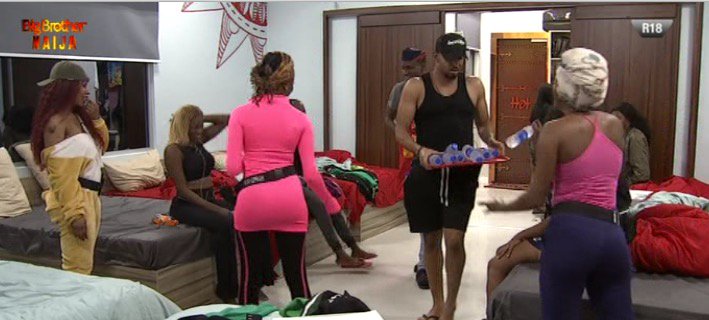 "Babes be getting ready for some crazy moves. But how many times will Tasha change her dress in a day?"
Tacha bringing the fire…….. Omo seee ynash… 🔥🔥🔥🔥🔥🔥🔥🔥 #BBNaija #BBNaijaUpdates pic.twitter.com/HD38AyhPU7

— Major Banks🆒 (@KwasiSwatson) July 3, 2019
Seyi is confused 😂😂😂 I swear I can't wait for the party on saturday 😂 pic.twitter.com/DVOWCBLEkD

— Mofave! (@mofavepixels) July 3, 2019
"Ella is the only one who can dance guess the others' demons are still sleeping ..can't wait for Saturday."