The ongoing ITTF Challenge plus Nigeria Open 2019 is getting to the final stage as Nigeria's table tennis duo, Segun Toriola and Olajide Omotayo qualify for the Men's doubles finals after defeating their counterparts Alkhadrawi Ali, Bu Shulaybi Abdulaziz  from Saudi Arabia.
The Nigerian duo cameback into the game after losing the first set to win 3-2 in a game that is decided in the best of five. The Saudis won the first set 11-8 before Toriola and Omotayo won the second set 11-9.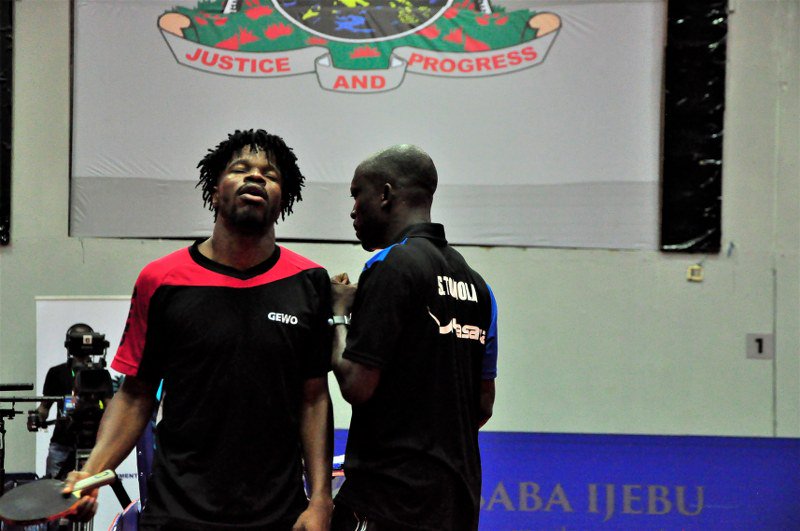 Things got worst for the Nigerian duo in the third set as Ali and Abdulaziz secured a deserved win of 11-8 but lost a decisive set that could have pulled them through as Toriola and Omotayo lost a 7-0 lead but rally back to a 15-13 win to keep the scores at 2-2.
Talk of comebacks then you're definitely talking about Nigerians… The Veteran Segun Toriola alongside Olajide Omotayo giving the fans joy against Saudi Arabia counterparts in the exciting men doubles semifinal clash…@ITTFNigeriaOpen @ittfworld @ITTFAfrica #NigeriaOpen2019 pic.twitter.com/wdy2Hw4P6O

— Raphael Abiola (@ravanelly4real) August 10, 2019
In the fifth set which was the decisive one, The Nigerian duo got the fans roaring after winning 13-11 to secure a place in tomorrow's finals where they will face the pairing of Cedric Nuytinck of Belgium and Quentin Robinot of France.
FINALLY!!! @Geedea and Segun Toriola through to the Men's doubles finals… Naija to the world…@ITTFNigeriaOpen @ittfworld @ITTFAfrica @Phatill #NigeriaOpen2019 pic.twitter.com/nvKwExyDGe

— Raphael Abiola (@ravanelly4real) August 10, 2019
Send your best wishes to Segun Toriola and Olajide Omotayo as they secure a place in the finals…Thanks