Bayern fantasise about capturing their seventh consecutive league title, which would equal the record of Lyon – between 2002 and 2008 – and of Juventus currently. A football dynasty that has had different leaders: Pep Guardiola lifted three league titles (2013/14, 2014/15 and 2015/16), Jupp Heynckes won two (2012/13 and 2017/18) and Carlo Ancelotti one (2016/17). Bayern's dominance was on full display last season when they won the league title by an astonishing 21 points over Schalke and 29 over Dortmund.
Heynckes' departure has now opened the door to Niko Kovac. The Croatian coach, who was born in Germany, arrives with the bonus of having been a Bayern footballer in a club proud of its ex-players. There are huge expectations after his great work with Eintracht Frankfurt that saw them turned from relegation strugglers to European contenders, winning the last German Cup over Bayern. Kovac began the Bundesliga campiagn on Friday with a 3-1 victory at home to last season's surprise team Hoffenheim after lifting the Super Cup.
Kovac was in fact born and raised in Berlin to Croatian immigrants from Bosnia-Herzegovina, which at the time was still part of Yugoslavia. It meant Kovac was eligible to represent Germany, Croatia and Bosnia at international level. However, Kovac is a German national.
A Berlin boy, Niko and brother Robert were raised in the Berlin suburb of Wedding, where siblings Jerome and Kevin-Prince Boateng would also later learn their footballing trade. Hertha Zehlendorf were one of his first clubs. He would, however, make his professional debut at city's biggest club, Hertha Berlin, where he made 242 appearances.
A boyhood fan of Bayern and idol Karl-Heinz Rummenigge, Kovac had a poster of his future boss on his wall as a child. After a five-year spell at Bayer Leverkusen and then Hamburg, Kovac eventually got his dream move as a 29-year-old in 2001 when the record champions came calling. While trophies at Bayern are not rare, his return to the club as coach is: Kovac is just the third former player to coach the record champions after Franz Beckenbauer and Jürgen Klinsmann.
Kovac's preferred 3-5-2 system at Frankfurt is enough to indicate that the coach enjoys playing with wide men. It is perhaps little surprise that within minutes of announcing Kovac's arrival at the Allianz Arena, Bayern also confirmed their intentions to extend the contracts of the veteran widemen.
Kovac may be yet to lead a team in European competition from the touchline, but he's still vastly experienced as a player on the international stage. Winning 83 caps during a 12-year career with the Croatia national team, Kovac was injured for his country's run to third place at the 1998 FIFA World Cup in France, but he returned to represent his country at four tournaments in a row from the 2002 World Cup to UEFA EURO 2008, and captained the side at his 'home' World Cup in Germany in 2006.
Starting in a midfield trio for Croatia at three of four games at EURO 2008, Kovac featured in holding midfield, allowing Real Madrid's Luka Modric (then of Dinamo Zagreb) and Barcelona's Ivan Rakitic (then of Schalke) to play in front of him and weave their magic. The Vatreni won all their Group B games with some scintillating football, but were knocked out on penalties by Turkey in the quarter-finals. Kovac, then 36, retired from international football a few months later. He went on to coach both at the 2014 World Cup.
After hanging up his boots, Kovac got a call from the Croatian FA to take charge of their U21s, an invitation he accepted gladly. Five wins out of five saw him promoted to the senior team for their World Cup play-off against Iceland before leading his country to the 2014 World Cup in Brazil.
Niko will be joined on the Bayern bench next season by his younger brother Robert, who has been by his side for the best part of his life, let alone career. Playing in tandem at Leverkusen, Bayern and with Croatia, they have remained together as a coaching duo since overseeing the Croatia U21s.
Kovac knows what it means to win – he played for Bayern after all – but he also knows what it is to lose. That feeling of seeing your dream shattered is often lost on those who celebrate victories, but after a 2015/16 relegation/promotion play-off between his Eintracht side and Nuremburg, Kovac kept his wits about him on arguably one of the most successful nights of his career – at least as a coach. Consoling the defeated Nuremberg players who were fighting back the tears after a 2-1 aggregate loss, Kovac went to every single opposition player, knelt by their side and offered his support while his own players celebrated with their fans. He earned a national fair play award for the gesture.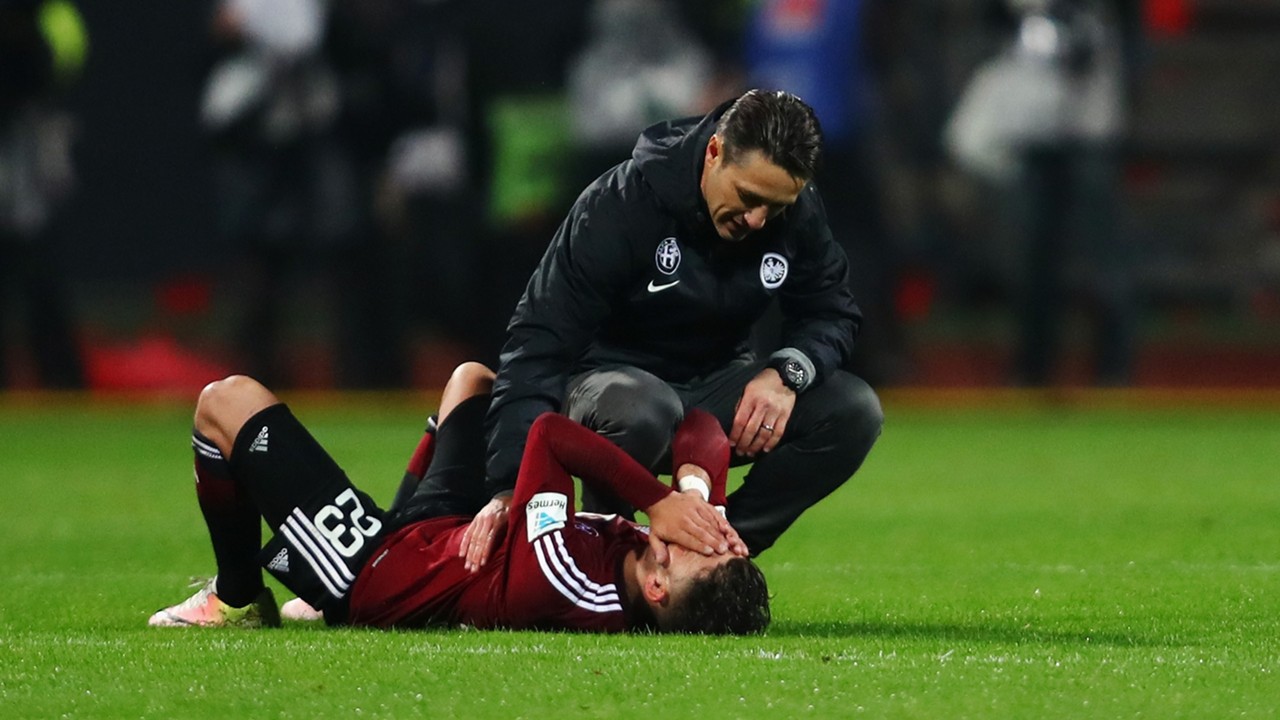 The Berlin-born son of Croatian immigrants is a figure of successful integration, and he leads his side with the same values. "This isn't Brexit or Fraxit, we're not concerned about politics – we play football. It's about performing," he once said. "Those doing best will play, regardless of their age, looks or whether they're German or not." Kovac has overseen one of the most international dressing rooms in the Bundesliga, with 17 different nationalities represented – and he gets them all speaking the same language, on and off the field. Indeed, even the decision to drop club legend Alexander Meier back in 2016 caused little friction – that the Eagles went on to stay afloat proved Kovac right.