The Christian Association of Nigeria(CAN) has dissociated itself from the visit that reportedly occurred on Sunday, July 14, 2019 to the Common Wealth of Zion Assembly (COZA).
A statement signed by CAN's National Director of Legal and Public Affairs, Evangelist Barrister Kwamkur Samuel Vondip, said the pastors who had visited the church were on their own and the Pentecostal Fellowship of Nigeria had step up a panel to investigate the rape allegation against Pastor Fatoyinbo.
Some pastors from CAN had supposedly visited the COZA church and promised its embattled Pastor Biodun Fatoyinbo accused of rape by Busola Dakolo, wife to Nigeria popular artist Timi Dakolo, that the Christian body will always support the church.
During the visit, Rev. Israel Akanji, the CAN President of Federal Capital Territory was quoted as saying, "It is a pleasure being here. And I assure you we are with you and we will continue to be with you. We are in support of the church, we are in support of your pastor, we stand by him. The gates of hell shall not prevail and this church will continue to match forward.
"How can I and the FCT chairman hear that one church that God has a plan and purpose for is going through this Jerusalem- Jericho road and then we will walk and walk away?
"We are here to let you know we are with you in prayers. The Lord will bring you out even stronger. Our pastor here by the grace of God will continue to be the voice of God to proclaim the whole nations of the world.
"We want you to know you are not alone, you have many brothers and sisters praying for you." The second representative added amidst loud agog from the congregation.
But the latest press release by the National Director of Legal and Public Affairs of CAN said the Christian association did not approve the purported visit, saying: "Those who did so did it on their own. We stand by our earlier release on this issue that while we would never support any act of immorality from whatever quarter, we would not jump into passing judgement without thorough investigation of the matter."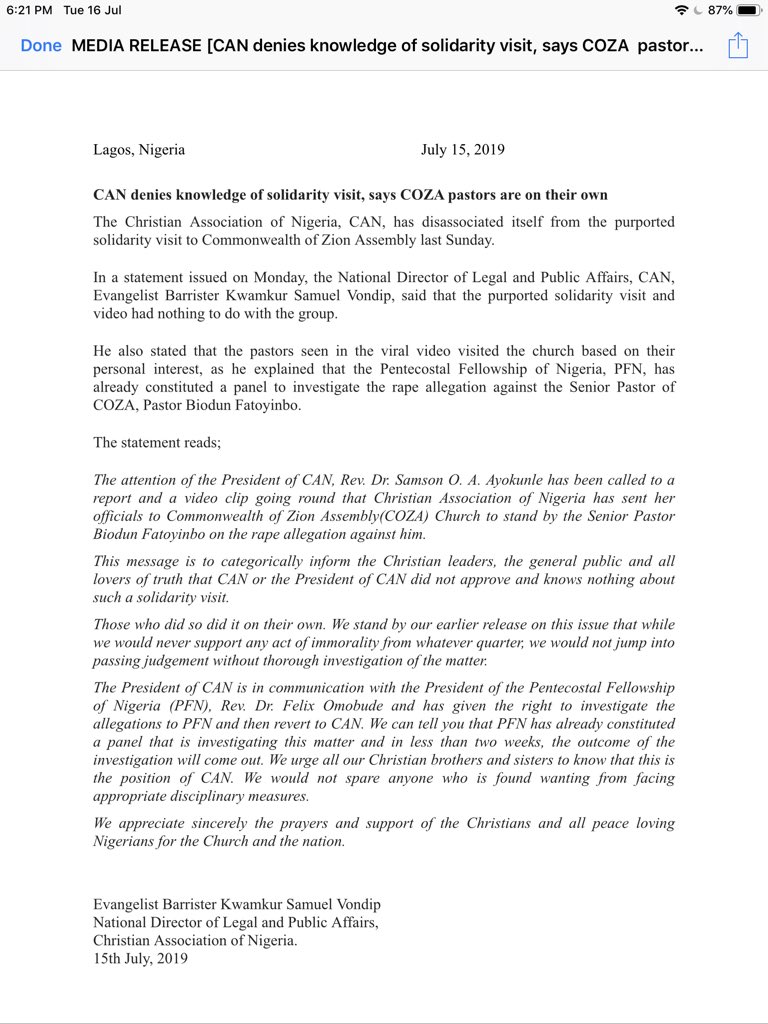 Some twitter reactions included
It took them 48hrs to distance themselves from that show of shame.

Maybe someone should give us a transcript of what was said during that visit.

How did the representatives present themselves?

— Dr Etin-osa Imagbenikaro (@etinmagbe) July 16, 2019
Because for a man under investigation, they sure rushed straight to not only acquitting him but canonized him and invalidated the allegations of his accusers. WTH (read H for heaven) happened to due process?

— Mo! Sibyl, PhD ~ 모 미영 (@MoSibyl) July 16, 2019
Why are they causing confusion? Truth will def prevail

— Adenike Hassan (@nikeyribats) July 16, 2019