Majority of Pentecostal pastors and preachers are well known for their exaggerated acts and behaviours in their dispensing of deliverance or ministering to their congregation.
Most of the Pentecostal preachers have turned controversial because the actions of the so-called anointed men of God has called for serious concern. In a previous report by Adomonline blog, Controversial man of God, Angel Daniel Obinim, has gone a step higher with his spiritual antics by sleeping in a couch with a lady in the church.
The move, we are told is a spiritual exercise that was aimed at getting the lady a husband. The video has the lady give her backside to the man of God as she kissed his hands to ostensibly depict how serious she needed a man to tie the knot with.
Obinim is then heard saying: "she is kissing my hands," as he claims to open the "door of marriage" for her in the spiritual realms.
The acts took everyone by surprise, making a lot of people call on the man of God to further give reasons for the actions, there was also query to the human rights to persecute the man for his constant violation of human rights and alleged molestations.
In another rather terrible acts, a man of God whose name is unknown has been caught in a video plummeting the stomach of a woman all in the name of deliverance.
Deliverance is another thing that the Pentecostal practise vehemently because their beliefs suggest that people are either bound by demons or people are operating under the influence of some demonic spirits and powers.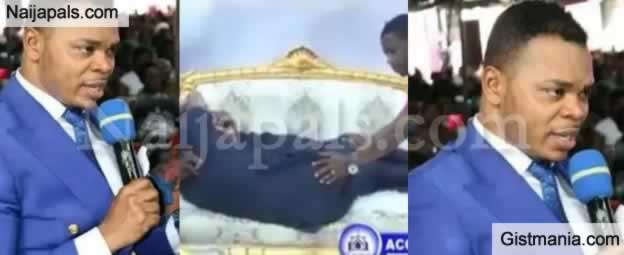 PM News reports that in a bit to cast out the demonic spirit or power operating in her life, the pastor was hitting the woman's stomach with the microphone in his hand, while the woman was lying helplessly on the chair in which she sat.
The more the pastor hits her stomach, the more she screams, crying in pains or crying in the name of the deliverance been conducted for her.
In spite of her incessant outcry, the pastor did not stop hitting, owing to the fact that he claims the deliverance must be complete and final.
The pastor went on to say that, he's a very dangerous man with a broad smile on his face like one who has found fulfilment in what he does or his doing.
The woman who deliverance is conducted upon, maybe because of the pain of the hitting, or the deliverance was taking its full course upon her, she fell from her chair to the ground, in a rather shocking way.
HERE'S THE VIDEO;
PM News
Leave your comments below…