What a time to be alive.
For the first time ever, an outrage has gone across party lines. The usual "Us vs Them" syndrome seems to have taken the back seat in the latest call for a public office holder to be reprimanded.
Albeit a few varying opinions, Nigerians, especially the usually commentators seemed to have buried their party affiliations to unite in the call for Senator Elisha Ishaku Abbo – who assaulted a female shopper – to be brought to book.
CCTV footage of the PDP Senator Abbo, representing Adamawa North, had emerged from an incident that occurred back in may. The lawmaker was seen physically assaulting a nursing mother who had interfered in his altercation with an Abuja sex toy shop attendant.
Watch footage below.
Courtesy : Youtube
Abbo, who is the youngest senator in the country, is believed to have  entered the shop around 6pm on Saturday, May 11, 2019. The senator walked in with three young women to purchase adult toys.
But shortly after then, an argument ensued between him and the sales' representative, a shopper tried to intervene, asking the senator to "Take it easy." The senator was now seen transferring aggression to the young lady whose body was now made a punching bag by Senator Abbo.
The incident has now drawn widespread criticism with a lot of commentators condemning his action.
It is astonishing that the usual suspects who have hardly agreed on issues, this time, decided to bury whatever differences and joined in with one voice to condemn the act and asked that the senator be punished.
This is unprecedented, given that the pattern had always been: the political affiliations of those who start a cause determine how it is handled – especially with regards to the opinions of those considered political rivals. Even those regarded as fencists, this time, are on the same page with both side.
The senator is a PDP senator and would have normally attracted sympathy from the PDP folks. But that's surprisingly not the case this time as PDP voices seem the loudest in the call for the Senator to be punished.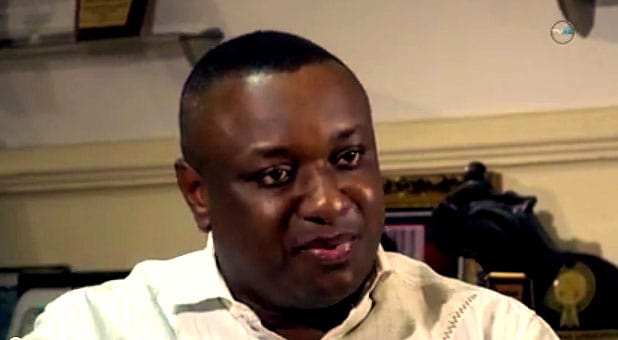 Make no mistake, what the senator was caught on tape doing is by no means acceptable by any standards, in any clime. But we have seen people who committed far more atrocities enjoy the backing from a particular sect in the name of party loyalty. Those who will rather not be seen as attacking party faithful.
In this case however, we have seen the PDP, the APC, the non partisan and the fencists all appearing to be on the same page. From the usual suspects: Reno Omokri, Femi Fani Kayode, Deji Adeyanjo, Omojuwa, Joe Abah, Abike Dabri, Kadaria Ahmed, Kayode Ogundamisi, Festus Keyamo, the list goes on, all have condemned the act.
Check what they have had to say regarding the issue below.
Reno Omokri:
I call on the @OfficialPDPNig to IMMEDIATELY repudiate Senator Abbo in the face of overwhelming video evidence proving that he is not a man of fit and proper character to hold the distinguished office of a Senator of the Federal Republic of Nigeria #FreeLeahSharibu #RenosDarts pic.twitter.com/DueHtlqmB5

— Reno Omokri (@renoomokri) July 2, 2019
Oby Ezekwesili:
Let's watch for a few days and see how 9th @NGRSenate responds to this criminal monstrosity by senator Abbo. We watch to see what the Senate Committees on Rules and Business & the one on Ethics will do to their grossly misbehaving member.
Watch to see what IGP @PoliceNG does.

— Oby Ezekwesili (@obyezeks) July 3, 2019
Deji Adeyanju:
Join me by 8am tomrrow morning at Force Headquarters as we submit a petition to the IG of @PoliceNG against PDP Senator Elisha Abbo for violent crimes against women at a sex toy shop in Abuja.

NOTE: 8am prompt. No African time. pic.twitter.com/Xhm90dxKZa

— Comrade Deji Adeyanju (@adeyanjudeji) July 2, 2019
Femi Fani-Kayode:
Utterly barbaric and shameful behaviour from Senator Elisha Ishaku Abbo,the youngest member of the Senate.This is unacceptable and something needs to be done about it.I call for his arrest and prosecution for assault and battery.I advise the younglady that was beaten to sue him! pic.twitter.com/LEsMafW0zK

— Femi Fani-Kayode (@realFFK) July 2, 2019
Abike Dabiri-Erewa:
To think that this PDP guy .was said to have "defeated"one of our most respected female parliamentarians, Senator Binta Masi Garba. The Senate must not protect him. He should be charged . The footage is enough evidence . He deserves to be in Prison https://t.co/6i944p55sj

— Abike Dabiri-Erewa (@abikedabiri) July 2, 2019
JJ. Omojuwa:
If the Senate doesn't sanction Elisha Abbo or whatever his name is, they are saying his barbaric act is acceptable to the Senate. And if that is the case, it wouldn't be a Senate of and for civilised people, it would be a Senate of and for Barbarians!

— JJ. Omojuwa (@Omojuwa) July 2, 2019
Dr. Joe Aba:
A crime is an offence against the state. The possibility that #SenatorElishaAbbo may apologise or pay compensation to the young lady doesn't remove the criminal offence against the state. It only settles the civil side. @PoliceNG must still prosecute…but my law is rusty.

— Dr. Joe Abah (@DrJoeAbah) July 3, 2019
Festus Keyamo:
The case of Senator Elisha Abbo is very straightforward: the Police MUST IMMEDIATELY take three steps: 1. Arrest him (no formal complaint is needed with the evidence on tape) 2. Obtain his statement (if he's willing to make one) and that of the victim 3. Arraign him in court.

— Festus Keyamo, SAN (@fkeyamo) July 2, 2019
Ordinarily the opinions of these folks would have been divided.  We have seen them disagree over a number of issues: Herdsmen, Presidency, Subsidy, CJN Onnoghen, INEC, etc, but not this time. The closest to this was the COZA scandal. But never a time have we seen them all agree like they are doing now. In the case of COZA pastor – rape involved – there were still some oppositions.
It has even gone beyond twitter messages. While some Nigerians have taken to the streets to protest, "Concerned Nigerians," the Movement led by activist Deji  Adeyanju  had also petitioned the Nigeria Police on the matter.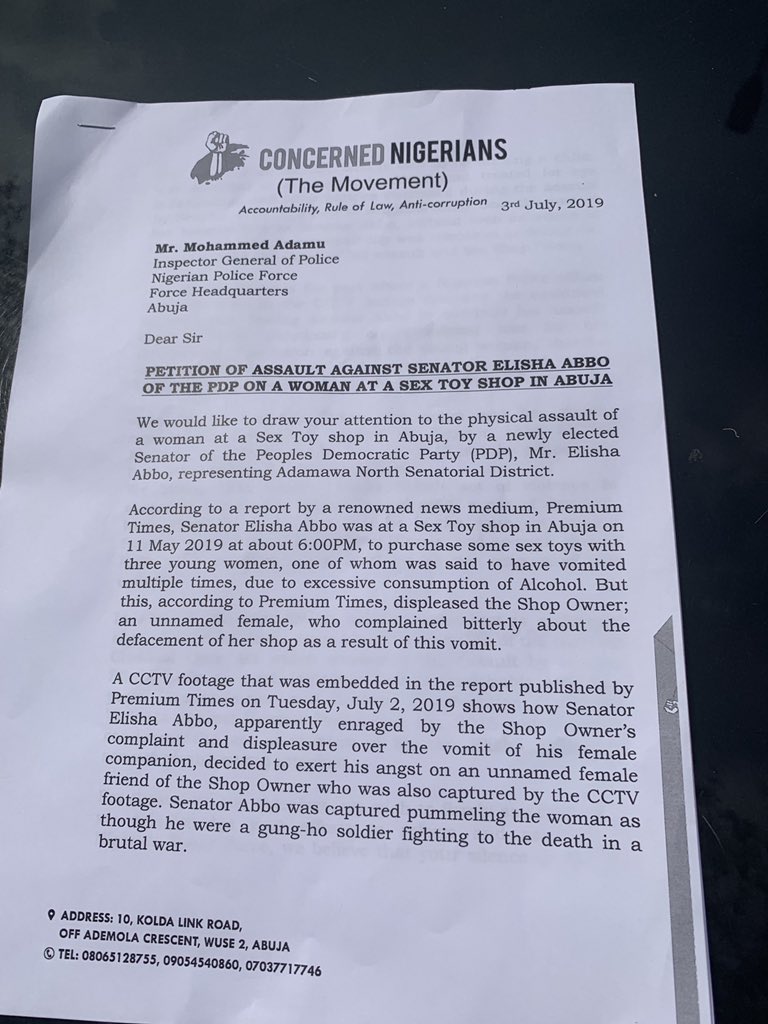 Is it too early to celebrate this? Can we safely say we are getting there?
One of the major factors holding a revolution in this country remains the fact that most outcries are never done in unison. Like the saying goes, a divided house can never stand, it has bedevilled any effort to seek social justice or good governance in this country.
Now that it seems we are getting there, can we safely say that it's finally time. It's time when that all important revolution becomes imminent.
If the trend continues like this, I can guarantee you, we are not far from taking back the Nation. We are not far from demanding and achieving the Nigeria of our dreams.
If you have read this article, please share your thoughts. what do you think about this, leave a message in the comment section below.