As reactions continue to trail the emergence of Senator Ahmed Ibrahim Lawan – the anointed Senate Leadership candidate of President Muhammadu Buhari and the ruling All Progressives Congress (APC) – many have accused some Peoples Democratic Party, PDP senators of betraying their own party.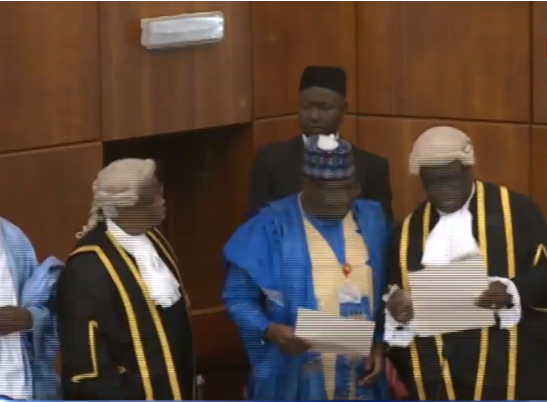 When the result was announced, it was obvious that 17 PDP senators had gone against the party's resolve to vote against Ahmed Lawan – who later emerged the president of the 9th Senate with over two-thirds of the votes.
Legislators of Nigeria's 9th National Assembly on Tuesday elected Senator Ahmad Lawan – an All Progressive Congress senator from Yobe North senatorial district – as Senate President of the upper chambers with 79 votes from the 107 senators who cast their votes.
Recall that APC has 62 senators-elect, PDP – 44 Senators-elect while YPP  boasts of only one.
with 61 APC senators already endorsing him days before the votes, it, therefore, means that at least 17 senators from the PDP voted him – despite the party, in a last minute move, adopting Senator Ali Ndume.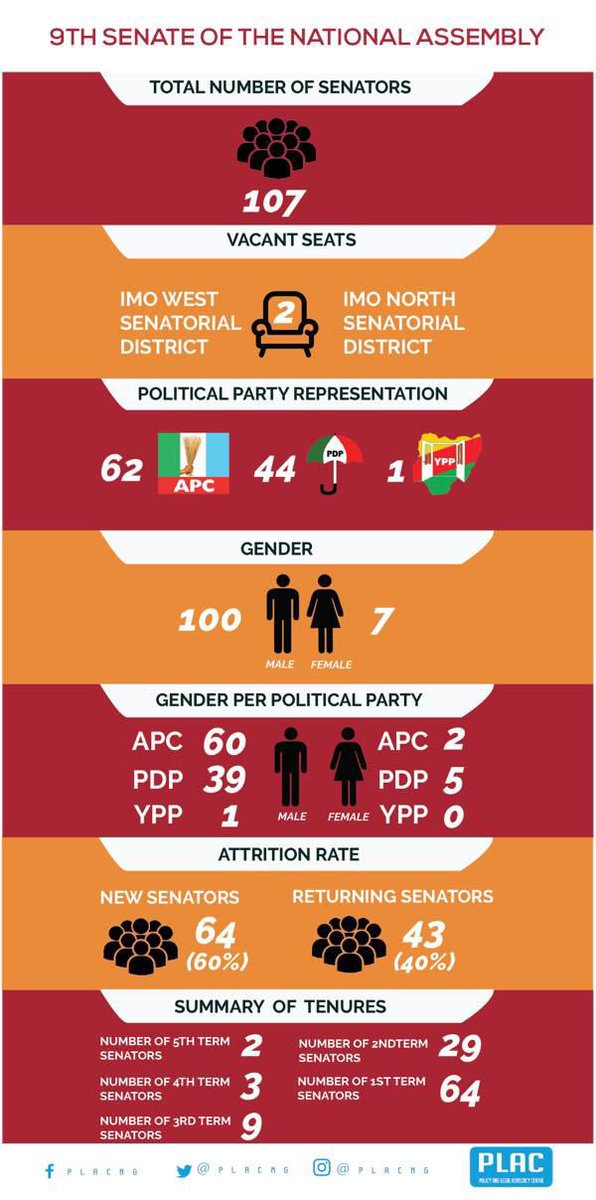 Senator Lawan's victory was announced by the clerk of the National Assembly, Mohammed Sani-Omolori.
Ali Ndume, who had hoped for a repeat of 2015 – when Bukola Saraki struck a deal with PDP senators to emerge – was left wishing he had followed in the footsteps of Senator Danjuma Goje, who earlier stepped down.
PDP were the biggest losers on the day as the post of the deputy senate president also went the way of the ruling APC.
Senator Ovie Omo-Agege of Delta-Central senatorial district defeated Enugu-West lawmaker-elect, Ike Ekweremadu, a three-time deputy senate president to the second most coveted post in the upper chambers.
Following the events that played out today and the inauguration of the 9th senate also the election of its principal officers, some Nigerians have continued to express disappointment in PDP's inability to upset the plans of the National Working Committee of the APC.
check out reactions from Nigerians below
Apparently 17 PDP senators didn't play along with the Decision of the PDP NWC to vote for Ndume. #NassElection #9thAssembly

— Hilltop (@politicalcritik) June 11, 2019
Dear @OfficialPDPNig @UcheSecondus @officialKolaO @iamekweremadu @dino_melaye and other PDP senators elect, who disappointed we the supporters of the party by not living upto our expectation's, by not giving the ruling part a good fight.God'll judge you all

— Olorugun Okaturi (@OlorugunOkaturi) June 11, 2019
You're claiming political god & abusing me online while most PDP Senators obeyed Buhari's choice of Lawan & Omo-Agege

Sorry!

— Ifeanyi ANIAGOH (@IfeanyiAniagoh) June 11, 2019
@tvcnewsng PDP endorsed Ali Ndume, yet many PDP senators-elect voted for Lawan. PDP nominated Ekweremadu for DSP but it appears some of them voted otherwise. It is a good day in the senate.#JH

— HisGrace Stober Ash (@HisGraceStoberA) June 11, 2019
🙄 then you don't understand politics. If you think there was no external influence on both the PDP and APC senators then you need to look deeper.

— Remi Wakaholic (@aderemimoses) June 11, 2019
The election of Ahmed Lawan and rejection of the PDP NWC directive by her members tells you the joke that the party has become. Saraki made sure that the PDP was relevant over the last 4 years, it was obvious to everyone that he didn't want Ndume, yet , the party endorsed him.

— Mazi Chima Amadi Ph.D (@AMADICHIMA) June 11, 2019
PDP has been outplayed here, the party failed to realize that these senators all have committees to lobby for later on, so they can impose anyone on its senators except anyone who actually lobbied PDP and has made sure APC is not organized like saraki did, history is there https://t.co/tquiOu23E8

— MR FOWOSERE (@espeezeal) June 11, 2019
And how many senators did PDP lost to APC ?

— Jubril of Sudan till 2023 (@ijaola_ibrahim) June 11, 2019
There is no need for challenge,PDP senators also vote for him

— Fatunsin Babatunde (@FatunsinB) June 11, 2019
Ike Ekweremadu, Dino Melaye other PDP Senators officially endorse Ahmed Lawan as 9th Senate President.

It is a done deal, Ahmed Lawan for Senate president. pic.twitter.com/NV6u38d4kg

— Honour (@azeez_ibrahim11) June 9, 2019