Nigerians have reacted to the the revelation by Lai Mohammed, the Minister of Information and Culture that the President Muhammadu – led government has strong evidence that links the opposition People's Democratic Party (PDP) and Atiku Abubakar, its Presidential candidate in the 2019 elections, with plots to subvert power in the country and unleash mayhem on the polity
.
According to Punch, Mohammedsaid this Saturday in Oro, Irepodun local government area of Kwara state during the annual twelfth Ramadan lecture
.
According to him, "Our interventions
are based
on credible evidence, and no government with the kind of evidence that we have, of plans to subvert the power of the state, attack the nation's economic live wire and generally unleash mayhem on the polity, will keep quiet
.
The security agencies are all alert to their responsibilities and will not sit by and allow anyone to reverse the gains of our democracy under any guise
.
Since our intervention, pseudo and partisan analysts have teamed up with the spokesmen for the main opposition party and its presidential candidate to either exhibit their ignorance or to engage in red herring and name-calling
."
Here are some of the reactions on Twitter:
Foolish how Buhari's goons think. GEJ is no longer the problem, it's now Atiku. Buhari should follow the honourable part and resign. Nigeria has failed under his watch.

— Raphael 🇳🇬 (@Raphezeh) May 18, 2019
@realDonaldTrump @USEmbassyAbuja quite interesting,so the alarm raised that @MBuhari administration is trying to arrest @atiku and cow the opposition is true

— Doo Timbir (@DooTimbir) May 18, 2019
Last year govt came out wth"Hate speech campaign" perhaps in a bid to silence d opposition: today it's another episode of d unfinished drama

— Timothy Nathaniel (@ynathaniel64) May 18, 2019
Its funny how Buharists run from negative tweets like this one knowing fully its one big lie but are quick to insists that this government has done well while we all suffer the pain

— Sammy (Son of Man) (@fumengame) May 18, 2019
No one is surprised abt the new paradigm of blame narrative by the Prof. Liar of the Fed. Uni. of Untruthfulness. With him there's always a crafty excuse for govt failures. The incapacity of APC govt to improve pple's lives nd country by creative nd innovative ideas is disgusting

— David Eboh (@DavidEboh5) May 18, 2019
As someone who is fasting, pls don't be a liar.
Incompetency is rife in this APC led govt.

— stallion (@St_al_lion) May 18, 2019
But isn't this hate speech on its own and even a threat to our security?

Some people need to review their conscience, everything isn't politics.

— ViktorKicker™ (@viktorasiegbu) May 18, 2019
Am sure it's the Isreali company, contracted by the canibalistic, ruling junta, to do their dirty media propaganda that, has cooked up and sold this coup allegation to this herdsmen FG

— Odirah Chinedum' (@chineduodira) May 19, 2019
Fallacy, so atiku now is an individual who is stronger and bigger than Nigeria….kai…o APC no more ideas…2023 to us isn't far anymore… counting…

— Ezekiel Lazarus (@EzekielLazarus4) May 18, 2019
Can someone tell our information minister that he's speaking on behalf of government not on behalf of APC, he's always talking much of political opponents than sharing valid information to Nigerians

— sodiq ola Alao (@sodiqolaAlao1) May 18, 2019
This is akin to treasonable felony. It requires foolproof investigations. No wide accusations, No political/ paid support from hangers-on.
No matter how remote the connection; coup plotters are over ambitious criminals and the penalty is L/Imp or death.
All should be mindful

— PAINFUL PAST. GOLDEN FUTURE (@Uyi_Omoigui1) May 18, 2019
It's a shame, as old as this man is he seats on the pot of lies, cooks and dishes it out as he likes with no shame. God please forgive him.

— cinthobi (@Hycinth41) May 18, 2019
Liar Mohammed. If you have won genuinely, why all the worries. Conscience is pricking you and My Integrity

— Bola (@Bola97871954) May 18, 2019
What nonsense democracy are u talking about, maybe demo craze u mean. U rig election, suffer the consequences

— Paul Chi (@Otuyapaul) May 18, 2019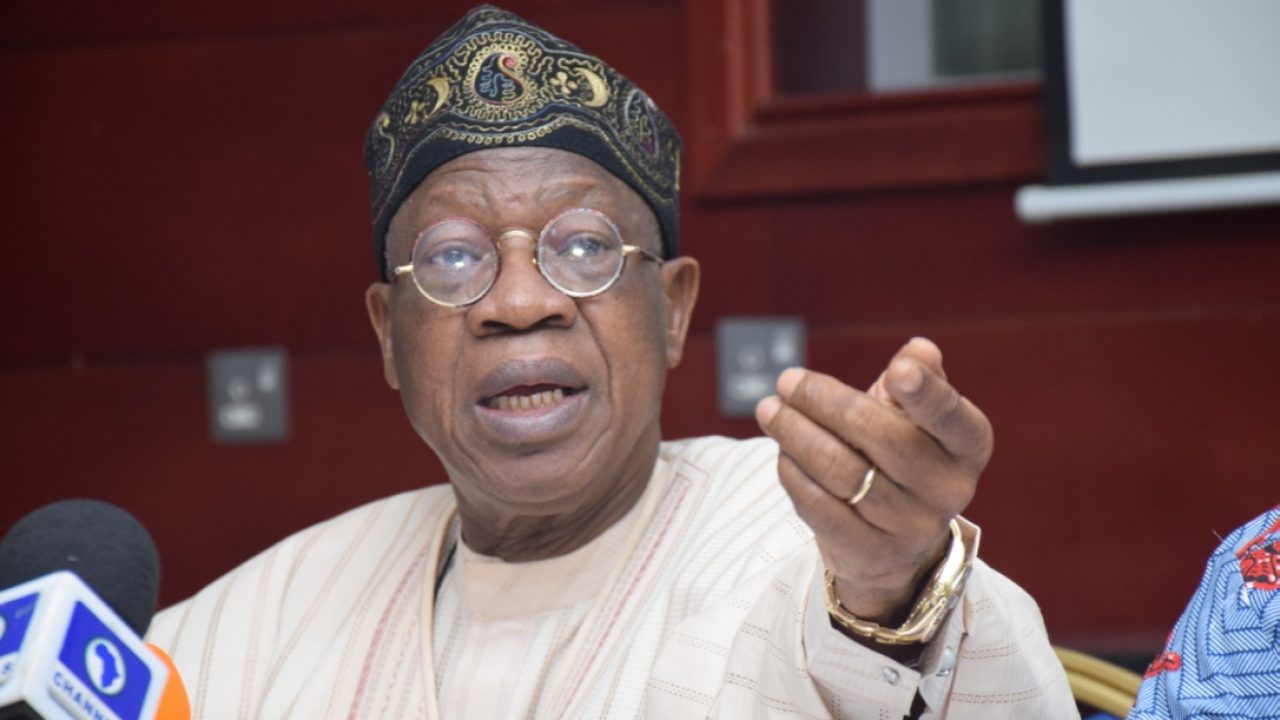 How is going to court reversing the gains of democracy? That's all Atiku has done, and you are this agitated and nervous issuing all these threats. Na waaa o

— emmaja ugwuoke onaa (@FADAEMMA12_9) May 18, 2019
I am sure Lai Mohammed is looking for a job in the new PMB government. Please sir stop heating up the polity. We know you are lying. Only the guilty are afraid.

— Marcy Okwor (@OkworMarcy) May 18, 2019
Sut up your dirty mouth you political gang made it on governoable for Jonathan so you can come and enjoy you never see something next level is about to began

— christchineme (@christchineme) May 18, 2019
When the President was appointing service chiefs from 1 sect of the country and we complained they said those are the people he could trust. Now the president&his trusted chiefs are crying of an imagined coup.
It only meant 1 thing. They are chasing shadows that does not exist.

— ucdarling (@UchechukwuEya) May 18, 2019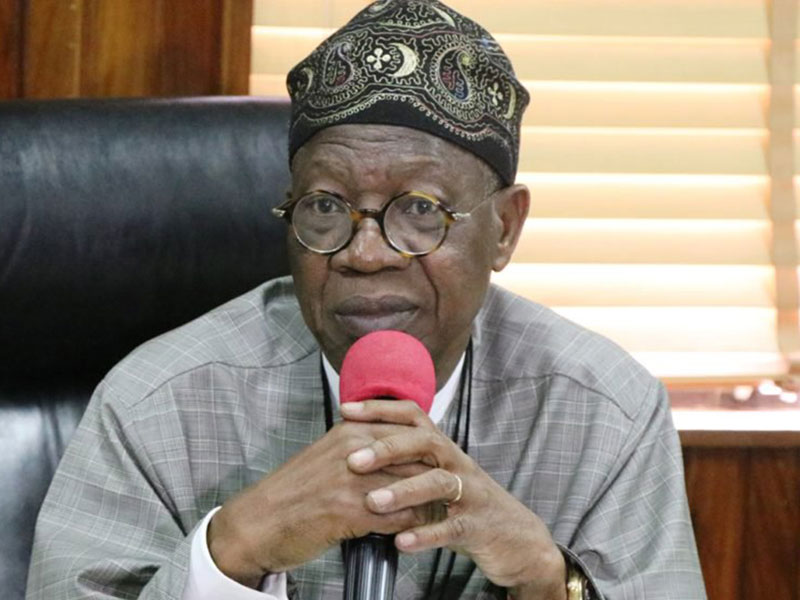 Your credible evidence is the fear of the unknown, and it bothers that feeble mind of yours to lie the more. Yeye people!

— Dannessy (@Dann_10) May 18, 2019
With this new wave of craze you have earned yourself another ministerial position.

Mr poccupine

— Austyn OKOWANISATION/ATIKULATED (@Austyniyasele) May 18, 2019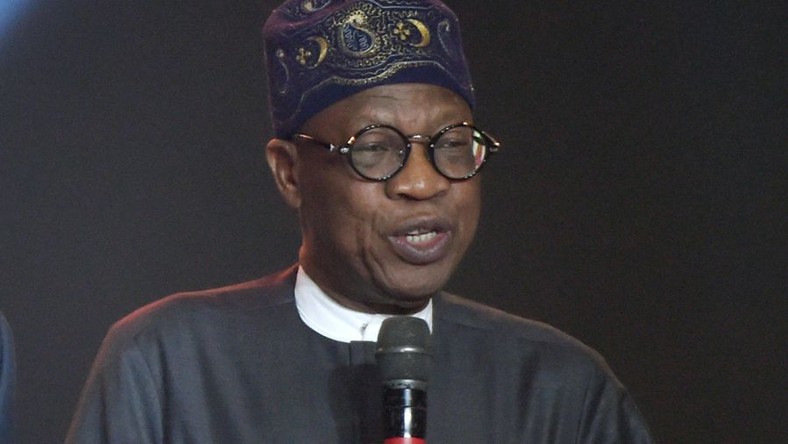 If that will make common man enjoy the dividends of DEMOCRACY. Why not! You guys are ROGUES in APC.
AITETE MOLE ! ………..

— SAM GLOBAL VENTURES LTD. (@AmosuakinyemSAM) May 19, 2019
I will be happy to see this ungodly and weak government that wants all Nigerians dead to be de thrown ,if the military is back Nigerians will be happy again

— John Daniel Ugorji (@JohnDanielUgor1) May 18, 2019
It's time for REVOLUTION in this country.
All hands must be on deck to erase these breed of myopic POLITICIANS.

— Engr. Kalu Emeka (@kaluemeka89) May 19, 2019
Please release the evidence to Nigerians. Stop making allegations that can not be substantiated in the name of politics. If your evidence is so credible, arrest and try the people for treason. Don't wait until the thing happens and set the country backwards

— Chris C. Elikwu, (@chrischux) May 18, 2019
What are your thoughts? Let us know in the comments.