Senator Rabiu Musa Kwankwanso and Governor Abdullahi Ganduje were once close friends that it was difficult for anyone to come between them. But like the saying in politics, there are no permanent friends, or permanent enemies, what exist is permanent interest.
Sadly, that has been the case of the two political gladiators, who control the commercial nerve centre of Northern Nigeria. While one dependent on the other to climb the political ladder, the other became too powerful he wanted to have it all.
Early Life
Kwankwaso was born on 21 October 1956 in Kwankwaso village of Madobi Local Government Area of Kano State, while Ganduje was born 6 years earlier in Ganduje village of Dawakin Tofa local government area of Kano State in 1949. Their part crossed during their education days, and both men developed a friendship that took them from a relatively unknown village in Kano State to the corridors of power.
Ganduje's passion to serve his people took him into politics in the late 70s, when he joined now-defunct National Party of Nigeria (NPN) during the Second Nigerian Republic and served as Kano State Assistant Secretary from 1979 to 1980. He contested the House of Representatives election in 1979 under the NPN but lost the election. All the while, Kwankwaso had joined the civil service working at the Kano State Water Resources and Engineering Construction Agency (WRECA), serving as a civil servant for 17 years in various capacities and rising through the ranks as the principal engineer.
In 1987, then President Babangida started his political transition program with the establishment of a Political Bureau, and a Constituent Assembly was later inaugurated to deliberate on a proposed draft constitution. Though Kwankwaso was not a member of the assembly, he had political associates who represented his political leanings at the forum and was active in the formation of political associations during the transitional period. He joined the highly influential Yar'Adua People's Front of Nigeria, which members included Babagana Kingibe, Atiku Abubakar, Bola Tinubu, Magaji Abdullahi, Ango Abdullahi, Ahmadu Rufa'i, Yahaya Kwande, Abdullahi Aliyu Sumaila, Wada Abubakar, Babalola Borishade, Sabo Bakin Zuwo, M.S.Buhari and Farouk Abdulazeez. The organization later merged with other groups to form the Social Democratic Party of Nigeria.
In 1992, Kwankwaso was elected as a member of House of Representatives representing Madobi Federal Constituency. His subsequent election as deputy speaker in the House brought him to the limelight of national politics.
During the 1995 Constitutional Conference, Kwankwaso was elected as one of the delegates from Kano, as a member of the People's Democratic Movement led by Yar'adua. Kwankwaso joined the Peoples Democratic Party, PDP in 1998 and contested the primaries against Abdullahi Umar Ganduje, Engr.Mukthari Zimit, Alhaji Kabiru Rabiu. The Santsi/P.S.P. were behind the candidature of Abdullahi Umar Ganduje but they lost to Kwankwaso in the primaries.
After consultation with party leaders, Kwankwaso picked his friend as deputy, and the pair began their political journey together. On May 29, 1999, Rabiu Musa Kwankwaso, was sworn-in as the executive governor of Kano state alongside his bosom friend, Abdullahi Ganduje.
The pair lost re-election to Malam Ibrahim Shekarau whom Kwankwaso had removed from the highest civil service position of permanent secretary to a lecturer in a higher institution (College of Arts and Science, Kano). His tenure as the governor of Kano State was very eventful because of several other groups who were opposed to his high-handed governorship and his attempt at supporting president Obasanjo, who hails from a different tribal group. His party the PDP also became split between his supporters and those who opposed him.
Kwankwaso was subsequently appointed as the Minister of Defence in President Olusegun Obasanjo's cabinet in 2003. As good friends behave, Kwankwaso took along his bosom friend, who served as his special Adviser (Political). Ganduje was also nominated to served as a member of the Nigerian Civil Aviation Authority (NCAA).
In 2007, Kwakwanso was appointed as the Presidential Special Envoy to Somalia and Darfur by the Obasanjo administration after losing the bid from his party to contest the 2007 general governorship election. Rabiu continued to use his influence at the Federal level to undermine his opponents especially the Kano State Government. Kwankwaso resigned his ministerial position to contest the election in 2007 but he lost because he had been indicted by a Government White Paper. The deputy gubernatorial candidate of the party Alhaji Ahmed Garba Bichi replaced him as the gubernatorial candidate of the party in the 2007 elections while Engr. Abubakar Jibrin Mohammed contested for the deputy gubernatorial post.
While Kwankwaso was fighting for his political survival, Ganduje accepted a federal appointment as the chairman of the Federal Polytechnic, Ado-Ekiti in 2008 and was later appointed as the executive secretary of the Lake Chad Basin Commission at Ndjamena, Republic of Chad.
Kwankwaso was reelected for a second term as Kano state Governor on 26 April 2011 and sworn in on 29 May, 2011, along with Ganduje (Deputy Governor). His loyal deputy was later selected as the consensus candidate to succeed Kwankwaso as Governor of Kano State on 28 November 2014. He went on to defeat the opposition candidate, Malam Salihu Takai, with 1,546,434 votes against Takai's 509,726 votes in the 11 April 2015 gubernatorial elections. He was sworn into office on 29 May 2015. Meanwhile, Kwankwaso contested the APC presidential primaries but lost to Muhammadu Buhari. Kwankwaso was then compensated with a senatorial slot and became a Senator representing Kano State Central Senatorial District Seat on 2nd March, 2015.
How It All Started
The duo, however, drew the battle line shortly after the former handed over to the later on May 29, 2015. Kwankwaso's alleged quest to control Kano government house from Abuja and Ganduje's reported firm resistance to godfatherism, snowballed into a deep-rooted political rivalry, which made Kwankwaso to dump the All Progressive Congreds, APC, and return to the PDP while vowing to ensure that Ganduje is voted out of Kano government house during the 2019 elections. The outcome, which is still be contested in the law court.
Ganduje's Side Of The Story
Gov. Ganduje, recently recounted how his face-off with his immediate predecessor and political leader started. In an interview with Daily Sun, he recalled that they were very closed even before their political adventure together in 1999.
He said, "Yes, we were very, very close. Even before 1999, we have been friends. I was Commissioner for Works and Transport for six years during the military, and my former governor is a politician right from the military when political parties were formed.
"I started politics right from 1978, and in 1979 during the NPN period, I even contested election and was even part of the executive members of the party in the state. So, politics is not something I am just starting now.
"So, we contested together for governorship in 1999 and the result was controversial. Prince Tony Momoh was in Kano to supervise the primaries, the result was controversial; the elders reconciled us that he should be governor and I should be the deputy governor. I insisted that there should be re-election, but elders pleaded and I agreed to be the deputy governor. Tony Momoh is still alive, you can ask him.
"And since I became the deputy governor I had to do it well. I had to be loyal, respectful and honest. So, I worked hard to add value to the government by supporting the governor not only by being loyal to him but working very hard to fill the gaps, promote the government and work round the clock to ensure when he is not around there is no difference.
"That is how we worked together. Even when he was a minister, I was with him. I was on my own when he invited me to come and be his adviser when he was Minister of Defence. I agreed because after all, we have been together, and he felt we could work together.
"When we won the elections in 2011, he graciously invited me, it was not as a result of any contest between us, but out of his own volition. I have to thank him for that because he could have invited someone else.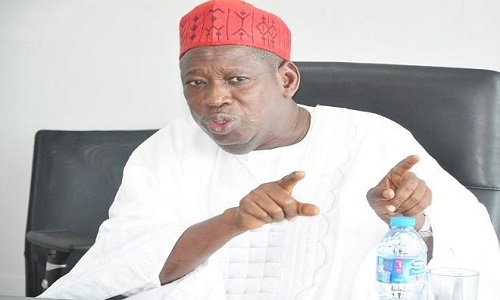 "So, we worked together peacefully. When I was nominated and after I won the elections in 2015, before handing over, I started seeing some elements of undercuts from his body language.
"He didn't attend my swearing-in, he just handed over and left for Abuja because he claimed he had something to do. I said okay and went for the swearing-in.
"A night before he left, I went to him and I said during my campaign, I said that my administration will be a government of continuity. I told him that I want to retain the Secretary to the State Government. The SSG did not know, I was the one that told him. I told him that I want to retain the Accountant General.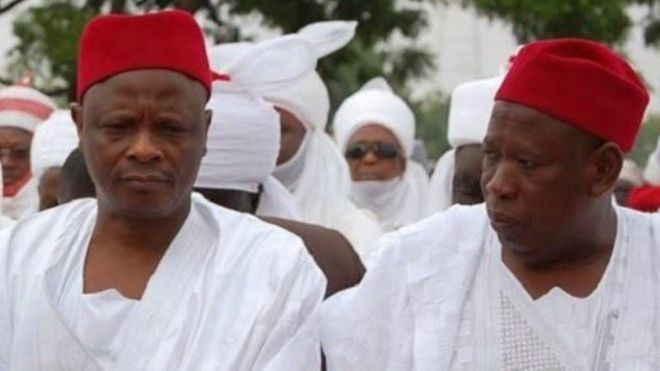 "The DG Media is his friend, I told him I want to retain him, and I later made him a Permanent Secretary. The Press Secretary, I told him I want to retain him, so he phoned and told him. And then the four administrative staff in the office, I asked him 'will you like to take some', he said he was taking only one, the remaining three are still in my office. So, that was a symbol of continuity.
"Then it came to the appointment of commissioners and, of course, from his body language I had started seeing some elements of disagreements. So, I didn't get his opinion on the appointment of the commissioners because I thought that was not even necessary because the commissioners are not as strong in government as SSG and the Accountant General.
"So, I thought it was something I could do. Even at that, my Commissioner for Agriculture now was also his Commissioner for Agriculture, we are still together; the Commissioner for Local Government is a younger brother to his wife, he was chairman of local government during his time; the Commissioner for Water Resources was an adviser in his government; the Commissioner for Finance was also Commissioner for Finance in his government.
"Like I said, I started seeing some elements of undercuts from his body language, and then he started attacking my administration. First, even before handing-over, he said he has paid all the contractors in Kano, but the contractors went to radio stations and said he was telling lies. You could see that he was trying to heat up the system even before handing-over."
So what next for the two political gladiators in Kano state. While the governor is on a vendetta mission to deal with all those who sided with Kwankwaso in the last elections, his once political leader is quietly working on his next move.
More details soon…