The personal assistant on new media to President Muhammadu Buhari, Ahmad Bashir, has come under serious criticism from Nigerians following the reply he gave to legendary Nigerian Actress Omotola Jalade Ekeinde.
Recall that Omotola Ekeinde or Omosexy as she is fondly called by her teeming fans and admirers had earlier called out President Muhammadu Buhari and the Vice President Prof. Yemi Osinbajo over the hardship and killings in the country.
The award-winning actress made this known via her Instagram stories on Sunday, April 14, 2019. She expressed shock over the Vice President's silence over the way and manner SARS has turned the country into a death trap.
"@profosibanjo it is shocking that Nigeria has turned into a death trap under your watch and you are silent!!! You are silent!!!!! At a time like this under your leadership," she wrote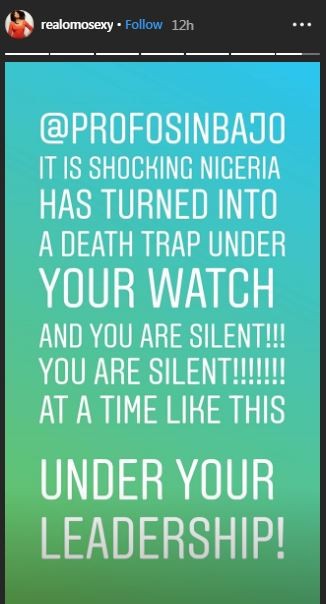 The multiple award-winning star further went on to complain that Nigeria is a living hell under the watch of both President Buhari and Vice President Osinbajo.
She lamented the continuous killings going on in the country as recently witnessed in Zamfara State. She also complained about the lack of circulation of money which is giving citizens a hard time.
She tweeted:
"The country under your watch is hellish! @YOsibanjo @MBuhari @NGRPresident The lack of money in circulation, now coupled with the continuous assault and killings by uniformed men will make this country implode!!! It is unbearable! Do something! Insecurity! Fear and desperation everywhere."
However, Ahmad Bashir the aide of President Buhari attacked the legendary actress on Twitter, insinuating that she was only complaining because her source of income was questionable. He further went on to say that people making clean money are not complaining of hardship in President Buhari's administration.
Madam Omotola those who are working for CLEAN money are not complaining and will never refer our dear country as 'hellish'. In Kano State alone, from 2015 to 2018, no fewer than 200 medium and small scale rice milling centres emerged. For that, billions circulated among millions. https://t.co/nWprKIgpLC

— Bashir Ahmad (@BashirAhmaad) April 15, 2019
Nigerians are however not happy with the reply of the member of President Buhari's media team and have gone on to blast him for making such comments. Omotola herself gave a reply to Ahmad Bashir. See her reply below.
See the reply of other Nigerians below:
Oga Bashir, must u pple praise an erring govt. on sheer falsehood, y dont u kip quiet if i dnt v anytin relevant to say, ur tweet has no bearing on wat Omotola tweeted abt. And ur argument sef on d issue of rice production holds no water. U r a fool Sir.

— Baby Tprime (@AyencoE) April 16, 2019
How much have you ever made legitimately in ur entire existence that you tell @Realomosexy about Clean money? A veteran in the Nollywood industry who started from the scratch & made a name for herself- what do you Bashir know about hustle, if not for Northern agenda who are you? https://t.co/SoIBXyMx1t

— Ayekooto (@thebardogbamola) April 16, 2019
Bashir is attacking Omotola, saying she ain't working for clean money.

Same person that defended Ganduje and Mr bullion van, something is wrong with this guy.

— SEKONI (@Sekoni12322) April 16, 2019
Image Credits: Twitter/Instagram
What are your thoughts on this story? Let us know in the comment section below.