Two huge dogs suspected to have been buried alive were discovered in front of the popular Eze Imo palace, along Mbari Road – Ikenegbu Owerri in Imo state. According to reports, the stench the already decomposing dogs became very unbearable that the traders around the area had to dive into active search as various suspicions began to arise.
After a while of digging, the first already rotten dog was found and in no much time, another big dog was also found buried.
The residents who have been left shocked by the development, are asking why anyone would want to bury dogs 'alive' especially in front of the famous Eze Imo palace.
It would be recalled that The Eze Imo, Eze Samuel Ohiri, recently appealed to civil servants to show full commitment to the anti-corruption fight of the current administration to ensure sustained development.
The monarch made the appeal in Owerri while receiving a delegation of the National Council on Establishment led by the Head of Civil Service of the Federation, Mrs Winifred Oyo-Ita, according to the News Agency of Nigeria, NAN.
Ohiri said that support and cooperation of all Nigerians were necessary for the success of the fight. "Pay close attention to the fight against corruption, discipline, loyalty and dedication to duty. If you put in your best, our country will be the best in the world.
"In spite of the challenges you are facing in terms of low salary, do not relent in your efforts. "Rest assured that the traditional institution recognises your sacrifices and contributions for our nation,'' the monarch said.
He described civil servants as the engine room of the country's governance, and thanked them for efforts in moving Nigeria forward.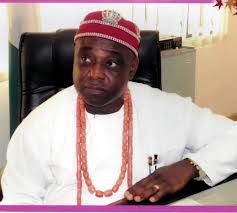 Earlier, Oyo-Ita said that the council was deliberating on issues that would guide state governments on ways to enhance civil service. Oyo-Ita said that it was important for the council to meet regularly to ensure that the tenets of civil service were maintained.
She said that the council was determined to move the country forward. "As a royal father, you play a very important role in the governance of your state, and as civil servants, we will ensure that work of governance must go on.
"We need to work together as one council and speak with one voice with regard to what we need to improve the service,'' she said.
What are your thoughts on this? Kindly leave a comment
Source;National helm