Former Unites State President George  HW Bush has been confirmed dead,  He was  the 41st president of America who  shepherded the US through a turbulent period in global relations that included the breakup of the Soviet Union and the Iraqi invasion of Kuwait, has died. He was 94
George Herbert Walker Bush, the World War II veteran who was elected the 41st President of the United States and fathered the nation's 43rd, died late Friday at the age of 94, his family announced in a statement.
Bush advocated a "kinder, gentler" conservatism, pursued policies that helped topple the Soviet empire and initiated military campaigns that ousted one foreign dictator and crippled another. He lived longer than any other U.S. president, and presided over the demise of the Cold War. The former president was hailed by the 44th U.S. president, Barack Obama, who in a statement called Bush "a patriot and humble servant…While our hearts are heavy today, they are also filled with gratitude."
Bush's life was "a testament to the notion that public service is a noble, joyous calling," the statement read. George Bush waves to supporters Nov. 5, 1988, three days before he was elected to the White House. Wife Barbara died April 17 at age 92. Their 73-year marriage was longer than that of any presidential couple in U.S. history. Their children included former President George W. Bush and former Florida Gov. Jeb Bush.
"George H.W. Bush lived a life that was purposeful, and extraordinarily rewarding — for our nation, and for our world," said Tricia Nixon Cox and Julie Nixon Eisenhower, the daughters of former president Richard Nixon, in a statement.
"While people everywhere salute and thank George H.W. Bush today, we take special solace in knowing the President and Mrs. Bush are together again," the Nixon siblings added. Bush's cause of death was not immediately announced. However, at various times during the last several yeas, the former president fell ill and was hospitalized. A day after Mrs. Bush's funeral on April 21, the senior Bush was admitted to Houston Methodist Hospital for a blood infection.
He had been taken there in April 2017 and in January 2017 for treatment related to pneumonia, family spokesman Jim McGrath said. During the January hospitalization, Barbara Bush was also treated there after experiencing fatigue and coughing. Their hospitalization came days after they had celebrated their 72nd wedding anniversary on Jan. 6, 2017.
The couple lived in Houston. During Hurricane Havey, which devastated the city in August 2017, Bush and his wife were in their second home in Kennebunkport, Maine. He praised the efforts of first responders and used Twitter to encourage people to donate to One America Appeal, a private relief fund coordinated by the five former U.S. presidents.
The son of a U.S. senator, the elder Bush had big shoes to fill when he succeeded Ronald Reagan, a larger-than-life figure who was once his rival. He was denied a 2nd term by Democrat Bill Clinton, only to forge an unlikely relationship with the man who defeated him. Capping a long political career, Bush was elected to the White House in 1988 on a ticket with Sen. Dan Quayle, defeating Democrat Michael Dukakis and running mate Sen. Lloyd Bentsen in a landslide.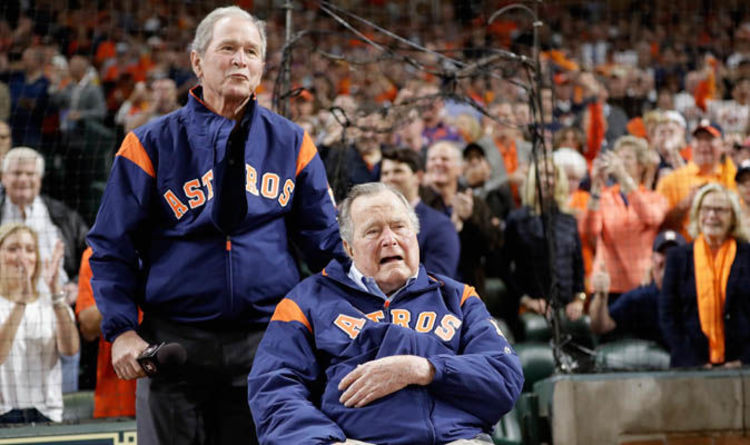 Months before the victory, Bush delivered what became known as his "thousand points of light" acceptance speech at the GOP National Convention at New Orleans' Superdome. While promising to fight for prayer in public schools and gun rights and against abortion, Bush tried to put a softer face on conservatism, striving to make America a "kinder, gentler" nation.
"Prosperity as a purpose means taking your idealism and making it concrete by certain acts of goodness," he said. "It means helping a child from an unhappy home learn to read. … It means teaching troubled children through your presence that there is such a thing as reliable love."
Despite his increasing fragility, Bush remained active well into his old age. He celebrated at least three of his birthdays since his retirement from the White House by parachute jumps – including, in June 2014, a skydive to celebrate his 90th birthday.
Bush was forced to apologize in 2017, after being accused of sexual assault. Bush's spokesman, Jim McGrath, admitted the former president had "patted women's rears" in the past as a joke to help "put people at ease" during photo calls. "To anyone he has offended, President Bush apologizes most sincerely," McGrath said.
Over a two-decade period, Bush served as ambassador to the United Nations, envoy to China, chairman of the Republican National Committee at the height of the Watergate scandal, director of the CIA and, for two terms, Ronald Reagan's vice-president.