The case of the Independent National Electoral Commission (INEC) against the Senator-elect for Imo West Senatorial District Rochas Okorocha has been described as a ploy to shutout the former Imo State governor from 2023 presidency.
A Facebook user made the allegation Friday shortly after an Abuja High Court ordered the electoral body to issue Certificate of Return to the troubled Imo politician.
No one knows if INEC would contest the judgement at the Appellate Court at the time of this report.
Recalled that Okorocha, one of the founding fathers of APC was announced as the winner of the Imo West Senatorial election of February 23, 2019.
But after announcing Okorocha as the winner of the election, INEC Returning Officer Prof Innocent Ibeawuchi later claimed that he announced him because of a threat to his life, saying he announced him under duress.
But Nkwunye Paul, who commented on the victory of Okorocha at the court said, "They have achieved their aims and they have clipped his wing and don't want him to get a juice position ahead of 2023."
On March 14, INEC has presented certificate of return to all politicians who won elective posts during the 2019 general elections except where elections were controversial and needed court intervention.
Okorocha was a two-term governor of Imo and was seen as one of the potential APC presidential candidates in 2023 presidential election which the South East geopolitical zone has been advocating since 2015.
In actualising that dream, different groups have been formed, one of them is SEfP2023 (South-East for Presidency 2023).
South East geopolitical zone is made of  Abia, Anambra, Ebonyi, Enugu and Imo states. The region has never produced Nigerian president since 1999. The closest it has ever been was presenting a vice presidential candidate during the just concluded presidential election under Peoples' Democratic Party (PDP).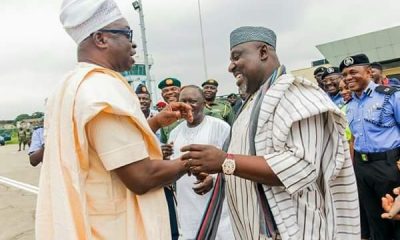 Okorocha was one of the powerful APC members in the region and political observers said he may be the top choice of the party if the region would be presenting Nigeria's president under APC in 2023.
But the Senator-elect Okorocha once advised the people of the region to forget their 2023 presidential ambition.
He said that either the North or the South West would still be producing the president in 2023.
The zone had overwhelmingly voted Alhaji Atiku Abubakar of PDP against Muhammadu Buhari, but Buhari won the election, according to INEC.
The preference of Atiku to Buhari by the zone was based on the fact that Peter Obi, a former governor of Anambra state, was the running mate to Atiku Abubakar.
And Okorocha who predicted before the presidential poll that Buhari would win said the zone would shut themselves in the foot if they failed to cast their votes for Buhari of APC.
VIDEOS OF THE SOUTH EAST FOR PRESIDENCY 2023 (SEfP2023) NATIONAL /STATE EXCO MEETING HELD IN OWERRI THE CAPITAL OF IMO STATE…IT WAS GREAT TO MEET WITH THIS GREAT MEN AND WOMEN FROM THE FIVE SOUTH EAST STATES. VIDEO SECTION TO DEFINE ALL POLITICAL PARTIES INVOLVEMENT IN SEfP2023, ALL TO ACHIEVING THE ULTIMATE GOAL OF A SOUTH-EASTERN PERSONALITY TO BE AT THE PRESIDENTIAL SEAT OF THE FEDERAL REPUBLIC OF NIGERIA COME 2023 (SEfP2023) OUR VISION IS GREATTHE SOUTH-EAST PRESIDENCY 2023 IS NOT A MIRAGE 2023 SOUTH-EAST PRESIDENCY NOT NEGOTIABLE!

Posted by South-East for Presidency 2023 SEfP2023 on Sunday, 11 March 2018