Apostle Johnson Suleman of Omega Fire Ministries unleashed anger on bloggers whom hoe said write untrue stories about him, his family and his ministry as he declared war on them. In a video which surfaced on the internet, Apostle Suleman stated that he has the capacity to shut down their blogs and that could be done by his choristers alone.
He said:
"A blogger posted something about my father in the lord about 3 days ago and I sent him a message saying I am giving him six hours to take it down or he would not like me. You know these bloggers, it wouldn't take anything to close them. How many people do we need to report a page? The church has got the numbers to mess up bloggers.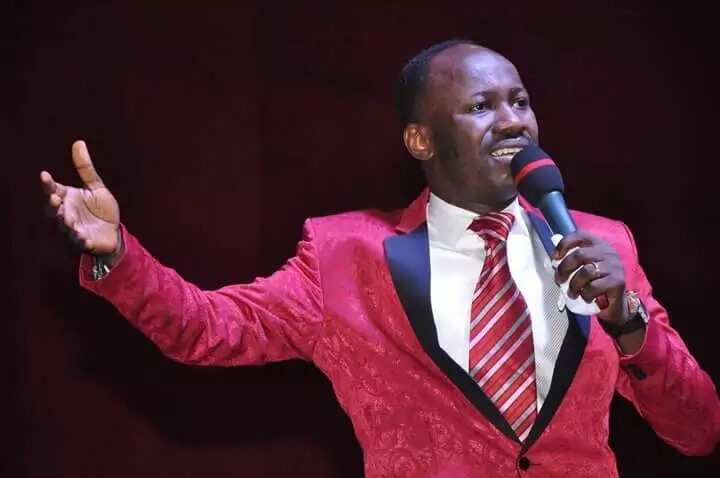 I will only direct the Choristers a page to report and they will shut it down. You want drama, we will give you. That we are keeping quiet doesn't mean bloggers should try nonsense, we can shut you down. What does it take to shut down an Instagram page?
100 to 200 reports and they will shut it down. If it comes up under three months, we report it again. Since you face the church, we face you. But we are giving you means of livelihood, don't abuse it.
I have told my people that when I give order that they should, they should just start fighting. Everybody is mad, it is the one that takes off his clothes that people notice. Nobody has the monopoly of rascality.
Pastors have the number to shut down any blogger.
Shut up your mouth or we will both shut your mouth and your blog. I told someone that if he thinks he is so relevant, he should not talk about Pastors for six months and his channel will close. What keeps it flowing is because of Pastors.
We determine your next video. Most of the women doing Youtube Channels, ask them for their husbands. Tell them to show you their husbands. Marriage has dealt with them. Life is hard on them so they are bitter."
Watch the video below:
We can shut down bloggers, the church has got the numbers- Apostle Suleman pic.twitter.com/OirRlIxHjg

— Uncle Suru (@unclexofficial) April 21, 2019
About Apostle Suleman:
Suleman Johnson is a Nigerian televangelist and the senior pastor and general overseer of Omega Fire Ministries International, a church with headquarters in Auchi, Edo State. After working as an assistant pastor in the Armor of God Church in Lagos from 1998, he started Omega Fire Ministries in 2004.
According to the apostle, it was his destiny to become a prophet and according to the tale, after his birth, a couple of Prophets came to Benin from Warri, with a message from God.
His parents asked to know the content of the message, and the Prophets told that God said to them that a prophet, that will later minister in the presence of God had been just born. Johnson Suleman's parents chose not to pay attention to their words. They were of Muslim faith and did not want their son to get out of their Muslim home.
As Johnson was growing up, his parents noticed changes in his behavior. He had a special liking for different things connected with God and faith. Therefore, he did not express the interest in the Muslim faith. Even when he attended the mosque together with his dad, the boy felt it was not his true calling.
Share your comments below let's know what you think on this story.
Source: LNS247