The English FA released the official 2019-20 season fixtures. All the games have been released with dates and time also. Chelsea kickoff their season against Manchester United at Old Trafford as they hope to have a good start just like 2018-19 season.
Last season, The Blues won their opening five games in the Premier League under Italian manager Maurizio Sarri. While the former Napoli manager is unlikely to be at the helm this time around, with speculation over his stay at the club still shaking as Serie A giants Juventus looking for his services, Chelsea will be hoping for another positive start to the season with or without Sarri.
Someone say Chelsea v Man Utd on the opening day? 😉#ThrowbackThursday pic.twitter.com/ugAECSVmDa

— Chelsea FC (@ChelseaFC) June 13, 2019
They are a club with complications off the pitch, with a transfer ban looming for the next two windows along with the loss of star player, Eden Hazard, to Spanish giants Real Madrid. Add in long term injuries to Reuben Loftus-Cheek, Callum Hudson-Odoi and Reece James and there may be a dent in optimism for the upcoming season. But fans can find peace of mind in Christian Pulisic, who is set to make his debut at the start of the season, with expectations high for the former Borussia Dortmund winger at Stamford Bridge.
Counting down the days until August 11…

Bring on the new @PremierLeague season! 💪 pic.twitter.com/wuBYUiTk5S

— Chelsea FC (@ChelseaFC) June 13, 2019
Chelsea will be hoping to win the league this season after last winning it in 2016-17 under the tutelage of Antonio Conte but they face a big task in December, as they will be playing a total number of six games and tough opponents. They kickoff the month with a home game against the newly promoted Aston Villa before taking on Everton three days later. The Blues will be hoping to revenge their two season loss against Bournemouth in the same month and they will also be playing the first legs of their London derbies against Tottenham and Arsenal.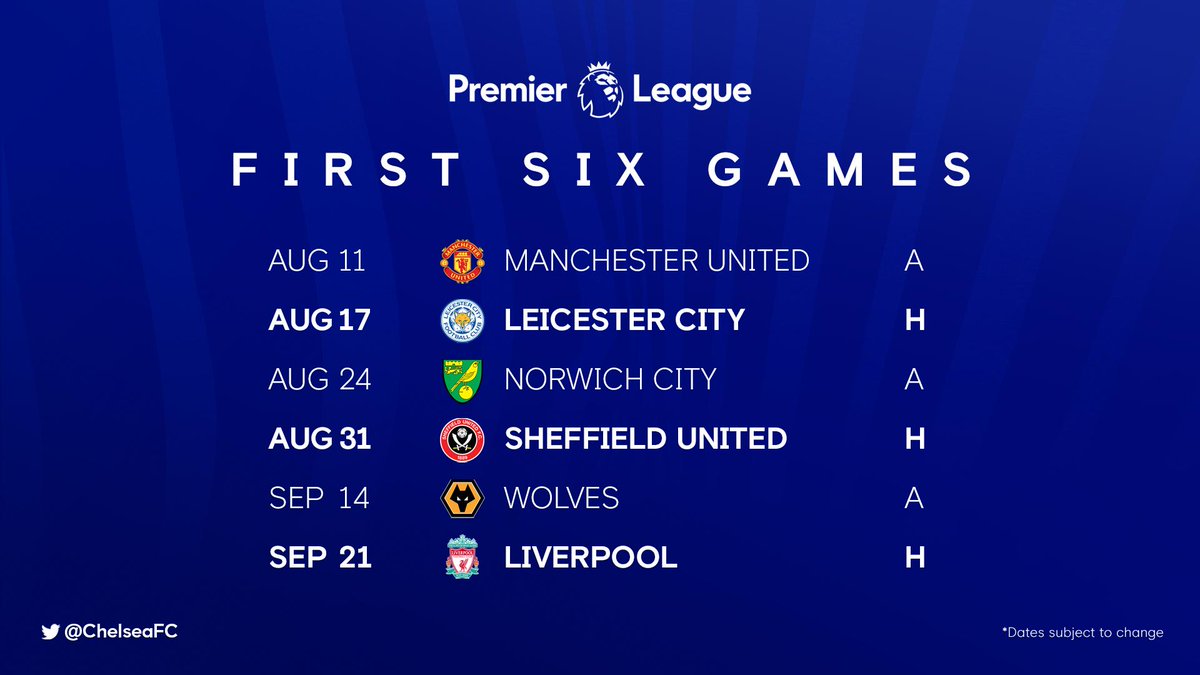 Here are Chelsea's full fixtures for the 2019-20 season…
11/08/2019    Manchester United    (a)    16:30
17/08/2019    Leicester City    (h)    15:00
24/08/2019    Norwich City    (a)    15:00
31/08/2019    Sheffield United    (h)    15:00
14/09/2019    Wolves    (a)    15:00
21/09/2019    Liverpool    (h)    15:00
28/09/2019    Brighton    (h)    15:00
05/10/2019    Southampton    (a)    15:00
19/10/2019    Newcastle United    (h)    15:00
26/10/2019    Burnley    (a)    15:00
02/11/2019    Watford    (a)    15:00
09/11/2019    Crystal Palace    (h)    15:00
23/11/2019    Manchester City    (a)    15:00
30/11/2019    West Ham United    (h)    15:00
04/12/2019    Aston Villa    (h)    19:45
07/12/2019    Everton    (a)    15:00
14/12/2019    Bournemouth    (h)    15:00
21/12/2019    Tottenham    (a)    15:00
26/12/2019    Southampton    (h)    15:00
28/12/2019    Arsenal    (a)    15:00
01/01/2020    Brighton    (a)    15:00
11/01/2020    Burnley    (h)    15:00
18/01/2020    Newcastle Utd    (a)    15:00
22/01/2020    Arsenal    (h)    19:45
01/02/2020    Leicester City    (a)    15:00
08/02/2020    Manchester Utd    (h)    15:00
Winter break
22/02/2020    Tottenham    (h)    15:00
29/02/2020    Bournemouth    (a)    15:00
07/03/2020    Everton    (h)    15:00
14/03/2020    Aston Villa    (a)    15:00
21/03/2020    Manchester City    (h)    15:00
04/04/2020    West Ham Utd    (a)    15:00
11/04/2020    Watford    (h)    15:00
18/04/2020    Crystal Palace    (a)    15:00
25/04/2020    Sheffield Utd    (a)    15:00
02/05/2020    Norwich City    (h)    15:00
09/05/2020    Liverpool    (a)    15:00
17/05/2020    Wolves    (h)    15:00
Here is the link to all the Premier League fixtures for 2019-20 season: https://www.premierleague.com/fixtures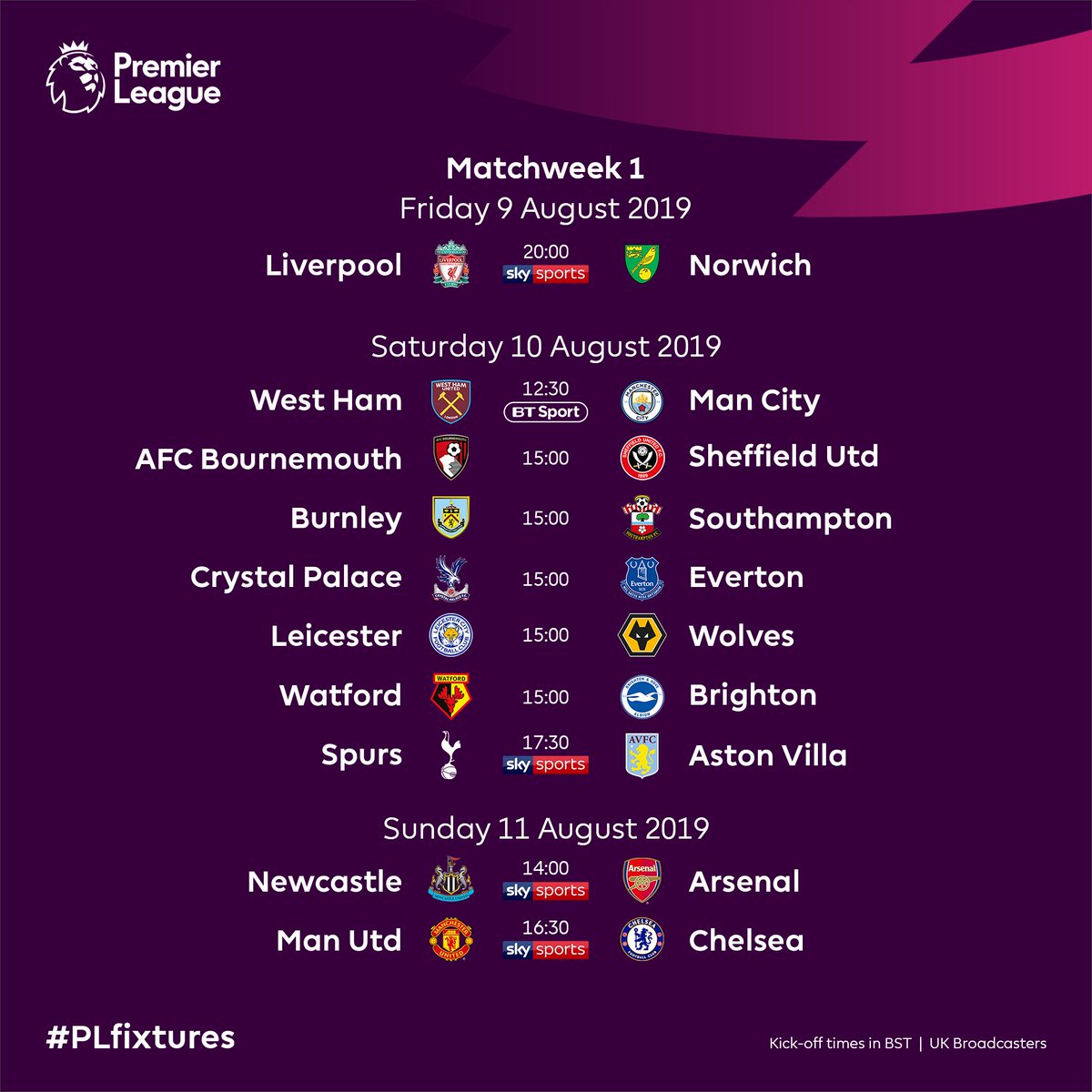 Which of the month do you think Chelsea will struggle? Share your view on this in the comment section below… Thanks