Real Madrid have finally signed Eden Hazard from English Premier League giants Chelsea for a reported fee of £88.5 million initial pay plus add ons. Negotiations between the clubs have been taking place all week but the Belgian star has finally become a Madridsta.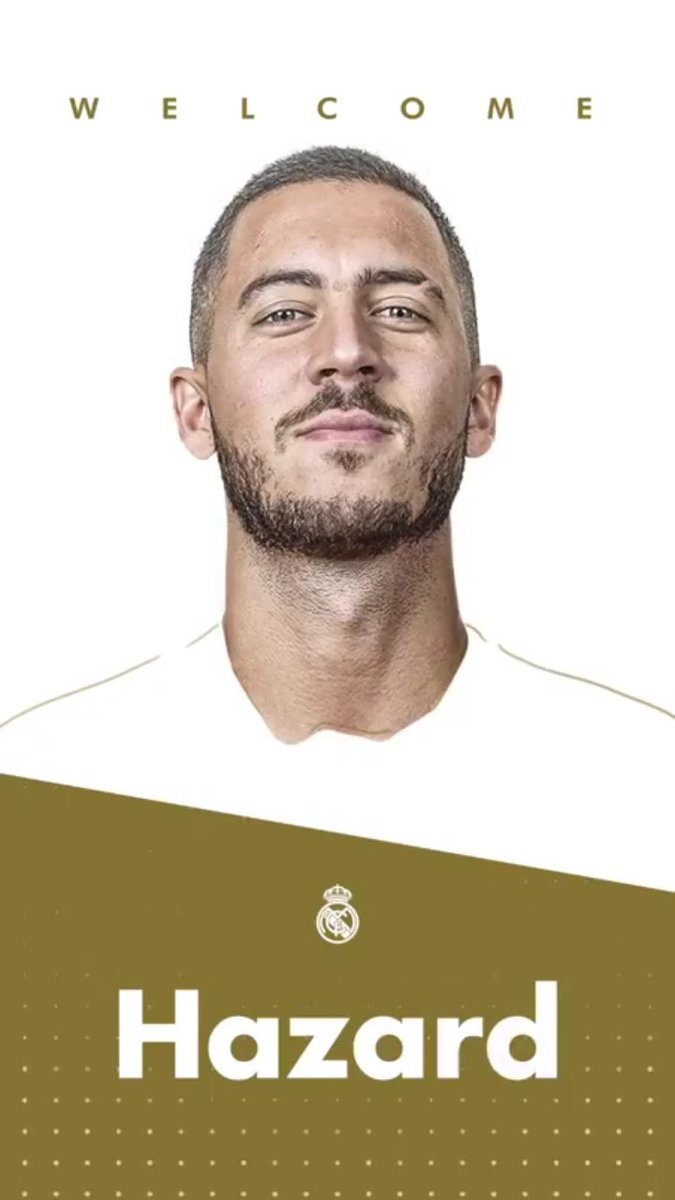 The Belgian sets a new record as the most expensive player in Real Madrid history surpassing Cristiano Ronaldo and Gareth Bale, they also joined the Los Blancos from the Premier League for the cost of £80 million and £85 million respectively.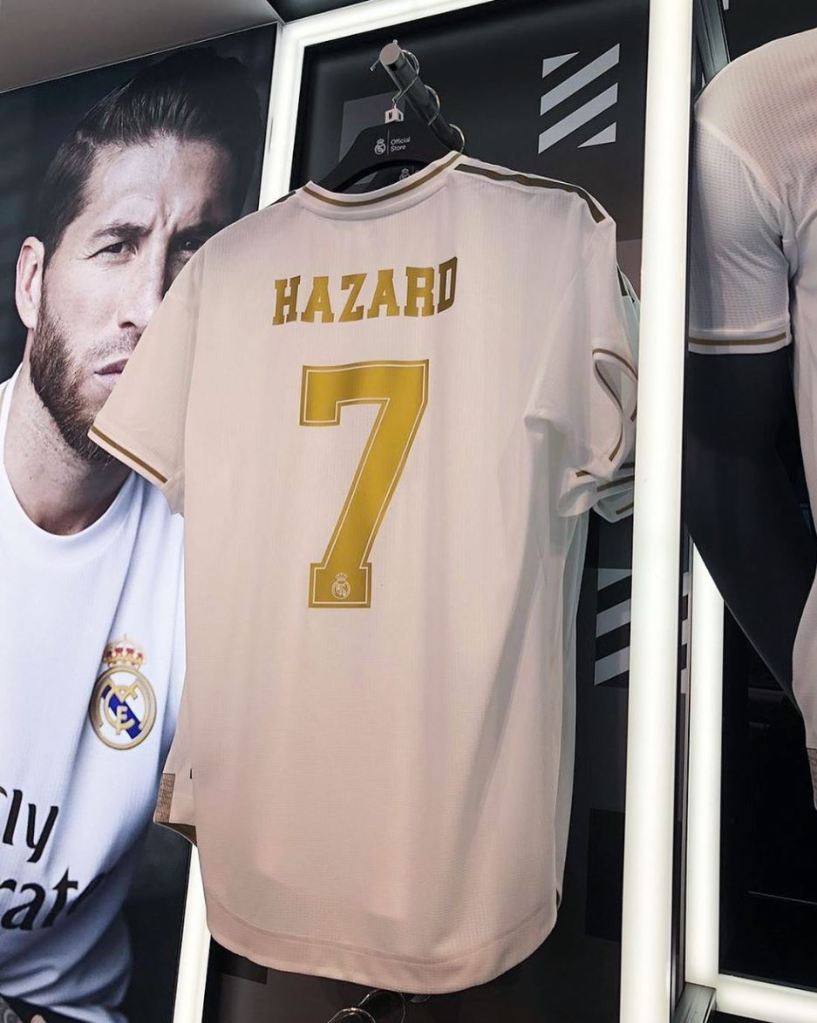 Hazard's time at Chelsea has been hugely productive with the playmaker establishing himself as the team's most important component for several seasons. Over the past campaign, he smashed 16 goals and provided 15 assists, playing a key role in the Blues' return to the Champions League and their run to the Europa League Final. Since signing from Lille in 2012, he has lifted the Premier League twice along with one FA Cup and two Europa League titles, the last of which came when he dazzled in the Europa League Final against Arsenal in Baku. It was after that match that he confirmed he was leaving.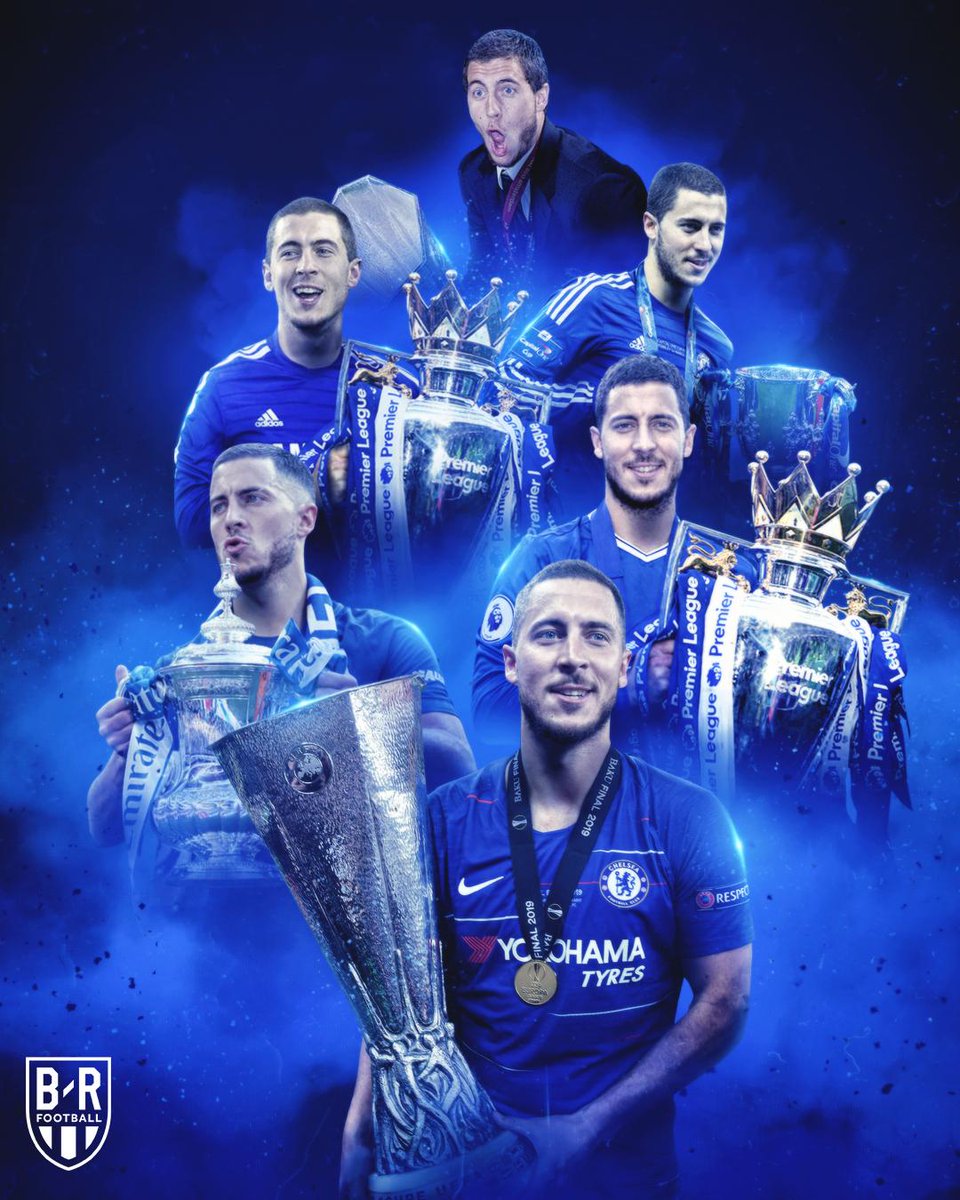 Real Madrid released an official statement on their website after the deal was agreed:  "Real Madrid C. F. and Chelsea FC have agreed a deal for the player Eden Hazard. The player will join the club for the next five seasons, until the 30th June 2024. "Eden Hazard will be presented as a Real Madrid player on Thursday 13th June at the Estadio Santiago Bernabéu, after undergoing a medical with the club."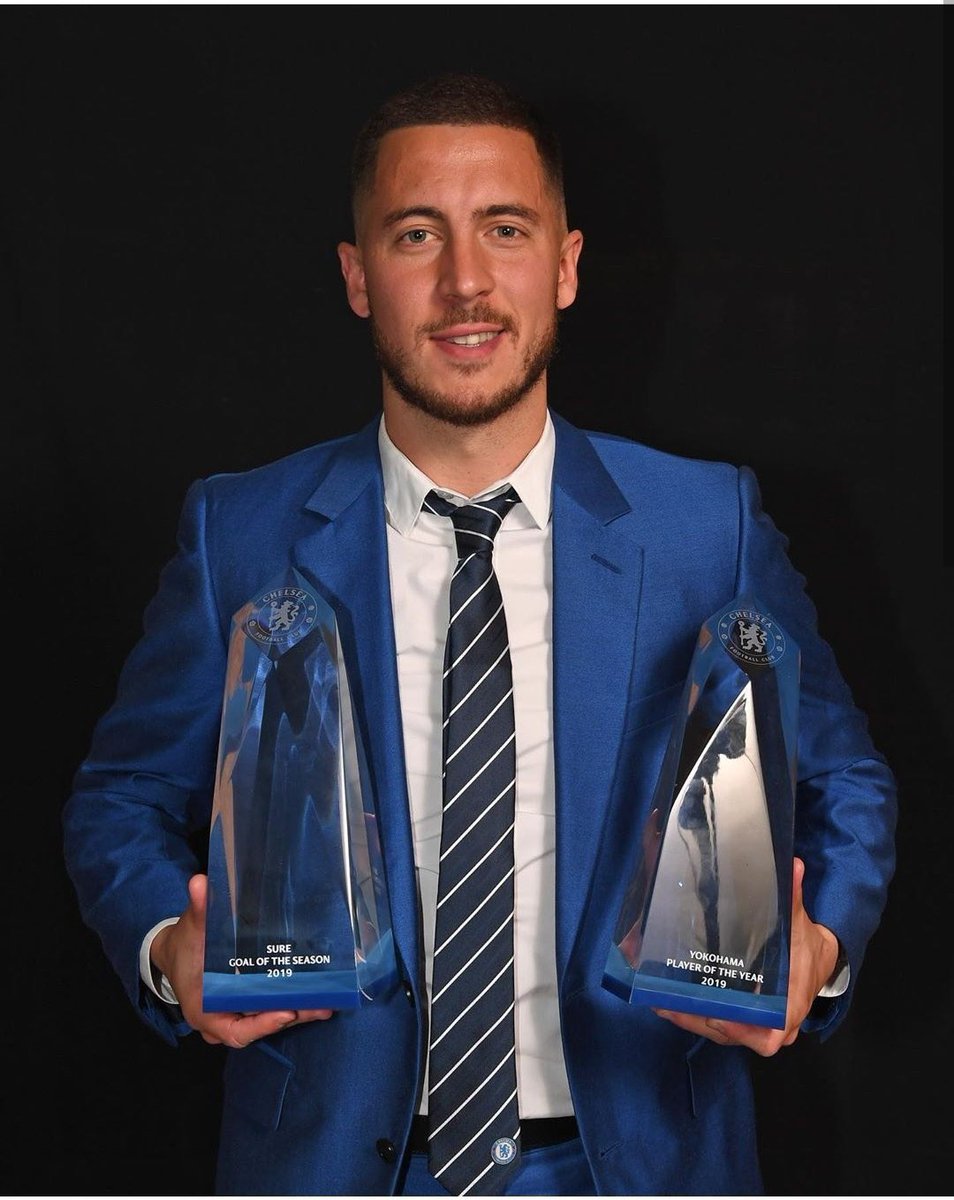 Hazard's farewell message to Chelsea fans: "You now know that I will be joining Real Madrid. It's no secret that it was my dream to play for them since I was a young boy just scoring my first goal.
"I have tried my very best not to distract myself or the team through this difficult period of speculation and media attention, especially the last 6 months.
"Now the Clubs have reached an agreement I hope you understand I had to pursue my next chapter, just as each and every one of you should when you have the chance to pursue your dreams. Leaving Chelsea is the biggest and toughest decision in my career to date."
"Now it's in the open I would like to put on record one thing was always clear to me, I have loved every moment at Chelsea and not once did I ever consider, nor would I have left for any other Club.
"I was only 21 when I joined, so I have grown up as a man and a player with all of you, you have helped me become Captain of the Belgium National team after all. There have of course been tough times, for the team as a whole and for me personally, this is professional football.
"However, football to me is about having a ball at my feet, playing games and enjoying every moment, we are lucky to play the beautiful game and this is always my advice to those who ask for a coaching tip! Play football and have fun!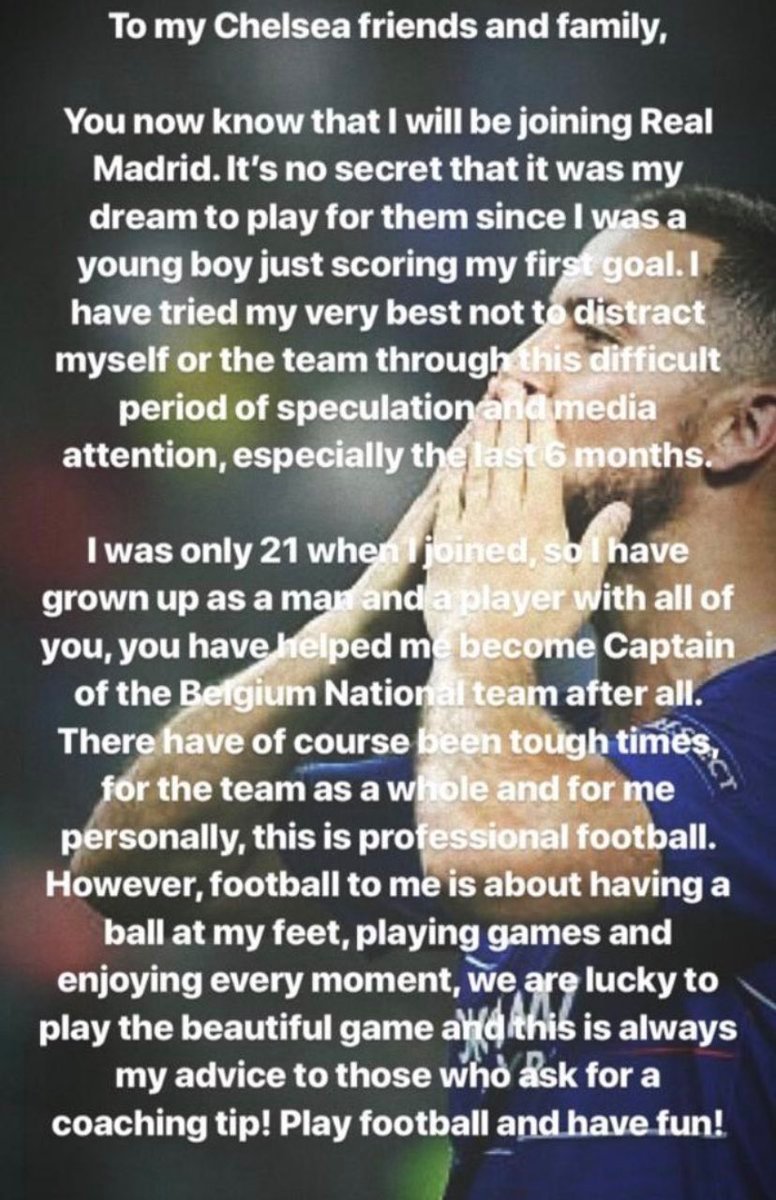 "Even when we were not playing well, I tried to do my best and this has been thanks to your amazing support. That fighting spirit, desire and the refusal to ever give up is part of the culture here at Chelsea and it comes directly from you. "When I think back over my special moments in a Chelsea shirt, there are so many, we are lucky to win many more games than we have lost. Those who know me understand it is not me to list what I have won, all I can say is each and every award both as a team and as an individual have been incredible.
"One day I will be able to sit down over a beer and talk about or laugh with pride about my missed penalty that set up my header to win the league against Palace, or those goals against Tottenham, Arsenal or Liverpool." "The memories are so vivid because of the atmosphere and occasion you create, I hope you always remember them with pride, as I do.
"Whether it's on tour in the USA, or at Sunderland on a Tuesday night, in Russia on a Thursday, or of course EVERY game at The Bridge – you've always supported me and encouraged me to play football and be me – Like I have enjoyed myself I hope you have enjoyed yourselves, I am only sorry not leave with a defending award amongst my honours!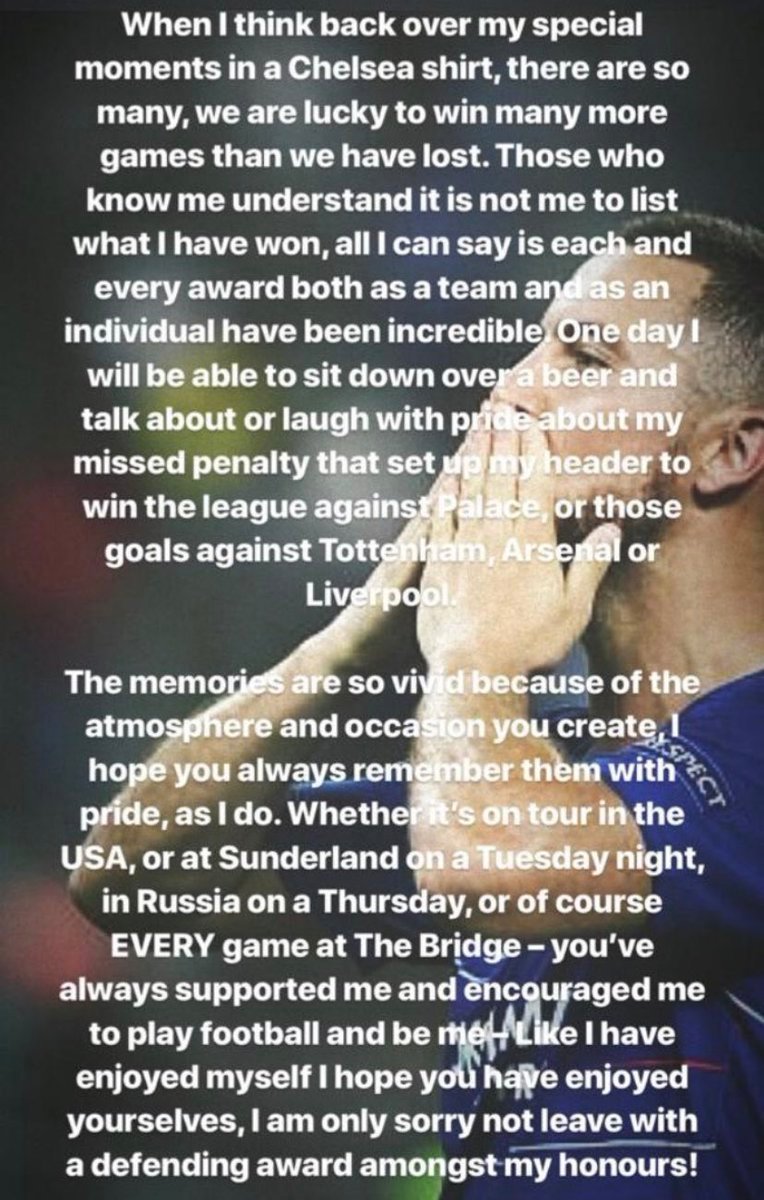 "We have many great players and my proudest moments were always as part of the team. We've won the FA Cup, League Cups, Europa Leagues and Premier Leagues all as a family.
"Each one so special in its own way and of course the game in Baku a couple of weeks ago is the perfect way to sign off from a long tough season after the World Cup."
"Chelsea and especially Chelsea fans will always be special to me and next season I will look for your results first. I hope that we are drawn against each other in the Champions League next season and every season so we can meet again. Before I go, one last thank you to everyone at the Club for their tremendous effort as we lived through every moment."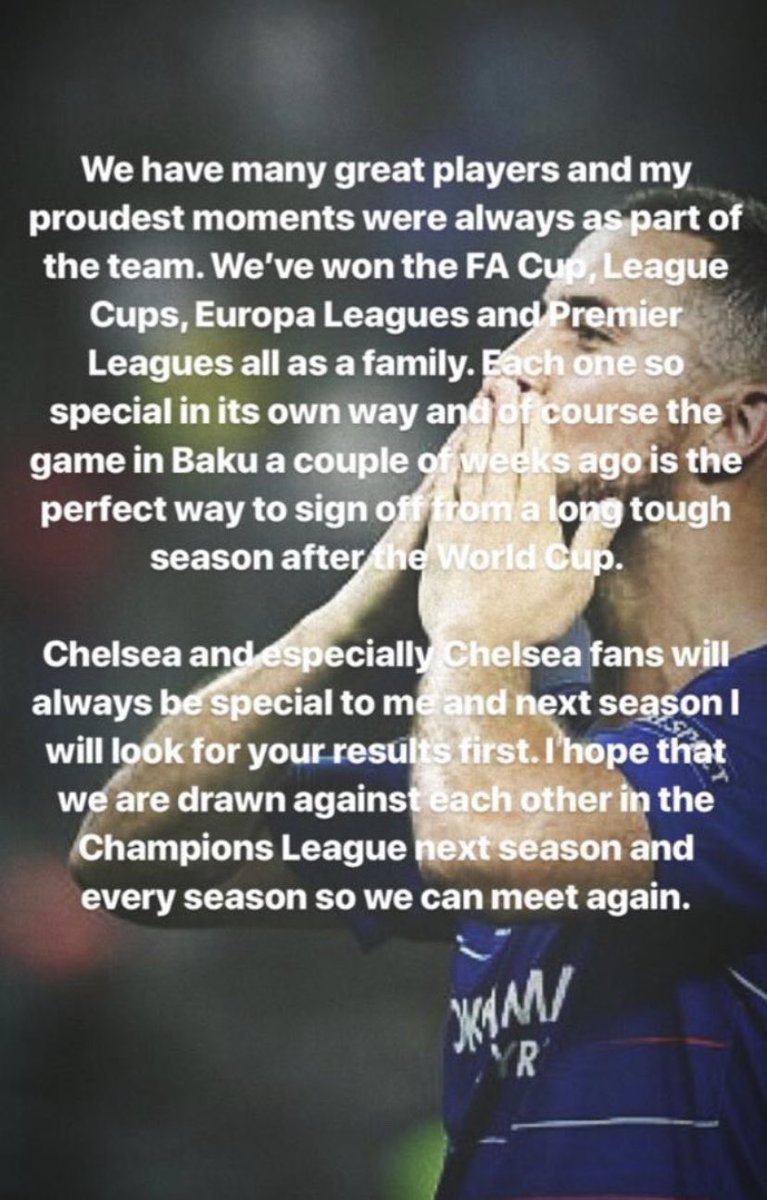 "To all of my ex-Colleagues we will say our goodbyes at the right time but I must thank the owner Mr Abramovich and his board for helping me realise not one, but two dreams, my first in becoming a Chelsea player and today my second, becoming a player at Real Madrid. I wish each and every one of you the very best my friends."
Eden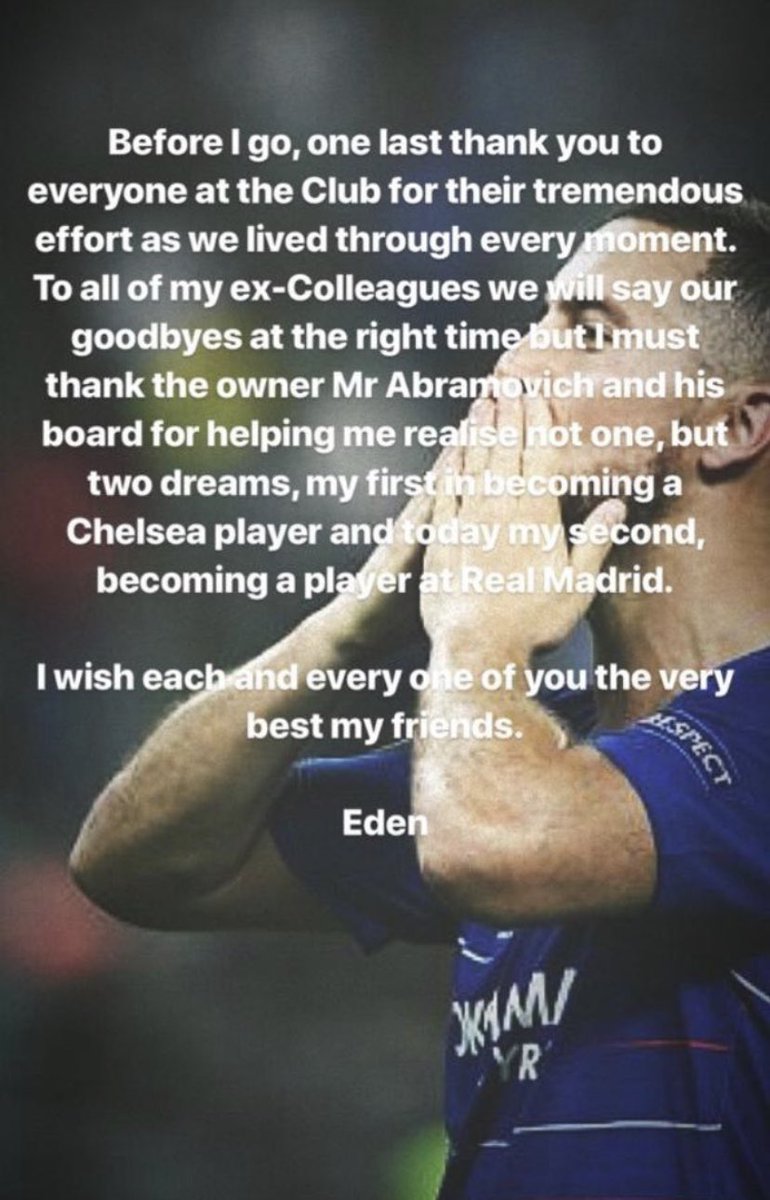 Chelsea football club and their Hazard's former teammates bid farewell to the Belgian international after spending seven successful years at the Stamford Bridge.
Chelsea farewell message: "Although it is with sadness we say goodbye to Eden and we made it absolutely clear to him the club wished him to stay, we respect the decision he has made to take on a new challenge in a different country and follow his childhood dream of playing for Real Madrid.
Seven incredible years. ?

One of Chelsea's greatest, this is @HazardEden10's story… ?#ThankYouEden

— Chelsea FC (@ChelseaFC) June 7, 2019
"The memories he leaves us with will not fade. "He provided all who watched Chelsea play with great entertainment and many match-winning contributions, and for that, we thank Eden enormously."
? @hazardeden10 #ThankYouEden https://t.co/pE36bEDvTY

— Chelsea FC (@ChelseaFC) June 7, 2019
Willian Borges: Eden, my brother, it was an honor to play with you in those 6 years! I hope you have success in your new challenge! ??
Eden, my brother, it was an honor to play with you in those 6 years! I hope you have success in your new challenge! ??

Eden, meu irmão, foi uma honra jogar ao seu lado nesses 6 anos! Espero que você tenha muito sucesso em seu novo desafio! ??#cfc #hazard #irmao pic.twitter.com/03ykZsaVFk

— Willian (@willianborges88) June 8, 2019
Ruben Loftus-Cheek: Good luck my bro. It has been a pleasure playing in the same team with you. @hazardeden10 ???
Good luck my bro. It has been a pleasure playing in the same team with you. @hazardeden10 ??? pic.twitter.com/lYfA4ylksE

— Ruben Loftus-Cheek (@rubey_lcheek) June 7, 2019
Gary Cahill: Good luck @hazardeden10 ??
Good luck @hazardeden10 ?? pic.twitter.com/3TaK4z30kQ

— Gary Cahill (@GaryJCahill) June 8, 2019
Cesc Fabregas: Great moments on and off the pitch. It's been a pleasure sharing all the good moments and specially the not so good ones that we overcame together over the last 5 years with the reward of winning it all. Enjoy your new challenge amigo! ??❤️ @hazardeden10
Great moments on and off the pitch. It's been a pleasure sharing all the good moments and specially the not so good ones that we overcame together over the last 5 years with the reward of winning it all. Enjoy your new challenge amigo! ??❤️ @hazardeden10 pic.twitter.com/3QaTCJYfov

— Cesc Fàbregas Soler (@cesc4official) June 8, 2019
Antonio Rudiger: Sad to see you leave bro! But I'm wishing you all the best for your future – it was a big pleasure playing with u @hazardeden10 ????⚽ #Hustle #AlwaysBelieve
Sad to see you leave bro! But I'm wishing you all the best for your future – it was a big pleasure playing with u @hazardeden10 ????⚽ #Hustle #AlwaysBelieve pic.twitter.com/dj9IvMB2vz

— Antonio Rüdiger (@ToniRuediger) June 8, 2019
Michy Batshuayi: Good luck on this new adventure to the guy who's been an inspiration, a model & a brother to me. Fully deserved ??‍♂️ My Little Belgian wizard ❤️?? @hazardeden10 ✨
Good luck on this new adventure to the guy who's been an inspiration, a model & a brother to me. Fully deserved ??‍♂️ My Little Belgian wizard ❤️?? @hazardeden10 ✨ pic.twitter.com/ljTGNsqr8h

— Michy Batshuayi (@mbatshuayi) June 8, 2019
Share your view on this in the comment section below… Thanks