Ahead of Netherlands UEFA Nations League final against Portugal, De Ligt has revealed what will happen in the summer. The 19-year-old has will leave Ajax this summer with Manchester United and Barcelona in pole position for his signature.
De Ligt's performances this season made him become one of the most sought after players in Europe this season. The Netherlands international led Ajax to their first league title and Cup victory in five years while he was also instrumental in Ajax fairytale run in the champions league.
The Lancers reached the semi-finals of the competition for the first time since 1997 with De Ligt scoring in games against Juventus and Tottenham. He was also impressive for the Netherlands in Nations League match against England scoring the equalizer as the Oranje went on to beat the Three Lions 3-1.
Ronald Koeman's Netherlands will meet Portugal in the final on Sunday, with De Ligt's next move expected to become clearer once his involvement with the national team ends. According to ESPN, France champions Paris Saint Germain believe they are the frontrunners to land De Ligt, although the 19-year-old is still giving no clues away as the transfer saga rumbles on.
"I will take my time to reflect on what is the best option for my future," he told reporters after the win over England.  Bayern Munich have dropped out of the race for De Ligt while Manchester United have become increasingly pessimistic about their chances of landing him. Liverpool and Juventus have also been touted as contenders to land his signature, but PSG and Barca are the favourites.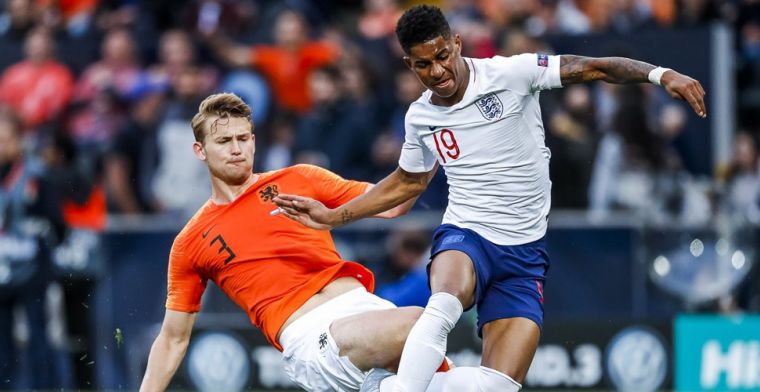 The Catalan club were hopeful of signing De Ligt after striking a loose agreement with him in March, but his agent Mino Raiola is now trying to get them back to the negotiating table. They have refused to budge on the initial terms, though, and are no longer as confident. They hope the lure of playing at Camp Nou will help them win the race.
Meanwhile De Ligt's international teammate, Frenkie De Jong has advised his compatriot to link up with him at Barcelona. The duo played for Ajax this season, but De Jong will be playing his football in Catalonia next season after agreeing a deal with Ajax over his transfer in January.
He has to make his own decisions,' De Jong said. 'Of course,  I would like him to come to Barcelona but we will see what happens. It's up to him. 'I don't know, it's his decision. You have to ask him about it but I hope he comes to Barca. 'Of course, we talk about it [De Ligt signing for Barcelona]. It's not up to me to say what he's going to do or his thoughts. 'I don't have an influence on his choice. He has to make it on his own and with his family."
Where do you think De Ligt should go next season? Share your thoughts in the comments section below