Super Eagles players are all around Europe plying the football trade outside the shores of the country for greener pastures. Among those players, there have been a lot of Nigerian players who have been involved in transfer from one club side to another. Everton loanee Henry Onyekuru and Villareal's Samuel Chukwueze could be the next Nigerian players to break the transfer record in the near future according to recent developments.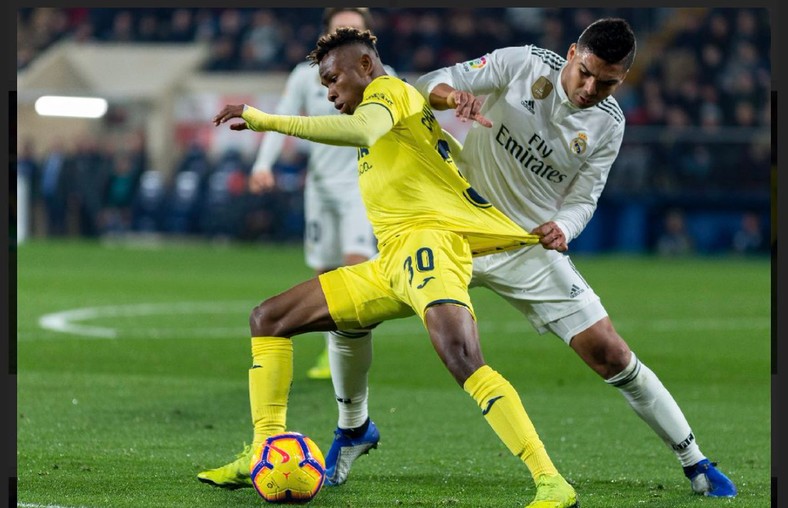 While Onyekuru is being linked with a reported 40 million euros switch to clubs like Bayern Munich, PSG and Napoli. Chukwueze has seen his release clause rise to 63 million euros amid increasing interest from the Premier League and recently rumours have it that the Nigerian wonderkid is being watched by Spanish Laliga giants Barcelona after having a good against them in the League.
Dailyadvent have compiled a list of the top five most expensive transfers involving Nigerian players.
Wilfred Ndidi, Racing Genk to Leicester City:
Ndidi has made an impact since transferring to the Foxes for a fee of £15 million and that fee would rise if Genk triggers the performance-related add-ons. The deal was confirmed on 5 January 2017.

Ndidi made his debut for the club on 7 January 2017, in a 2–1 win against Everton in the third round of the FA Cup. He made his first Premier League start on 14 January 2017 against Chelsea at home in a 3–0 defeat.  In the English FA Cup game against Derby County on 8 February 2017, Ndidi came on in the first half of extra time and scored his first goal for Leicester through a long-range shot.
In a 3–1 win over Liverpool on 27 February 2017, Ndidi won 11 of his 14 tackles, a feat bettered only by Chelsea's N'Golo Kanté who made 14 tackles against the same club in January. Ndidi was sent off for the first time in his career during Leicester's 3–0 home defeat to Crystal Palace on 16 December 2017 – which also happened to be his 21st birthday.
John Obi Mikel, Lyn Oslo to Chelsea: 
Super Eagles captain, Mikel had the honour of being Nigeria's most expensive player for a decade after joining Chelsea from Lyn Oslo for a fee of £16 million.  On 2 June 2006, Chelsea, Manchester United and Lyn reached a settlement to resolve the future of the player. Mikel's registration was to be transferred from Lyn to Chelsea; Manchester United agreed to terminate their option agreement with Mikel.

Under the terms of this agreement, Chelsea agreed to pay United £12 million, half paid upon the finalization of the contract and the other half in June 2007, and Lyn £4 million, half payable immediately and half in June 2007. As a result of this settlement, all claims in this matter were withdrawn. On 19 July 2006, Chelsea were granted a work permit for the midfielder after they completed the £16 million signing in June 2006.

In the aftermath of the transfer, Lyn Director Morgan Andersen, who had a previous conviction for forging official documents, was convicted of fraud and making false accusations; he was given a one-year suspended jail sentence by an Oslo court. The court also ordered him to pay 20,000 kroner (£1,944) in costs.

Chelsea made a High Court claim for £16 million against Lyn and Andersen following the conviction, claiming that the previously agreed settlement was not binding as "the transfer was based on a fraudulent misrepresentation, now proven by a court of law." This claim was subsequently resolved out of court.
Ahmed Musa, CSKA Moscow to Leicester City:
Although Musa failed to make a difference in his stint at Leicester City, the former Premier League champions had to cough up 17 million pounds to secure his signature from the Muscovites in July 2016, a Nigerian transfer record before it was surpassed by Ighalo.
On 8 July 2016, Musa moved to Leicester City for a club record £16.6 million. He scored his first goals with the club in a friendly against Barcelona in the 2016 International Champions Cup which ended in a 4–2 loss.
He made his Premier League debut on 13 August 2016 in the club's opening day 2–1 defeat to Hull City. He scored his first Premier League goal with the opener in a 3–1 victory over Crystal Palace on 22 October 2016. By January 2017, Musa was yet to register an assist for the club, contributing an average of 0.5 key passes, 0.3 crosses and 1.2 successful dribbles per game.
Odion Ighalo, Watford to Changchun Yatai:
Ighalo's Nigerian transfer record stood for only six months before it was broken by Iheanacho. The Africa Cup of Nations qualifiers top scorer was recruited for £20 million. He ranked second in the scoring charts in his second season at 21, but his team suffered relegation.
Kelechi Iheanacho, Manchester City to Leicester City: 
The Foxes purchased Iheanacho from the Citizens in August 2017 for a transfer fee in the region of £25 million, making him the most expensive Nigerian player in history. Iheanacho was signed by Premier League club Leicester City on a five-year contract. He made his debut for the club in a 4–3 defeat to Arsenal on 11 August 2017. He scored his first goal for Leicester in an EFL Cup tie against Leeds United on 24 October 2017.

On 16 January 2018, Iheanacho became the first player in English football to be awarded a goal due to VAR, as the referee deemed that the player had been incorrectly ruled offside for his second goal. The goal was Iheanacho's second in a 2–0 win over Fleetwood Town in the FA Cup Third Round replay.