A growing number of famous footballers made a decision as a Muslim to become a Christian. They practiced Islam for many years before converting to Christianity. A choice with courage and a powerful testimony for living faith in Jesus Christ. Many people including celebrities do not really care about the religion they obtained at birth, many of them have changed religion to experience an awakening. The same can be said about some of the football players below, while others changed their religion because of their women.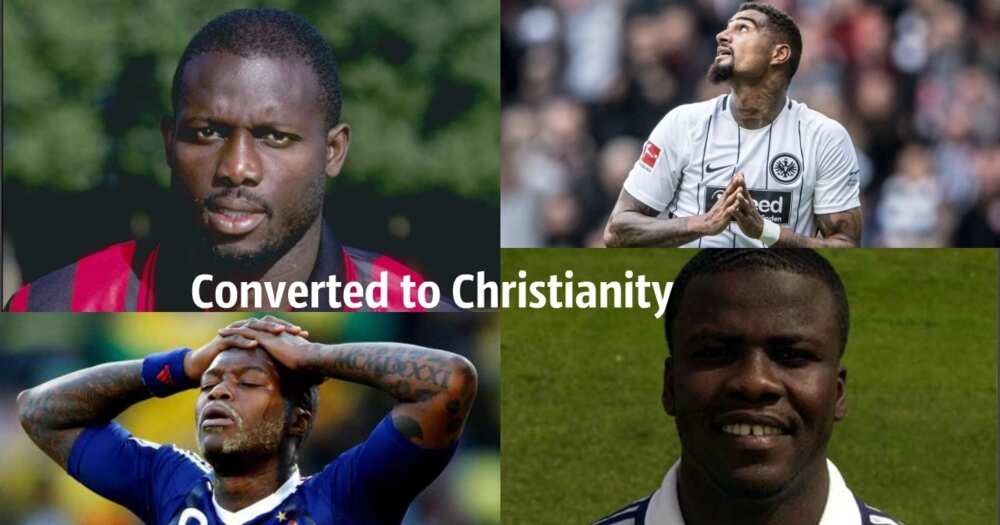 Here is a list of popular Muslim footballers who converted to Christianity:
 1 Samuel Osei Kuffour (Ghana): According to some reports, Samuel Kuffour, a Ghanaian retired professional footballer and former Bayern Munich defender, converted to Islam during the 2002-03 football season though he calls himself deep-rooted Christian. In the interview with BBC, the footballer admitted that some German footballers were surprised to see that him praying before the match.
After he decided to convert to Christianity, it helped him to survive the death of his newly-born daughter Godiva who fell into the swimming pool. Now, he claims to be a devoted Christian.

This was a short brief of Muslims who converted from Islam to Christianity who claimed it as their major and the only religion.
2 Djibril Cissé – France:  He is a French footballer who followed Islam till year 2007 when he converted to Christianity. Djibril was born on August 12, 1981 in France as the last child of immigrants from Ivory Coast.
Djibril Cissé's story of accepting Christianity is related to his wife Jude Litter who influenced him in making this decision. Cisse's wife was his hairdresser. They got married at Bodelwyddan Castle. There was arranged a magnificent and beautiful ceremony. Such famous football players as Steven Gerrard, David Beckham, and Zinedine Zidane were invited to the wedding.
However, the couple divorced in 2012, after 7 years of marriage. Djibril Cissé built a great career during which he played for such football clubs as Auxerre, Liverpool, Marseille, Sunderland, Panathinaikos, Lazio, and Queens Park Rangers and JS Saint-Pierroise.  When playing for Liverpool, he broke his right leg in the game with Blackburn Rovers in a Premier League. Unfortunately, Cisse had to retire in 2015, at the age of 34 as he broke his second leg in a warm-up match against China before the FIFA World Cup finals.
Kevin-Prince Boateng (Ghana): Boateng's religious views caused doubts because of rumors floating around his religious profession.
It is believed that Kevin-Prince Boateng, a Ghanaian international footballer, who was nominated for African Footballer of the Year, is Christian. Though, there were rumors that the famous football player accepted Islam because of his Turkish friends and girlfriend. These rumors have been refuted after he met his wife Jenny and it was clear that the famous Muslim converts to Christianity.
According to another source of information, Kevin-Prince Boateng is a deep-rooted Muslim which he confirmed during an interview. He said he recites the Holy Quran very often and also regularly observes the very important Islamic fasting period of Ramadan. So the story of conversion of this football player is the most controversial.
4. George Weah – Liberia: He is a former footballer who is known to be one of the richest African footballers. The footballer was born on 1 October 1966 in Liberia where he started a football career. Then, he immigrated to Europe. Weah played in football teams of Monaco, AC Milan, Manchester City, Marseille, Paris-Saint Germain, and Chelsea.
He also was awarded FIFA World Player of the Year title and the Ballon d'Or. He is known to be the first African player to win this prestigious award. He retired in 2003 at the age of 37. Weah's story of conversion is complicated. He is probably the best football player from Africa of all times. After a long life as a Muslim, Weah made the decision to become a Christian. However after some years he had doubts and started with Muslim practices again for ten years. Finally, he found peace again with faith in Jesus Christ. George Weah is now a protestant Christian.
He is one of many Muslims converting to Christianity back from Islam. First, Weah changed Protestantism for Islam and practiced it for 10 years before he converted back. He advocates for peace between Muslims and Christians. Weah is also a politician and humanitarian who competed in the Liberian presidential election in 2017. Now, Weah professes Protestantism.