Who still have time to think of sxx or erection not to talk of the ability to maintain an erection at age 101? Well, it's necessarily not a usual thing for most men but talking about this Nigerian war expert, his unusual ability to still remain sxxually active is a thing that he boast as a family trend.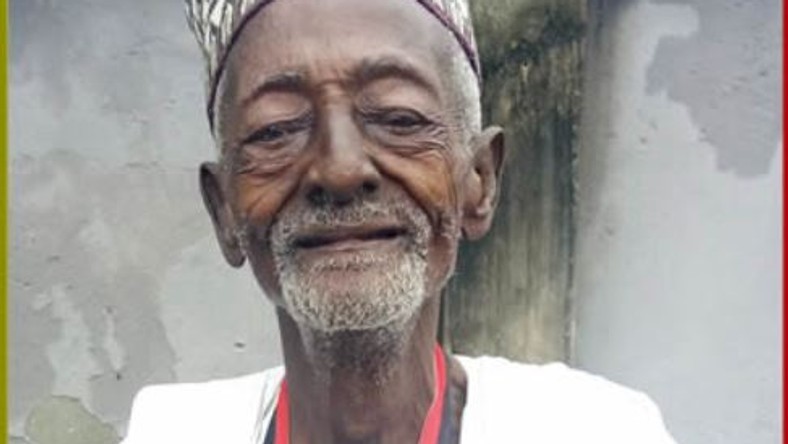 Pa Adama Aduku, known as Nigeria's oldest living war expert, he claims that even at his old age, he's still energetic and has the stamina to be sxxually intimate to any woman, with the claims that in his community alone many he has made out with many women.
"I may be 101 years old, but inside me, especially when it comes to making a woman happy in bed, I am still strong and fresh," boasted Aduku who was honoured by Vice-President Yemi Osinbajo and the 81 Division of the Nigerian Army in Lagos for being the country's oldest living World War II veteran.
"In my family, a man's manhood never dies, irrespective of his age. So, I still have the energy to make love to any woman."
Aduku joined the military in 1942 at the age of 24 after what was an interesting inspiration to want to be a soldier.
In his speech to Punch Nigeria, he narrates how when he was a young man, returning from the farm one evening, he saw a man who was far way younger than he his at that time beating their village head.
Aduku made a reference to the story, how the man who was home sick named Salikawa, a soldier, beat up his chief for not carrying his (soldier) bag and seeing him off to his house which was 10 miles away.
"When the matter was reported to the District Officer, the chief was advised to obey the soldier in his own interest or face whatever consequences that resulted from that."
The experience left him with in anger, Aduku then decides that he would also aim to become a soldier so that "I could go back to the village and also beat up Salikawa for embarrassing our chief."
Not just a decision, he later joined the military a few years after receiving the blessings of his father but the desire of being respected and feared by his fellow-men ignite his interest even more, in spite of strong objections from some of his community members.
Aduku further went on to fight for the British Army in the Second World War.
"In the course of that journey, we ran out of drinking water, so we had to rely on the water from the sea to drink despite it being salty," he spoke of one of his journeys to Burma (now Myanmar) to fight in a war.
A few year later, he retired from the military, decided to settle down to farm in his village, Abejukolo-Ife, under the Omaha Local Government Area of Kogi State. He made sufficient wealth through his farming practises, as he recalled.
The sxxual escapade of the centenarian has produce two wives and 10 children for him and is also a great lover of tea – the drink he said his responsible for his longevity and unusual sxxual strength at age 101.
Speaking with Saturday PUNCH, he said he does not regret joining the army – a job he said if he had the chance to choose a career in life again, he would surely choose again.
Face2Face
Leave your comments below….